USC's Adoree Jackson sees opportunities vs. Washington State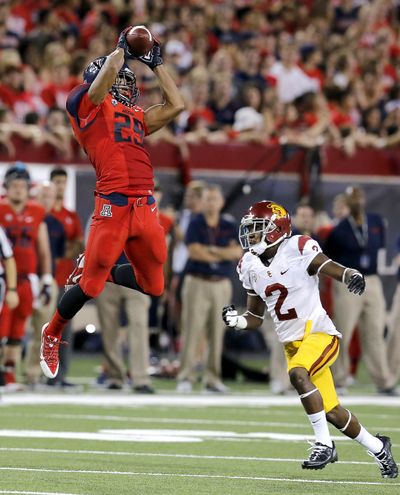 LOS ANGELES – Opportunities abound for freshman cornerback Adoree Jackson when Southern California plays at Washington State on Saturday.
The Cougars have the only coverage unit in the FBS to give up three touchdowns on kickoffs this season and are last in the Pac-12 in return yards allowed.
"Your eyes just light up and you just imagine the plays you can make this Saturday," Jackson said of watching WSU's special teams on tape.
Ranking second in the Pac-12 with an average of 33.7 yards per kick return, Jackson scored on a 100-yard kickoff in the Trojans' 24-21 loss at Utah to earn Pac-12 special teams player of the week honors.
The credit for that play belongs to fellow freshman JuJu Smith, Jackson said. It was Smith who gave Jackson the green light to take the ball out from 5 yards deep in the end zone.
But more importantly, as far as Jackson is concerned, he has a chance to record his first interception against the prolific WSU passing offense.
The pressure will be on a young USC secondary to keep WSU quarterback Connor Halliday's collection of talented receivers from delivering explosive plays.
The development of Jackson embodies the twists and turns that group has gone through.
Jackson started the season contributing on both offense and defense, catching three passes for 36 yards and one touchdown in the season opener.
Since then, his playing time has come almost exclusively at defensive back and on special teams, delivering a critical forced fumble and recovery in the red zone against the Utes.
With his athleticism, long arms and understanding of the passing game, defensive coaches believe Jackson can eventually develop into one of the best corners in college football. The fact that he does not yet have an interception rankles the affable Jackson.
With the number of times Washington State puts the ball in the air, he might not be waiting much longer.
"Even the linebackers say they can't wait to get an interception or get the ball in their hands," Jackson said.
"It's ideal for anybody to get that stat under their belt, especially for me trying to get my first one."
---