News > Features
Murals tell Spokane stories
Project enlists local artists to revive city's dingy spaces with color, whimsy
Fri., Sept. 5, 2014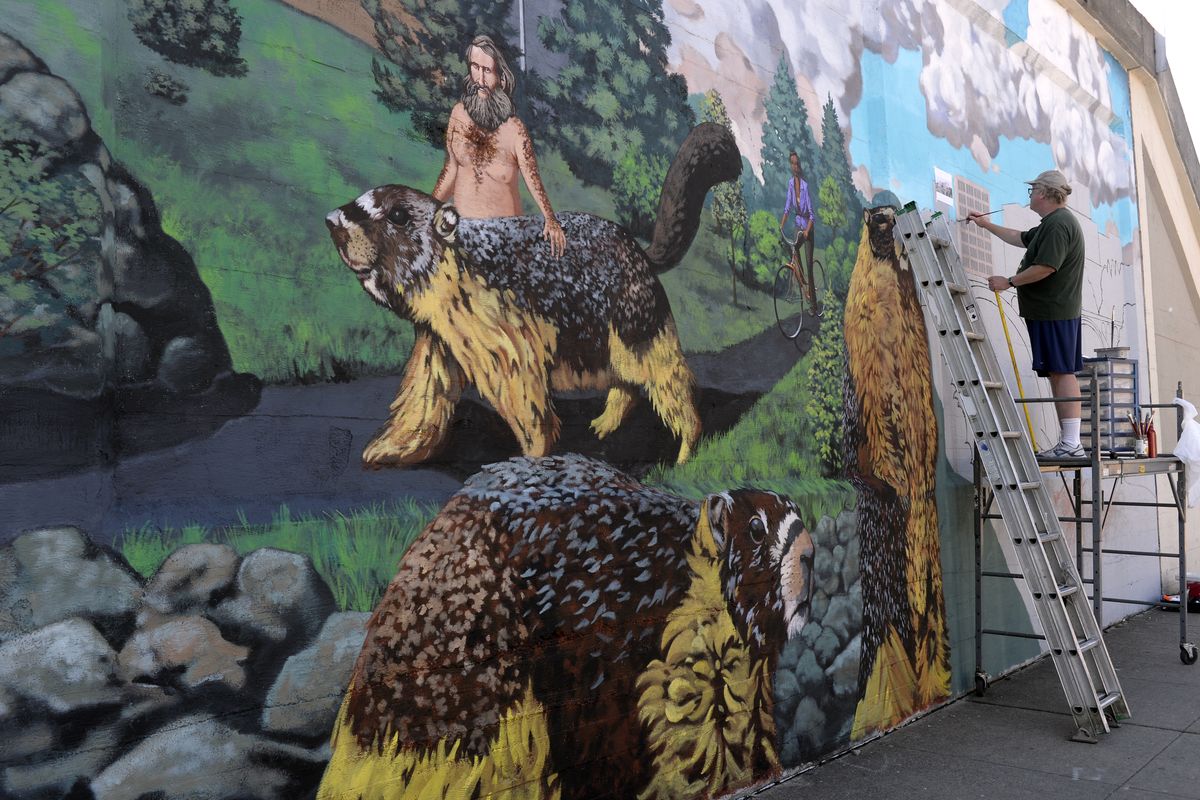 Artist Tom Quinn works on his mural project at Sprague and Division on Aug. 27. (Jesse Tinsley)
Tom Quinn may have the noisiest studio in the city. From a scaffold on the corner of Sprague Avenue and Division Street, he paints while cars and trucks zip past in a blur of movement and sound.
From his brushstrokes, images of Spokane emerge – a bicyclist on the Centennial Trail, the falls, the river, huge marmots and a shirtless guy longtime residents will recognize as Willie Willey, aka "Nature Boy."
Quinn smiled. "I added Willie for some whimsy."
The mural is one of five featured in the Spokane Mural Project. Launched by Spokane Arts and sponsored by Rotary 21, Downtown Spokane Partnership and Miller Paint, the project was conceptualized to make downtown Spokane more attractive, instill a sense of pride in public spaces, provide employment for local artists, prevent graffiti and engage the public in the beautification of their community.
"The murals program has been going on for years, but we wanted to increase the scope and diversity this time around," said Austin Stiegemeier, program manager at Spokane Arts.
Painted on a selection of railroad underpasses, each mural is as unique as the artists who create them and add a splash of color and vibrancy to places normally dingy, gray and graffiti-tagged.
Brothers Todd and Cain Benson tackled the Maple Street underpass, creating portraits of Spokane residents with a pop-art, urban flair.
EWU alumni Ellen Picken and Erin Mielcarek filled the Wall Street underpass with an eye-catching abstract representing the sound and energy trains emit as they rumble overhead.
The underpass at Cedar and Second now sports a tribute to the Lilac City. Lisa Soranaka and Eric-Alain Parker painted lilac branches buzzing with activity from bees and bugs.
S.U.M.A.C. (Spokane Urban Mural Artist Collaboration), whose members include Tiffany Patterson, Jason Corcoran, Jesse Pierpoint, Zach Grassi and Nory Baker, solicited help from area children when it came time to design their mural at the Howard Street underpass.
They asked kids to submit drawings of what "near nature, near perfect" meant to them, then reworked those ideas in a storybooklike mural with whimsical butterflies, rainbows and brightly-hued flowers.
For Quinn, creating the mural at Sprague and Division was like coming home. He'd painted the original mural there 21 years ago.
"It was my first big outdoor mural," he said. The project featured huge marmots with expressive faces and Spokane-scapes in the background. "The mural was a big career break for me. It led to a lot more murals."
Indeed, his work can be seen throughout the city. In Hillyard, his portrait of James Hill and the rail yards is visible to those who drive north on Market. In the C concourse of the Spokane International Airport, his floor-to-ceiling mural tells the story of the flight of the Spokane Sun God – the first airplane to make a nonstop transcontinental round-trip flight.
Other Quinn murals in Browne's Addition and Vinegar Flats add color and verve to public spaces. But Quinn was eager to revisit his original marmot mural at Sprague and Division.
"My earlier style was very simple and cartoonish," he said. "This one has more depth and texture."
Working outdoors comes with a unique set of challenges – inclement weather, the smell of exhaust and conversations with passers-by. Quinn said frequently asked questions include: "Are those beavers or gophers or what?" "Is that guy naked?" "Is that supposed to be Jesus?"
Those questions are balanced by a great deal of positive feedback. "Every time I work on a mural, I miss the comfort and convenience of a studio," he said. "But I also get lots of people honking and saying, 'good job,' and 'thank you!' You don't get feedback like that working on an easel painting in a studio."
In fact, it's just that kind of public comment mural project co-coordinators hoped for. "It shows the community cares about these spaces," Stiegemeier said.
Not only do the murals beautify the city and reduce graffiti, but they also foster a connection between artists and the community. "Some folks may never set foot in a gallery, but with the murals they are exposed to art and get to witness the artist's process," Stiegemeier said. "That's a kind of magical thing."
Spokane Arts is planning a Mural Walk on Oct. 4. For more information about Spokane Arts, go to www.spokanearts.org.
To see more of Tom Quinn's work, visit http://quinntheartist.com/.
Local journalism is essential.
Give directly to The Spokesman-Review's Northwest Passages community forums series -- which helps to offset the costs of several reporter and editor positions at the newspaper -- by using the easy options below. Gifts processed in this system are not tax deductible, but are predominately used to help meet the local financial requirements needed to receive national matching-grant funds.
Subscribe now to get breaking news alerts in your email inbox
Get breaking news delivered to your inbox as it happens.
---