News > Idaho
BNSF seeks second bridge at Sandpoint
Wed., Sept. 17, 2014 A train glides across the water at Sandpoint about every half-hour on average, making it one of the busiest bottlenecks on Northwest rail lines.
BNSF Railway Corp. says it's time to add a second bridge there, where Lake Pend Oreille meets the Pend Oreille River, to relieve pressure on the original, 109-year-old span and absorb anticipated growth in rail traffic, including loads of coal and crude oil bound for West Coast ports.
Some Sandpoint officials, however, are concerned a second bridge could slow auto traffic and increase the threat of a train accident polluting the water.
Traffic along BNSF's busy Hi-Line, connecting the Pacific Northwest to the Midwest, and Montana Rail Link trains from Missoula converge in Sandpoint and cross the single-track bridge east of the U.S. Highway 95 Long Bridge.
"It's known by rail fans as the funnel," BNSF spokesman Gus Melonas said, "and it's a choke point."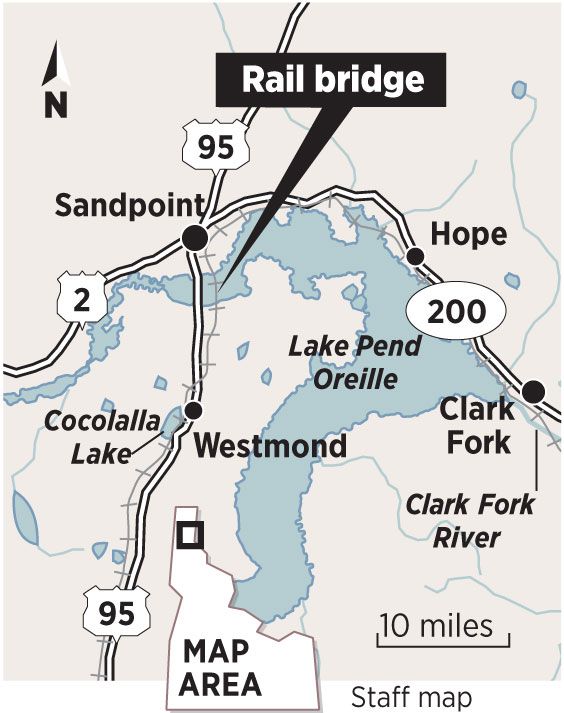 The railroad wants to build the second bridge about 50 feet west of the existing trestle by 2018. It would extend about 4,800 feet across the water and sit on piers sunk up to 150 feet into the lake bed. The railroad would need approval from several state and federal agencies to move forward with a new bridge.
"This has been the major transportation route for bulk freight since Idaho's existence, since Washington's existence," Melonas said. "The Northwest relies on an efficient rail system, and a new trestle is going to certainly help meet needs going into the future."
The project worries Sandpoint Mayor Carrie Logan. She contends that a second bridge as well as plans to add almost a mile of parallel tracks through Sandpoint will draw more rail traffic through the city and increase the risk of accidents that could endanger lives or pollute the community's drinking water, she said.
"It doubles the volume of trains that are going to come through town, basically. Twice the track, twice the trains," Logan said. "So we're just going to have the same problem, if not worse."
Melonas said it's inevitable that train traffic will increase through Sandpoint because BNSF is experiencing significant growth and expects to hit record volumes of freight soon. A second bridge and double tracks will ease rail congestion in the community and improve efficiency and safety, he said.
"There's going to be more traffic whether there's a bridge or not," he said. "This will allow for a more fluid operation."
The proposed bridge is in the conceptual design phase, so few details are available. It would be steel and concrete and resemble the existing bridge, which was built in 1905 and upgraded in 1955 and in 2008-09, Melonas said. A temporary bridge may be built for use by construction crews, or the work may be done from barges, he said.
When completed, trains would run in both directions across the bridges, reducing the need for engineers to slow down or stop as they wait for clearance to cross. As a result, drivers will see shorter wait times on nearby streets that cross BNSF tracks, Melonas said.
"It's like adding a lane on a highway," he said. "It's going to allow for more fluid flow."
Logan said she's skeptical about the impact on at-grade crossings on the north end of town. Three city streets cross BNSF tracks – a particular concern for emergency responders who occasionally must decide if they will wait for a train to pass or take a longer route.
"We get that probably 25 to 30 times a year, and it delays response by five minutes, maybe 10 depending on what's happening," she said.
The mayor said she also is concerned about how many more loads of oil and coal may come through Sandpoint, snaking between downtown and City Beach, where the city pumps drinking water from the lake.
BNSF said each day through Sandpoint it hauls two to three trains of crude from the Bakken oil fields of North Dakota and Eastern Montana, plus three to four coal trains from the Rockies.
Markets will dictate how much those volumes increase, Melonas said. The railroad does expect to ship more oil along the route if proposed new refineries and terminals are approved on the coast.
The oil trains present "huge safety concerns for the city" because of the volatility of the Bakken product and older tanker cars that are less secure, Logan said. In case of a spill or explosion, the city and Bonner County alone would be responsible for the immediate emergency response while railroad workers mobilize from outside the county.
"The initial responder is us because their equipment and personnel are stationed at least two hours away," she said.
BNSF plans to place an oil containment trailer in Sandpoint early next year, Melonas said, and it also has mobile firefighting foam trailers in the region.
Logan believes that's insufficient for a potential rail disaster in Sandpoint. The city used 1,000 feet of boom this summer to contain just 45 gallons of gasoline that leaked into the water after a fatal car crash on the Long Bridge.
"So it's very poor preparedness for what I see now as not a possibility but the eventuality of an accident happening here," she said. "You just can't increase these volumes like that … and not expect something to happen."
Lake Pend Oreille Waterkeeper, a nonprofit group that works to protect water quality in the Clark Fork-Pend Oreille Watershed, also is raising questions about the bridge plan.
"While BNSF purports that a second bridge will help alleviate existing train congestion, I believe that it will more likely open up the floodgates to service the coal and oil industries, which already dominate the tracks and crowd out other commodities," said executive director Shannon Williamson, who sits on the Sandpoint City Council.
The organization has collected and analyzed water samples that show coal from open-air trains is getting into the lake, Williamson said.
"We are deeply concerned about how increased coal shipments over and adjacent to Lake Pend Oreille will impact water quality," she said.
BNSF is investing billions of dollars in track upgrades and safer containers across its network using the "safest technology that can be applied to modern railroading," and the Pend Oreille bridge project is one piece of that effort, Melonas said.
"There's no better time than now to start planning for the future, and we've always known that another bridge is critical," he said.
Local journalism is essential.
Give directly to The Spokesman-Review's Northwest Passages community forums series -- which helps to offset the costs of several reporter and editor positions at the newspaper -- by using the easy options below. Gifts processed in this system are not tax deductible, but are predominately used to help meet the local financial requirements needed to receive national matching-grant funds.
Subscribe now to get breaking news alerts in your email inbox
Get breaking news delivered to your inbox as it happens.
---