News > Features
A day of old-fashioned fun – really old-fashioned
Fri., Sept. 19, 2014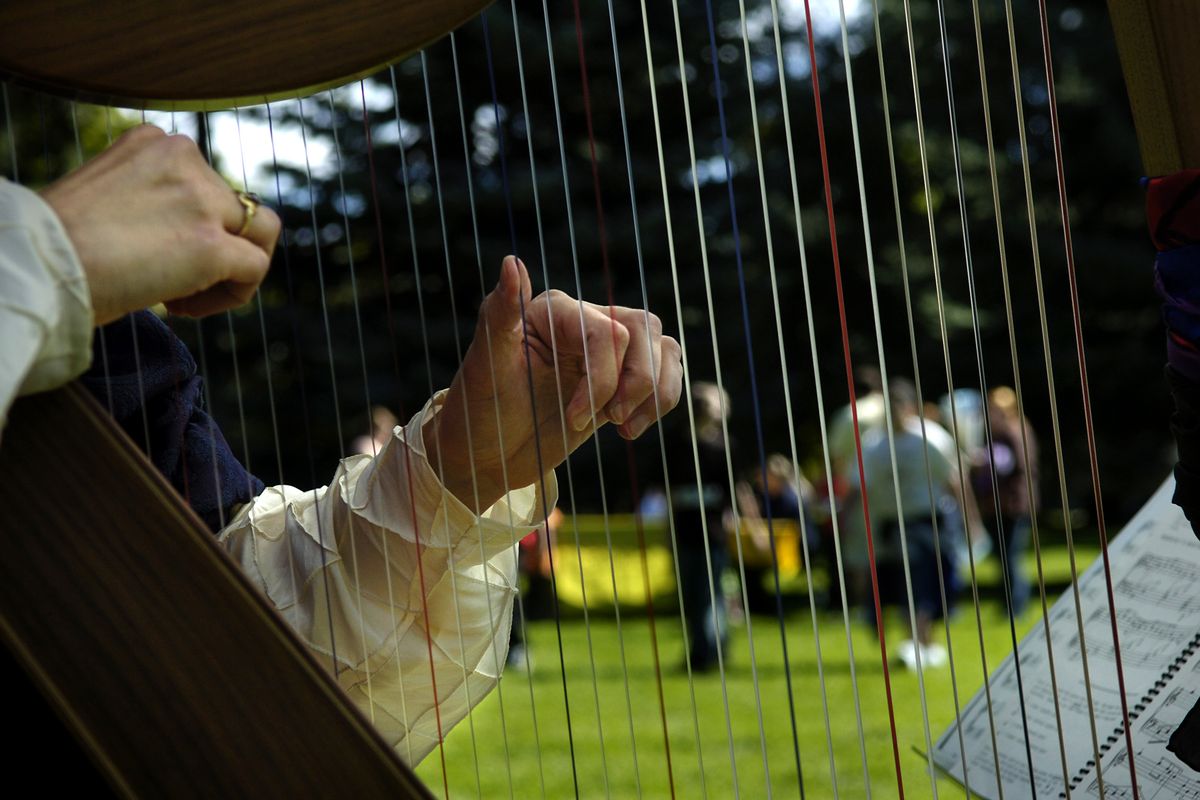 Harp player Lyndee Stelling is slated to return to the Children's Renaissance Faire at Manito Park on Saturday. (File)
The cats will be flying Saturday at Manito Park.
A catapult hauled in for the Children's Renaissance Faire will be loaded with stuffed toys for hurling demonstrations, just one draw at the annual event that packs arts and crafts, music and fairies into a few hours.
The fair is organized by the Friends of Manito to draw new families to the South Hill park, said Doreen Givens, a member of the group who's in charge of the event. Saturday's fair will be the first that includes activities supplied by outside partners, including Mobius Science Center, Spokane Art School and the Spokane Renaissance Faire (which is supplying the catapult).
Volunteers dressed in Renaissance costumes will offer up Renaissance-themed activities. Period garb is optional for the kids.
Those who are up for a treasure quest can pick up a map when they arrive and sew a pouch for stashing their goods. Those who complete the quest are eligible for knighting – as either a lady or a lord – by a Renaissance queen.
And kids can visit the "fairy glen" to make crafts to take home (think fairy wands, elf headbands, fish rubbings). Those more into running around can play games such as chase the dragon and the goose game, Givens said. The latter involves a giant game board painted on the grass.
A harp player, a traveling minstrel and a magician will play for the masses.
There might not be mutton, but the Park Bench Café – a stroll through the park – will be open through its final weekend of the season. The Park Bench, open from 9 a.m. to 5 p.m. Saturday, is at 1976 S. Tekoa St., between Mirror Pond and the perennial gardens.
Adrian Rogers
When: 11 a.m. to 3 p.m. Saturday
Where: Manito Park is at 1702 S. Grand Blvd. The event will take place on the field east of Duncan Garden along Tekoa Street.
Admission and activities: Free
Local journalism is essential.
Give directly to The Spokesman-Review's Northwest Passages community forums series -- which helps to offset the costs of several reporter and editor positions at the newspaper -- by using the easy options below. Gifts processed in this system are not tax deductible, but are predominately used to help meet the local financial requirements needed to receive national matching-grant funds.
Subscribe now to get breaking news alerts in your email inbox
Get breaking news delivered to your inbox as it happens.
---