Sports
More fun times for Eagles
Eastern comfortable even when trailing late
Mon., Sept. 22, 2014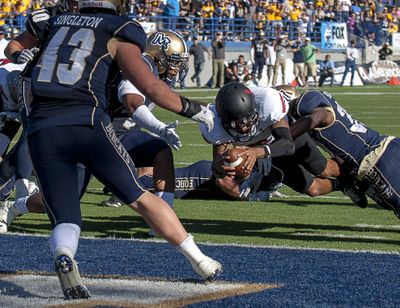 BOZEMAN – As Vernon Adams likes to say, this game is supposed to be fun.
And so it was Saturday afternoon – even with 1:55 to play, the Eagles down by seven and needing to go 73 yards against a feisty Montana State team backed by 19,377 fans and half that many cowbells.
After MSU took a 51-44 lead and the cameras broke away for a commercial break, the Eagles offensive players gathered on the sideline. Most were smiling, and some were laughing, as if to say: "This will be fun."
That spoke volumes about the Eagles under head coach Beau Baldwin: There are no gut checks, only belly laughs. And some serious skill, even on a day when Eastern's motto of "start fast, finish strong" wasn't being realized on either side of the ball – until the final moments of an epic 52-51 win.
"Our thought was, we're going to get one more shot," wide receiver Cooper Kupp said. "There's never any panic … We do it every day in practice; it's an everyday thing."
That attitude, combined with Adams' game-changing abilities, is what separates the second-ranked Eagles from the rest of the Big Sky Conference.
The Eagles had fought uphill for most of the afternoon, and the grade got even steeper on fourth-and-10 at their own 37 with 1:15 left. Baldwin took a timeout to calm his players, and Adams delivered a 40-yard strike to up-and-coming star Kendrick Bourne.
"You have to flush whatever has been happening, and then move forward to the third and fourth quarter even if you aren't playing your 'A'game," Baldwin said afterward.
The Eagles also got caught some luck when Shaq Hill was tackled just shy of the end zone after an 18-yard catch from Adams. A few more seconds elapsed before Mario Brown atoned for an earlier fumble with a 1-yard score with only 27 seconds left. That would come in handy a few minutes later.
And so the comeback was complete, as fans waited for backup kicker Jake Miller to take the field and send the game to overtime. But once again, Baldwin was thinking ahead.
The old adage to play for the win at home and a tie on the road didn't make sense with a substitite kicker who already had done everything he was asked.
"Not going for it didn't even enter my mind," Baldwin said.
Baldwin's courage was rewarded when the Bobcats jumped offside. A yard-and-a-half closer now, the Eagles changed the play, Adams "saw an opening" and dived into the end zone.
With time enough to answer, the Bobcats couldn't. MSU quarterback Dakota Prukop got them to midfield on one pass; another 10 yards would have put them in field-goal range, but an incompletion to Shawn Johnson left no options but a Hail Mary that fell to the turf.
"If he catches that ball and runs like Shawn can run we would have gotten at least 10 yards," MSU coach Rob Ash lamented. "That's what I figured we needed. That was the whole plan. Get one more completion. One more completion and we would have had a chance."
Earlier in the fourth quarter and leading by a touchdown, Ash gambled on fourth-and-short in the MSU half of the field. But Eastern safety Tevin McDonald anticpated the play, caught running back Anthony Knight by the ankle with the play's outcome undecided until the chains were brought in.
One inch. "One freaking inch," Ash said.
Eastern took full advantage, tying the game and setting up the heroics that followed.
At game's end, that was the difference in the game, and the programs: execution in the clutch.
That, and having some fun along the way. 
Local journalism is essential.
Give directly to The Spokesman-Review's Northwest Passages community forums series -- which helps to offset the costs of several reporter and editor positions at the newspaper -- by using the easy options below. Gifts processed in this system are not tax deductible, but are predominately used to help meet the local financial requirements needed to receive national matching-grant funds.
Subscribe to the sports newsletter
Get the day's top sports headlines and breaking news delivered to your inbox by subscribing here.
---
Subscribe and log in to the Spokesman-Review to read and comment on this story