News > Features
Feedback: Zag, Eag nations stand proud
Zag nation stands proud
Fri., April 3, 2015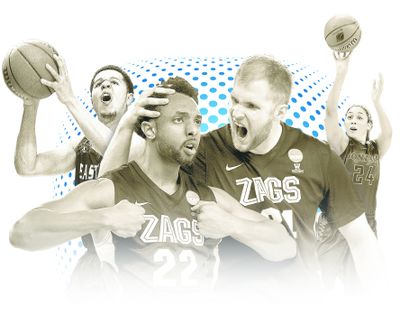 At the end of the Gonzaga Bulldogs' loss to Duke on Sunday in the Elite Eight round of the NCAA tournament, we posted a photo from the game on Facebook, asking our friends to "like" it if they were proud of the accomplishments of this year's men's and women's teams. The response was immediate and heartfelt. More than 16,000 people liked the post and more than 500 commented. Here's a sampling of the comments.
Congrats to the Gonzaga and Eastern Washington basketball teams for making it to the Big Dance and for making Spokane proud.
L. David Carpenter
JUST WAIT WE WILL BE BACK
Mary Lawlor
Great run. Love the ZAGS. Boys and Girls rocked the season
Rhys Evans
8 months to go 
Larry Hasse
They both were great.
Diana Dawson
Two of their greatest Texas fans were there to cheer them on!
Edee Peterson Hunt
#UnitedWeZag
Jane Greene
Very nice that Eastern and the Zags represented our area in a very positive way
Anjali Barretto
Couldn't agree more! Our Zags are awesome and make us proud. Congrats to Coaches Few and Fortier and the team for a great run. Next year, Zags!
Shannon Hogan Hickman
The ZAGS did great. Excellent season, thanks
Peggy Cote
We sure are proud of all of you
James M Hagins Jr
Proud always of Zags and Eags men & women's programs
Joshua Bishop
Great year for men and women. Saw big hearts and determination by both. Great job.
Andrea Williams
Love you Gonzaga so proud….. win or lose always a ZAG 
Vicki McBride
How could you not be proud!
Patti McMaster
Thank you Kevin & Gary for 4 great years. You will be missed! Zag for Life Class of '77
Jackie Newton
Very Proud!
Dee M. Grim
YOU gave a GOOD RUN FOR THE MONEY. WE LOVE YOU 
Ginny Howard
Good go at it, Gonzaga University. 
Ann Finke
Great season, fun to watch.
Russ Olsen
They will just reload. Great run for seniors, thanks guys
Sandi Wagner Solverson
Love our Zags!
Rae Presnell 
Go ZAGS, we love you
William Leahy
They gave us hope and joy in the great northwest. They zigged good.
Michaelle Sande
What a great year for both the men's and women's teams! So proud of all the players and coaching staff.
Sharyle Blosser Croswhite
Great season, lots of fun and yells. Thanks guys & gals.
Brandie Henderson
It really was a heck of a run!
Suzanne Cross
Great game. Nothing to be ashamed of.
Diana Courneya
No matter what, I love my Zags, they played a hell of a game. GO ZAGS
Katherine Rieckers
I love this sentiment and I support the community that supports one of their finest contributors!
Louise Sullivan
Thank you seniors
Judy Mur
Thanks for the memories
Dino Roberts
Top 8 again … epic year … wow!
Sean Nemec
Proud to be a ZAG.
Jackie Laughlin
Great year … hold your head up high you are champions.
Maria Tamez
Enjoyed watching both men's & women's games during basketball season. Thank you!
Lisa Olmer Wilson
Great season, Zags! Spokane is proud.
Brad Young
Congratulations women and men! You both made Washington proud!
Steven D. Howard
#ZAGNATION
Lenore Romney
We're proud alright … great run for both Zag teams … loved watching you … stand proud!
Brandon Blank
#zag4life
Russ Fox
I just hate you only get these guys for a short time. Exciting season, thanks Zags
Kelli Mason Hill
What an AWESOME season! Hold your heads high and be proud of yourselves! You have nothing to be ashamed of. Spokane is behind you 100%! Way to represent!
Kathleen McAllison
You guys rock
Pam Whittekiend
Very proud of our "DOGS," we were represented well!
Thomas Edward Cutting
Sabonis had a great game, looking forward to next year with a solid lineup!
Chuck Pray
Great run for both the women and the men. This has been a fantastic team, I hope they all continue to do well in every endeavor. I will always be a Zag.
Steven J. Heinen
Fantastic year guys! Thank you Kevin Pangos, Gary Bell Jr, Byron Wesley!
Mary Jo Robinson
Agreed! We had a wonderful ride! And I enjoy watching games with fellow Zags of all ages!
Marlene Smith
Amen!
Arnie Saddler
Amazing season. Thank you Zags. Made life so much better to watch you play!
Karen Ward
I love them. Win or lose.
Lori Rukes
But Elite 8 is AWESOME! Another great year Zags … thanks!
Dan Mary Russell
You guys rock, amazing year
John Finney
You gentlemen have played with honor and integrity. Be PROUD of what you have done this year!
Carol Ichinose
Yes! We are so proud of the season you've given all your fans. It's always hard when the season ends. We are proud to wear our Sweet Sixteen and Elite 8 shirts.
Denise Woodbury
You make the whole Northwest proud Zags! We'll miss you Kevin, Gary and Byron—wish you the best in your futures! We look forward to the returning Zags! This was an awesome season! Thanks so much. 
Local journalism is essential.
Give directly to The Spokesman-Review's Northwest Passages community forums series -- which helps to offset the costs of several reporter and editor positions at the newspaper -- by using the easy options below. Gifts processed in this system are not tax deductible, but are predominately used to help meet the local financial requirements needed to receive national matching-grant funds.
Subscribe to the Coronavirus newsletter
Get the day's latest Coronavirus news delivered to your inbox by subscribing to our newsletter.
---