News > Idaho
Kootenai County looks at easing shoreline rules
Sun., April 12, 2015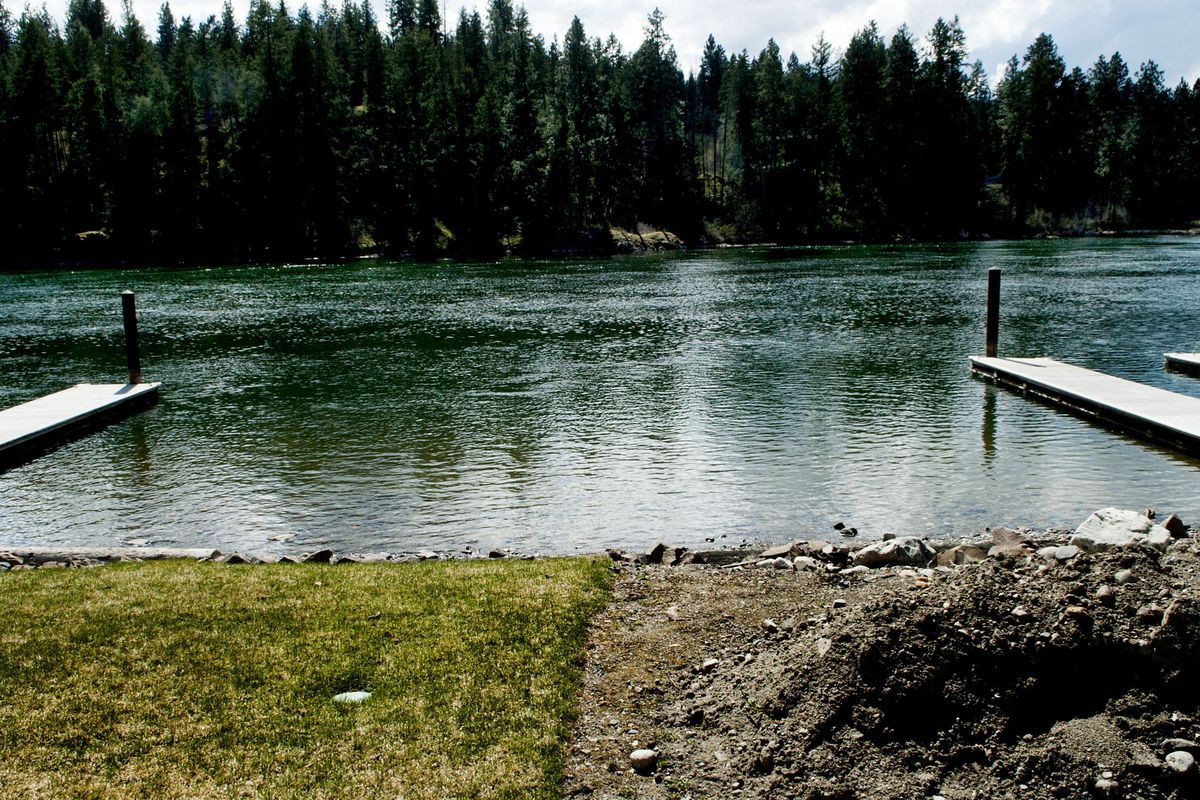 Bare ground awaits seeding near the Spokane River on Thursday. Kootenai County is considering easing shoreline regulations. (Kathy Plonka)
Kootenai County is considering relaxing shoreline regulations, giving Lake Coeur d'Alene property owners more flexibility to clear native trees and shrubs and plant lawns near the water.
Current regulations require a 25-foot buffer of native plants, which is already one of the most permissive in the region. The buffers are intended to absorb runoff and protect water quality. But Marc Eberlein, a Kootenai County commissioner, said current regulations put too many restrictions on lakeshore owners, who should be trusted to do the right thing on their land.
"If there's a nice-looking pine tree, I can't imagine that someone will cut it down," said Eberlein, who was elected last fall on a platform that included upholding private-property rights.
The prospect of more green lawns on the waterfront worries the state and the Coeur d'Alene Tribe, whose monitoring shows a five-year decline in the lake's dissolved oxygen levels. Phosphorus-rich runoff from fertilizing and watering lawns spurs aquatic plant growth in the lake, contributing to the oxygen decline.
More data will be out later this year, but "it's trending in the wrong direction," said Jamie Brunner, the Idaho Department of Environmental Quality's lake management plan coordinator.
Lake oxygen levels help keep a lid on heavy metals trapped in sediment on the lake bottom.
Six years ago, the state and the Coeur d'Alene Tribe shook hands on a deal to avoid a federal Superfund cleanup of the lake. Instead, they agreed on a plan to keep water quality high.
The lake management plan calls for preserving buffers and restoring native trees and plants around the lake. It was adopted in consultation with a previous Kootenai County board of commissioners.
"The challenge for DEQ is that we have jurisdiction over the water quality in Lake Coeur d'Alene, but we have little to no authority over the land management that affects it," Brunner said.
"We all want a clean lake," said Laura Laumatia, the tribe's lake management plan coordinator. "We're all in this together. … There are some minimum (standards) that the community needs to work together on." Buffers, she said, "are one of those pieces."
'Scout's honor system'
Eliminating the 25-foot buffer was suggested by the Coeur d'Alene Lakeshore Property Owners Association, which represents about 500 property owners.
The regulations, which were adopted in the 1990s, force landowners to get a permit and hire an engineer to make even modest changes to retaining walls or landscaping in the buffer zone, said Rand Wichman, a consultant for the group. As a result, property owners either do the work without permits or forgo taking care of erosion problems, he said.
"It really does seem overreaching," David Callahan, the county planning director, said of current regulations. Landowners have complained to him about spending $3,000 to hire an engineer.
"It would make sense if we were dealing with virgin land," Callahan said, but "a good many lots along the lakeshore are already developed."
Callahan is accepting public comments on the proposed buffer elimination, which would require action by the planning commission and county commissioners. In addition to Lake Coeur d'Alene, the proposed change would apply to unincorporated areas along the Coeur d'Alene and Spokane rivers and other lakes in Kootenai County.
The DEQ, the tribe and the Kootenai Environmental Alliance support changes that give landowners more leeway to work in the 25-foot zone, but say eliminating the buffer is too extreme.
"The 25-foot buffer, as Kootenai County's own literature has suggested, is among the smallest in the country for protecting a lake," Laumatia said. Bonner County has a 40-foot buffer, and buffers of 150 to 300 feet are required in some Montana counties.
About 40 percent of the lots around Lake Coeur d'Alene remain undeveloped, according to the most recent county figures.
With more development coming, a "Scout's honor system" for property owners isn't enough to protect water quality, said Adrienne Cronebaugh, executive director for the Kootenai Environmental Alliance.
"When you sit down with folks from this group, they feel it is their property and they should be able to do whatever they want," Cronebaugh said. "If they want to grow grass down to the high-water mark and fertilize it, they could under this proposal."
Lakeshore property owners feel singled out for regulation, said Wichman, the consultant. They represent about 1 percent of the watershed draining into Lake Coeur d'Alene and don't contribute much phosphorus to the lake, he said.
"We don't believe that there is a water quality benefit from this regulation as implemented on Lake Coeur d'Alene," Wichman said.
Eberlein, the commissioner, said he could picture lawns benefiting water quality.
"Why does someone having grass along the lake mean that there will be phosphorus in the lake?" Eberlein said. "I don't know that people are fertilizing their lawns."
A cautionary tale
Laumatia said the state and the tribe are working to identify how phosphorus is getting into the lake. There are multiple sources, including septic tanks and sediment carried into the lake by tributaries, she said. Both the Coeur d'Alene and St. Joe rivers are large contributors of phosphorus to Lake Coeur d'Alene.
Lawns and shoreline disturbance might seem like a small piece of the problem, but it also needs to be addressed, Laumatia said.
People who plant grass tend to value the aesthetics of green lawns, which means fertilizing and watering, she said. That contributes to nutrient runoff during the critical summer months, when lake water is at its warmest and aquatic plants grow faster, she said.
Recent water quality problems in Lake Fernan have caught the researchers' attention because of the potential for the same types of problems in Lake Coeur d'Alene's shallower bays. Blue-green algae outbreaks are becoming more frequent at Fernan, a small lake near Coeur d'Alene. Last year, the outbreaks kept people out of the water for three weeks in July.
"It's hard when a lake gets to that stage to put it back together again," Laumatia said.
"I hope we can engage in some dialogue with the commissioners," she added. "We want to share the science with them and explain why their decisions are so critical to the success or failure of the lake management plan."
Local journalism is essential.
Give directly to The Spokesman-Review's Northwest Passages community forums series -- which helps to offset the costs of several reporter and editor positions at the newspaper -- by using the easy options below. Gifts processed in this system are not tax deductible, but are predominately used to help meet the local financial requirements needed to receive national matching-grant funds.
Subscribe now to get breaking news alerts in your email inbox
Get breaking news delivered to your inbox as it happens.
---