Sports > Seattle Mariners
Let's put the refs back in charge
Sun., April 12, 2015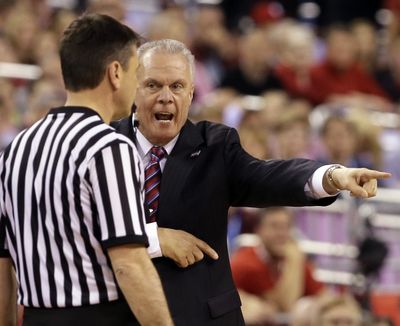 Monday: There has been a lot of discussion this season on improving college basketball. The game has gotten too physical, the narrative goes, and changes have to be made.
Attendance is down, the regular season is hurting and the future looks bleak. A radical revamp is needed. Maybe a 30- or 24-second clock is the ticket. How about widening the lane? Limiting the number of timeouts. Rule changes are necessary, the chorus echoes, if college basketball is going to thrive again.
Well, baloney.
Radical change isn't needed, just a little fortitude is.
You want to get more offense into the game? Fine. Enforce the rules as they are written. Yep, nothing radical needs to be done. It won't be easy, but it is necessary.
Empower your officials to call every touch, every impediment. Tell them to call over-the-back fouls again. To whistle the second player on the free-throw line when he or she pushes the first player toward the hoop with their legs. Call hand checks. The first one. Call arm bars. The first one. Call body bumps. The first one, the second one, every one.
The idea is to limit contact, not to punish good defenders.
Demand officials become enforcers of the purity of the game. Have their backs. Don't back down. Reward the ones that do with plum assignments. Keep it up no matter the outcry. Make sure the NCAA tournament is called the same way next season. That's all it will take.
One season, one championship, one vision.
Thursday: If Jack Nicklaus can make a hole-in-one at age 117 or whatever, why can't I?
Jack is just 75, so I guess his hole-in-one yesterday during the Masters' par-3 contest isn't that big a deal. Right. I mean, really, I just hope to be somewhat ambulatory at age 75 – though owning one of those little scooters has always fascinated me – so swinging a golf club and back-spinning a ball into the cup from 123 yards at his age is quite impressive.
Even more so is Nicklaus saying he never had a hole in one at Augusta before. The guy is still proving he's the greatest of all time.
Tuesday: Opening Day has taken on a momentum of its own, or so it seems. Capitalizing the name? Really? What's the big deal? So baseball is back. Does that mean all is right in the world again? Well, honestly, yes.
First off, can there be a better confluence of sporting events than the Mondays when baseball's opening day coincides with the NCAA title game? Talk about near perfection. It just cries out for a hot dog or a related type of sausage for dinner, right? At least that's how I viewed it. A cold adult beverage, hot dogs, a soft spot to sit. What could be better?
I spent more time listening to the game yesterday than watching it. There is something soothing, something nostalgic, something just right about listening to a baseball game on the radio. I worked on the computer, listened to the game and, if something big happened, walked downstairs to catch the replay on TV. The best of both worlds. And a perfect Monday.
Wednesday: There is a speech in "Field of Dreams" or "The Natural" or "It Happens Every Spring" about baseball being the one constant in an ever-changing America. And the one constant in an ever-changing American League? The Mariners will struggle against left-handers.
OK, I know James Earl Jones made the steamroller speech in "Field of Dreams," so don't chide me. I was just having some fun. That's why I mentioned the god-awful "It Happens Every Spring."
If you haven't seen it, don't. Or do, if you like high camp – and really believe you are only a wood-repelling invention away from pitching in the big leagues.
Sort of like C.J. Wilson.
The veteran left-hander used something repellant yesterday to beat the Mariners 2-0. After all, the revamped M's lineup couldn't be shut out by a lefty again, could it? Not after the off-season additions of Nelson Cruz and Rickie Weeks.
The good news is each of those two new players had a hit. The bad news? They were the only two the M's had yesterday. James Paxton gave up two back-to-back – a double to Albert Pujols and an opposite-field home run to David Freese – and that was enough to end any hopes of an undefeated season. Or an undefeated April. Or, heck, even an undefeated first week.
That's baseball.
Every team wins a third of its games, every team loses a third. It's what happens in the other third that determines success, or not.
Local journalism is essential.
Give directly to The Spokesman-Review's Northwest Passages community forums series -- which helps to offset the costs of several reporter and editor positions at the newspaper -- by using the easy options below. Gifts processed in this system are not tax deductible, but are predominately used to help meet the local financial requirements needed to receive national matching-grant funds.
Subscribe to the sports newsletter
Get the day's top sports headlines and breaking news delivered to your inbox by subscribing here.
---