News > Features
People: Judge orders Knight to face murder count
Fri., April 17, 2015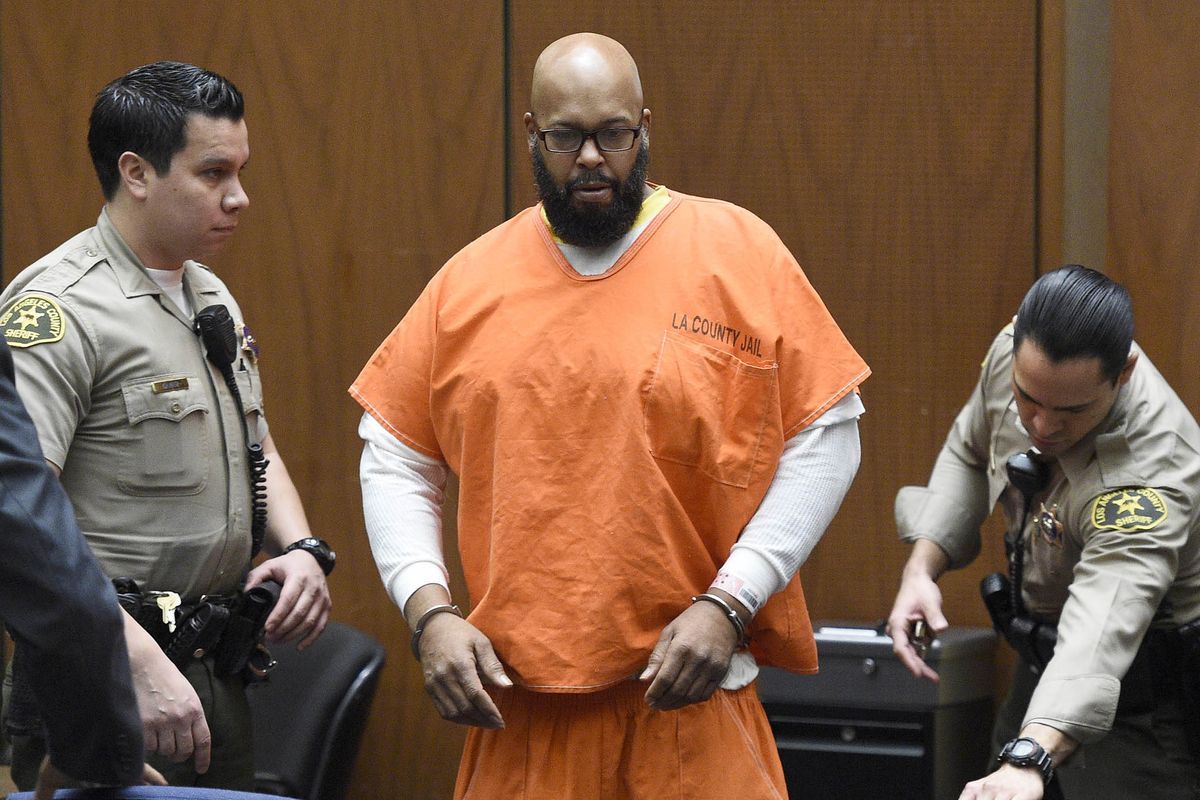 Knight
Former rap music mogul Marion "Suge" Knight was hospitalized again on Thursday after a judge ordered him to stand trial on murder and attempted murder charges filed after he ran over two men in a parking lot.
Knight's condition and the cause of his latest health problem were not immediately known, but it was the fifth time the Death Row Records co-founder had been taken from a courthouse to a hospital during proceedings in the case.
The latest trip came after Superior Court Judge Ronald Coen rejected Knight's argument that he acted in self-defense when he was viciously attacked by men outside a Compton burger stand.
Coen said it appeared Knight, 49, wasn't attempting to flee but instead trying to kill someone when he accelerated forward in the truck.
Lady Antebellum tour bus burns
A tour bus for superstar country group Lady Antebellum caught fire Thursday along an interstate near Dallas, though no one was injured.
Singer Hillary Scott posted on the group's Facebook page that she, her husband, their tour manager and the driver were on the Dallas-bound bus when a tire caught fire.
Photos show the back of the bus badly burned. Scott says everyone evacuated, writing "EVERYONE IS SAFE AND SOUND."
Physicians want Oz out of Columbia
Columbia University has not removed TV celebrity doctor Mehmet Oz from his faculty position as a group of top doctors has demanded, citing his "egregious lack of integrity" for promoting what they call "quack treatments."
"Dr. Oz has repeatedly shown disdain for science and for evidence-based medicine," said a letter the 10 physicians sent to a Columbia dean earlier this week. They say he's pushing "miracle" weight-loss supplements with no scientific proof that they work.
The New York Ivy League school responded Thursday, issuing a statement to the Associated Press saying only that the school "is committed to the principle of academic freedom and to upholding faculty members' freedom of expression for statements they make in public discussion."
Oz was not reachable Thursday night at his Columbia office number.
Led by Dr. Henry Miller of California's Stanford University, the doctors sent the letter to Lee Goldman, dean of Columbia's Faculties of Health Sciences and Medicine.
The doctors wrote that Oz, for years a world-class Columbia cardiothoracic surgeon, "has manifested an egregious lack of integrity by promoting quack treatments and cures in the interest of personal financial gain."
They said he has "misled and endangered" the public.
The birthday bunch
Actress Olivia Hussey is 64. Singer Liz Phair is 48. Actress Jennifer Garner is 43. Singer Victoria Adams Beckham is 41.
Local journalism is essential.
Give directly to The Spokesman-Review's Northwest Passages community forums series -- which helps to offset the costs of several reporter and editor positions at the newspaper -- by using the easy options below. Gifts processed in this system are not tax deductible, but are predominately used to help meet the local financial requirements needed to receive national matching-grant funds.
Subscribe now to get breaking news alerts in your email inbox
Get breaking news delivered to your inbox as it happens.
---