A&E > Entertainment
Sharing flavors, experiences
Europe, Mideast inspire pair of new eateries in Saranac Commons
Fri., April 17, 2015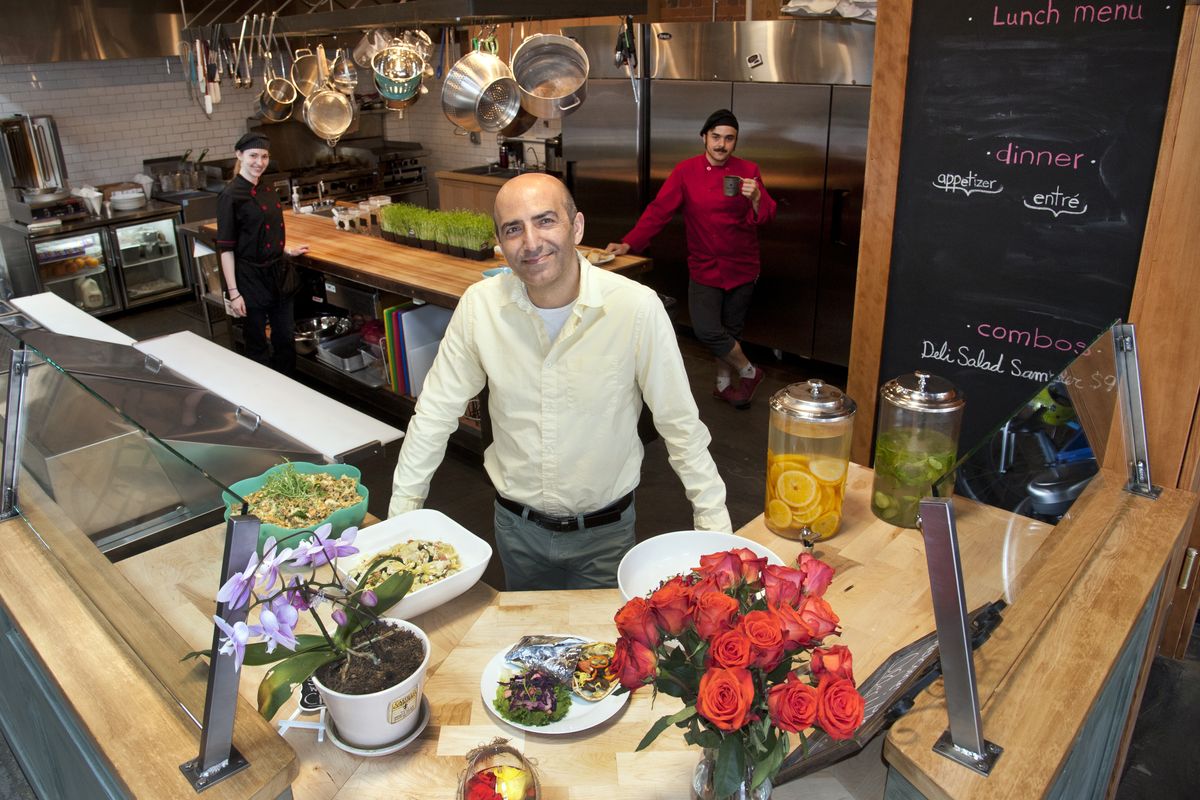 Proprietor Shahrokh "Sharo" Nikfar, center, stands behind the counter at Mediterrano, along with chef Merry Migliuri, left, and sous chef David Jones. (Dan Pelle)
A shiny samovar sits atop a tall cupboard, watching over operations at the new Caffé Affogato.
Proprietor Shahrokh "Sharo" Nikfar put it up there, well-polished and in a place of honor, because it's a family heirloom.
"It reminds me of my roots," he said. "I grew up in a tea culture."
Nikfar came to America in the late 1970s as revolution was brewing in his native Iran. Now, the flavor of the Old World meets the taste of the Inland Northwest, his adopted homeland, at his two new eateries in Saranac Commons, at 19 W. Main Ave.
Caffé Affogato specializes in loose-leaf teas and espresso drinks and desserts. Mediterrano offers lunch and dinner with Persian, Greek, Turkish, French, Italian and Spanish influences.
Both stand just inside the front doors of the newly renovated Main Avenue building designed to resemble an indoor marketplace.
"When I found out about his space – and it's right next to my office – I thought, 'What a great opportunity.' This space is my community," Nikfar said. "The energy is what feeds me; the energy is so happy."
The 53-year-old fledgling restaurateur credits his mother for instilling in him a passion and appreciation for good food and drink. The samovar came from her side of the family more than 100 years ago.
"It was my mom who taught me food is the language of love," said Nikfar, noting friends and family have long praised his cooking.
"Everyone has always told me that I should have a restaurant," he said. "My passion is to feed my friends and to feed my family and make them happy."
At both establishments, Nikfar said he's aiming for high-quality menu items influenced by his travels in France – particularly Paris and Grenoble – as well as Milan and his youth in Tehran, where he was born and raised.
"It's not that I'm copying Europe" or the Middle East, he said. "It's that I want people to experience what I have experienced."
Coffee break
Nikfar opened Caffé Affogato at the end of February with five baristas – he calls them "artisans" – and all kinds of coffee drinks.
Coffee beans come largely from Seattle's Caffé D'arte which uses a 1949 Balestra alderwood-fired roaster to roast its beans. (These days, most are electric or gas-powered.) Founder Mauro Cipola brought it with him when he emigrated from Italy in the 1970s.
"I wanted something wonderful," said Nikfar, who also uses beans from Espresso Vivace in Seattle. "We do have good coffee roasters in Spokane, but I wanted to expose Spokane to something new."
An inlaid model of the Spokane River runs across the custom-made countertop, filled in with coffee beans. Cupboards are gray and rustic. Walls are exposed brick or gold-toned, layered paint. Edison-style bulbs light the place.
Beverages are often topped with orange or lemon zest to enhance coffee flavors. Look for the $3.95 Medici, a double espresso with chocolate syrup, orange peel and whipped cream.
Of course, there's also the coffee shop's $5.95 namesake, which features ice cream from the local Brain Freeze Creamery and two shots of espresso.
"We created our own affogato," Nikfar said, noting that – along with the two main ingredients – his version also features vanilla whipped cream, chocolate shavings, orange zest, a pirouette cookie and a chocolate-covered espresso bean.
The $2.95 Dolce Fine doesn't include citrus, but Nikfar is particularly excited about offering it. The sugar-rimmed espresso shot features four layers (ice, vanilla, espresso, cream) and four temperatures (freezing, room, cool, hot) and is theoretically meant to be consumed in four seconds. You could sip it, but then you would lose out on the sensation of rapidly changing taste and temperature.
Tea time
Caffé Affogato also serves cold and ice brew, hot chocolate, pour-over coffee and 13 varieties of tea.
Leaves come from the Missoula-based Lake Missoula Tea Co., which offers specific time and temperature instructions for steeping. Look for black mango, blood orange, chamomile, Assam chai, spicy ginger, lemon balm and more. Tea sells for $3.45 per cup.
Nikfar doesn't use his prized samovar for brewing tea at his shop. These days, it's more of a symbol and decoration. But, he said, "It still works if you want it to."
He came to the U.S. as a 16-year-old student in late 1978. Demonstrations against the Shah had begun a year earlier, intensifying between August and December.
Nikfar left Tehran in November. Within six months, Iran became an Islamic republic.
After high school in Texas, he moved to Spokane, where his sister was already working as a physician. Nikfar attended Gonzaga and Eastern Washington universities, receiving bachelor's and master's degrees in 1989 and 1994.
He worked in corporate management until about 12 years ago when he switched careers to focus on social justice and human rights. Now, he serves as assistant director and testing coordinator at Northwest Fair Housing Alliance in the Community Building next to the Commons.
Mediterranean grill
Caffé Affogato lies directly across from Mediterrano, which opened in mid-March. Nikfar's second restaurant features plates the color of the sea and an open-concept kitchen lined with subway tile, no microwave, and a table fashioned from repurposed bowling lanes.
"Everyone seems to be hiding their kitchens," Nikfar said. "I'm proud of what we're doing. I want everyone to see what we are doing. Food is not only taste; it is visual."
Chef Merry Migliuri, 29, a 2010 graduate of the Inland Northwest Culinary Academy at Spokane Community College, had been working at Masselow's at Northern Quest Resort and Casino before heading up Nikfar's kitchen.
"He had a menu of dishes he wanted to offer, and I gave it my own twist," she said.
Staples include beef-and-lamb gyros ("It's probably our signature," Migliuri said), a lamb burger, baklava, a half-dozen flavors of hummus, falafel, garlic fries made with hand-cut potatoes, rice bowls and deli salads.
The idea is to be able to order fast, casual cuisine at modest prices. A full lunch – main, side, beverage – is about $15.
Nikfar is already planning to host special events, such as paella parties on the roof with a flamenco dancer and Spanish guitar.
That's because the moniker doesn't only refer to the region surrounding the Mediterranean Sea, he said.
"The name, it's a lifestyle," Nikfar said. "It means you eat good food. You spend quality time with your friends. It's about passion. It's about joy. It's a celebration."
Local journalism is essential.
Give directly to The Spokesman-Review's Northwest Passages community forums series -- which helps to offset the costs of several reporter and editor positions at the newspaper -- by using the easy options below. Gifts processed in this system are not tax deductible, but are predominately used to help meet the local financial requirements needed to receive national matching-grant funds.
Subscribe to the Spokane7 email newsletter
Get the day's top entertainment headlines delivered to your inbox every morning.
---