News > Features
Donell Barlow's online series 'Dance Jam Kitchen' puts cooking on its toes
Tue., April 28, 2015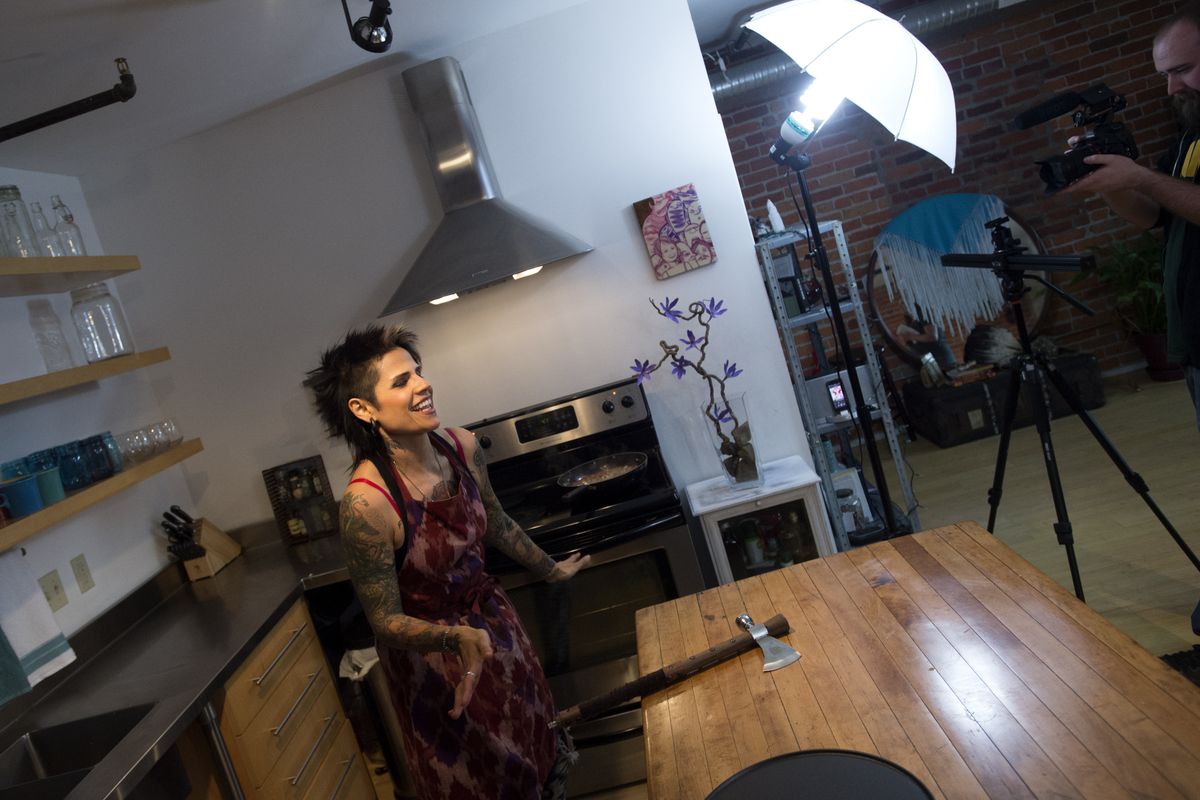 Donell Barlow performs while filming a series of cooking videos, "Dance Jam Kitchen." (Tyler Tjomsland)
During down time, Donell Barlow dances. Sometimes, she uses props.
"Should I dance around with a tomahawk?" she asks two videographers filming in the kitchen of her second-floor loft. "You can use it for outtakes, if anything."
After busting a few moves across her kitchen floor, she stops to remind herself, "I'm actually cooking food."
There's ground bison browning with minced garlic and finely chopped onions in a skillet on her stovetop for the filling of what Barlow dubs Native Warrior Crêpes. That's her leaner take on what are called "Indian tacos," high-calorie and high-fat frybread topped with ground beef, beans, lettuce, tomato and cheddar.
She's preparing the crêpes for "Dance Jam Kitchen," an online cooking series she recently created to spread awareness about healthful eating and spotlight local grocers and producers.
Barlow – a health coach, yoga instructor and member of the Ottawa Tribe of Oklahoma – is the star of the show, which she posts on YouTube. It combines two of her favorite things: dancing and cooking.
"I want to educate my audience so they make choices based on knowledge and have a healthy relationship with food," she said. "A healthy relationship with food would be trying to take the emotions out of food, especially negative emotions, and using food as nourishment. It's all about balance."
Barlow, 35, got the idea for the show earlier this year. She had been posting photos of the food she was making on her social media accounts and people began asking about cooking classes. Barlow already offers one-on-one classes for clients. The series – free and open to the public via the Internet – was a way to potentially address a much larger audience.
"I'm basically sharing my journey with food," Barlow said.
She posted the first video at the end of March. Within two weeks, it had more than 800 views. Now, she plans to post one per month. So far, she's completed two. Both run about 9 minutes and were shot and edited by her friend, videographer John Kuritz, who owns Make Waves Entertainment in Spokane. Shane Savage of Shane Savage Photography also helped shoot episode two.
Barlow is super-comfortable in front of the camera and a crowd and hardly ever at a loss for words.
"I'm used to talking all the time," she said. "I teach yoga, and you have to say random things. Same with doing hair. Sometimes, you feel like a stand-up comedian."
She's a charismatic host, high-energy and talkative with spiky hair – she's a stylist at Be Loved Salon in Spokane – and tattoos that cover her back, arms, neck, legs, stomach, one foot and fingers on both hands. "Kind" is spelled out on one; "soul" on the other.
"You can't count them," she said. "I'm covered." Only one – the fruit basket across her belly – is food related.
Barlow eats mostly fruits and vegetables with small amounts of protein and complex carbohydrates. She tries to incorporate sweet, spicy, salty and pungent or sour flavors into her dishes to help curb cravings. When she indulges, it's usually licorice. "I love Red Vines," she said.
She's lactose and gluten intolerant and avoids sugar, caffeine, soda, processed food and alcohol. She was a vegetarian for 10 years and a vegan for six before she began adding meat back into her diet about two years ago.
"I'm very picky about the meat I eat," she said. "I don't eat a lot of meat. Meat's not the foundation. It's flavor."
Her show isn't based on a particular diet. She's tried many: the Body Ecology Diet, the Raw Food Diet, the Gut and Psychology Syndrome, or GAPS, diet and several elimination diets. Instead, she shares how she eats and what she cooks.
"I try to help people get their nutrition through food, not supplements," Barlow said. "We've gotten so far away from how we used to eat. It's all cultures, not just Native American."
Barlow, from Spokane, is Ottawa on her father's side and Yurok on her mother's. She was a fancy dancer throughout high school, donning regalia and performing at powwows to help preserve and spread awareness of Native American culture.
Now, "I'm trying to get back to my roots and do bone marrow, bone broth and herbs for healing," she said.
She's particularly concerned about heart disease and diabetes among Native Americans. According to the Centers for Disease Control and Prevention, heart disease is the leading cause of death among Native Americans. And, according to the American Diabetes Association, Native Americans and Alaska Natives are more than twice as likely to have diabetes than non-Hispanic whites.
"I want to be a face of Native people, a face of health. I want to inspire them to eat better," Barlow said. "I want my people to be proud of me. I want my ancestors to be proud of me."
She teaches yoga five times per week, including two free classes at the Native Project, where she volunteers. She also runs, swims, lifts weights, hikes, walks her dog, hits the speed bag in her living room and, of course, dances. She jams mostly to electronic dance music.
"I like it when the bass drops," said Barlow, who used to be a go-go dancer at a now-defunct club in Spokane. These days, she gets her groove on at Blind Buck and Borracho – or in the comfort of her own kitchen.
"I'm not shy. Obviously," said Barlow, who graduated from the Institute of Integrative Nutrition in 2013, the same year she became a certified yoga instructor. "I'm a feeder and a sharer."
Look inside Wednesday's Food section for recipes from the second episode of "Dance Jam Kitchen."
Local journalism is essential.
Give directly to The Spokesman-Review's Northwest Passages community forums series -- which helps to offset the costs of several reporter and editor positions at the newspaper -- by using the easy options below. Gifts processed in this system are not tax deductible, but are predominately used to help meet the local financial requirements needed to receive national matching-grant funds.
Subscribe now to get breaking news alerts in your email inbox
Get breaking news delivered to your inbox as it happens.
---