Sports > Spokane Shock
Spokane Shock nose guard Terrance Taylor energizes team
Thu., April 30, 2015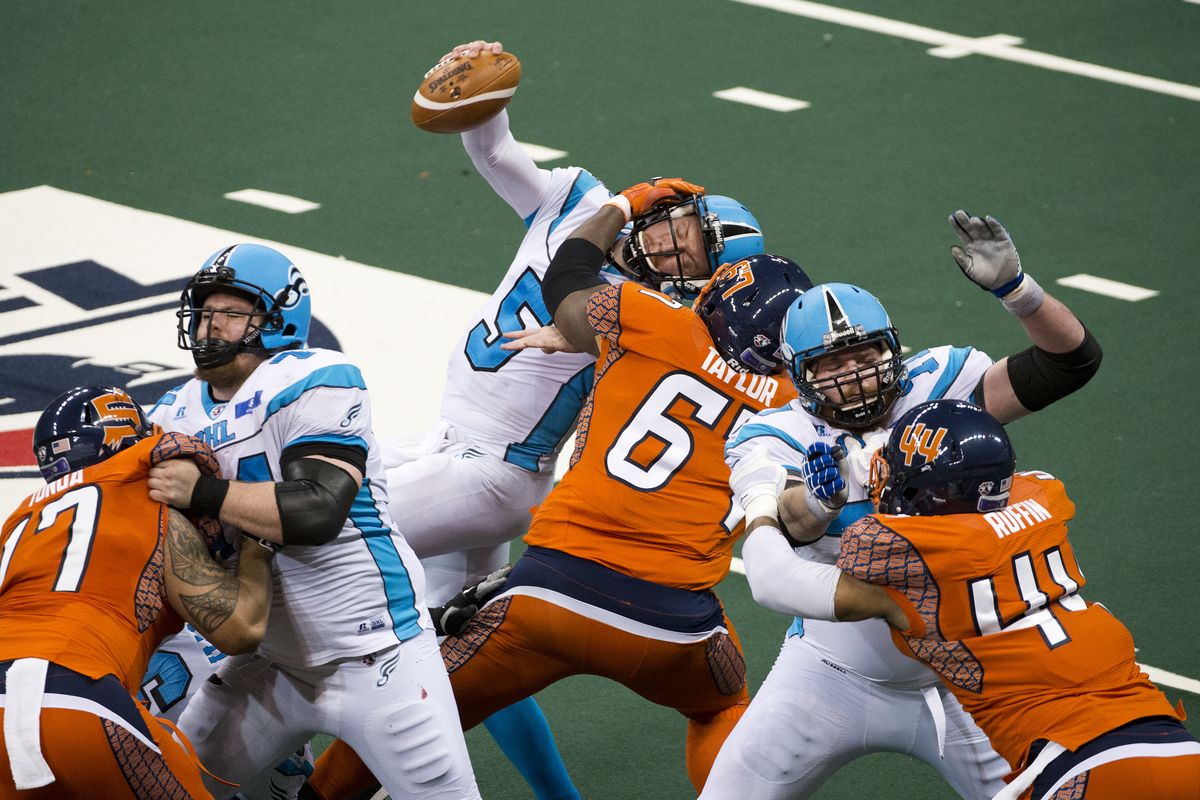 Spokane nose guard Terrance Taylor wraps a paw around Philadelphia quarterback Dan Raudabaugh earlier this season. (Dan Pelle PHOTOS)
Terrance Taylor is a big man at 6 feet, 300 pounds – he proudly points out he's not 320 pounds as listed on the Spokane Shock roster – with an outsized personality to match.
If there's a joke to be cracked, a dig to be delivered or a prank to be pulled, the nose guard is usually involved one way or another. Following Saturday's win over Orlando, Taylor and offensive lineman Patrick Afif were watching video of New Orleans, Spokane's upcoming opponent, on Afif's iPad.
Taylor noticed the background picture was of Afif running out of the tunnel during introductions. When Afif left the room for a minute, Taylor quickly changed the picture to a nearly naked Terry Crews, the former NFL player who has been on sitcoms and stars in Old Spice commercials.
"It had the line covering his waist," Taylor chuckled. "Afif didn't even notice it until Tuesday night. He texted me, 'I just saw my iPad.' I was like, 'That was Saturday.' "
Taylor has a serious side, of course, that blends with the life-of-the-party side.
"He actually makes practice fun," defensive end Derrick Summers said. "He's the type of nose guard you want, a guy who is serious and hungry and tough but he also can be fun and loose."
Taylor said he's all of those things because it's a requirement of football. He was the same way in middle school, at Muskegon (Michigan) High School, the University of Michigan and NFL stints with Indianapolis, Carolina and Detroit.
"I like to laugh and make people laugh. I like people that can make me laugh," said Taylor, known as 'TT' to his teammates. "In football, 99 percent of it is hard work and if you're not enjoying what you're doing then why are you doing it? If everybody else around you isn't enjoying it, then you're miserable.
"You try to enjoy it because these are hard days. You're body hurts so get out and laugh. You can make anybody laugh. Plus, I think I'm funny."
Taylor took up football in middle school and made Muskegon High's varsity as a freshman. When jersey numbers were issued, he waited patiently as upperclassmen made their selections. When it was Taylor's turn, he asked if No. 99 was available.
There wasn't a No. 99, just 57, 62 and 67. His coach tossed him 67.
"My freshman picture I looked so mad," Taylor laughed.
He worked out a deal with the coach that if he had a good season the coach would order a No. 99 jersey. Taylor delivered 15 sacks and his coach kept his word.
"I gained like 30 pounds (sophomore year). I twisted both ankles and had to get special metal braces. I was fat," Taylor said. "Coach gave me 67 back and I slimmed back down."
Taylor became a state champion in football, wrestling and power-lifting and state runner-up in the discus and shot put. He had scholarship offers in wrestling and was recruited by football powers LSU, Florida, Wisconsin and Miami, but opted for Michigan.
He earned second-team All-Big Ten honors and was drafted by Indianapolis in the fourth round in 2009. Taylor bounced from the Colts to the Panthers to the Lions before landing in the AFL with Spokane. He spent time with AFL Pittsburgh in 2011-12 before returning to Spokane.
Taylor had 13 sacks with the Shock over the last two seasons. He had three sacks, two forced fumbles and a touchdown in the win over the Predators, earning AFL defensive player of the week honors.
Taylor decided to make some changes after finishing the 2014 season at 340 pounds. Taylor and Afif modified their diets, worked out meticulously and Taylor showed up at training camp 40 pounds lighter. He did TRX suspension training at the YMCA, yoga, pool workouts, ran hills and flipped tires.
He's faster on the field and has more energy in the fourth quarter.
"This is a big year and I want a lot out of this year. I want to get that second chance (at the NFL)," Taylor said. "I was working with (former Shock teammate) Adron Tennell and his wife with Herbalife and I continued with it after they left."
He pauses to set up his last line. "When I lost 40 pounds," Taylor smiled, "I sent them before-and-after pictures."
Local journalism is essential.
Give directly to The Spokesman-Review's Northwest Passages community forums series -- which helps to offset the costs of several reporter and editor positions at the newspaper -- by using the easy options below. Gifts processed in this system are not tax deductible, but are predominately used to help meet the local financial requirements needed to receive national matching-grant funds.
Subscribe to the sports newsletter
Get the day's top sports headlines and breaking news delivered to your inbox by subscribing here.
---