Former Camp Reed staff join centennial celebration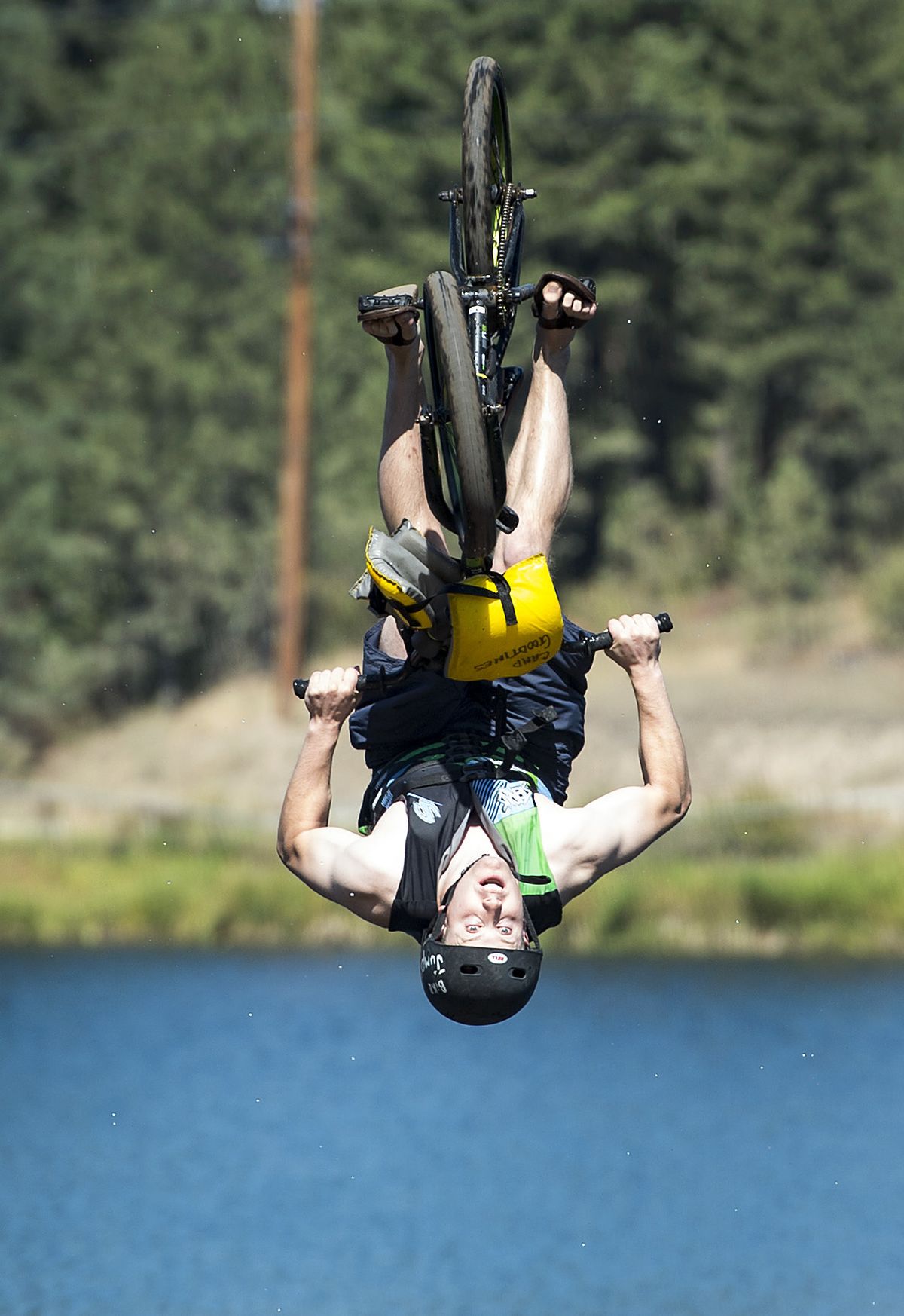 There's magic in the water of Fan Lake north of Spokane. Just ask any kid who has paddled a canoe across its calm waters, tried to catch a turtle or sat around a campfire singing silly songs or sharing their deepest feelings.
Those at Camp Reed this weekend to celebrate its 100th anniversary say it's special, a place where staff are known only by their camp names that are carefully picked soon after they arrive. Electronics are put aside, and people forge connections that have changed their lives.
Valerie "Valcano" Whitman said she grew up at Camp Reed. She started attending as a camper at age 8, then became a junior counselor. She was hired as the assistant wrangler in 1990 while she was still in high school because of her experience with horses.
In her second season as wrangler in 1991, she began dating her future husband, counselor Tod "Tator Tod" Whitman. He wanted to ride the horses and figured his best chance was to hang with one of the wranglers. Then one night he sprained his ankle and "Valcano" was the only one available to drive him to a doctor.
"We spent that whole evening together," she said. "That was when we decided that we kinda liked each other."
She was 17 years old. He was 23.
"I was the youngest person on staff, and he was the oldest, so it was a little scandalous," she said. They will celebrate their 21st wedding anniversary in October.
Camp Reed was started by the YMCA in 1915 after Frank Reed, described as a lumberman, donated 15 acres on Fan Lake to be used as a boys camp. It started small, with 20 boys in tents camped on the lakeshore.
As the years went by, donors and service groups donated land, money or built cabins and other facilities.
A 1937 handbook showed photos of boys on horseback, examining turtles on the dock and jumping off the swimming dock.
"Days spent under the sun, in company with the wind and the water, pleasant nights under the sky, work the magic that heals old hurts and inspires new visions," the handbook said. "Your child needs and should have such an experience this summer."
In the early years boys would often stay for several weeks or the entire summer, not just one week as most do now. By 1957 camp capacity was 134. But by 1968 the camp was stagnating. New camp directors, Tracy and Leta Walters, were hired.
They knew things needed to change, said YMCA board member Molly "Hot Tamolly" Schemmel.
So the camp opened to girls that summer and the tradition began of giving camp staff members fun names based on their real names. It was a strategy to get campers to better connect with camp staff.
It was such a hit that even staff members aren't likely to remember the real names of their co-workers.
"It's all we ever call each other," Schemmel said.
Lisa "Loco" Vogt, who took over as camp director in 2002 with her husband Tom "Bucky" Vogt, said each year the staff gets together to select the camp names for the new staff members. The person being named leaves the room and the remaining staffers select a name and vote on it.
While the names are often funny (or punny), selecting one is serious business. This year it took 10 hours to name 20 people.
"The names are something that's our greatest tradition," she said.
The couple had children ages 4, 9 and 12 when they started as camp directors. Lisa Vogt is a former attorney and Tom Vogt is an elementary school teacher with Spokane Public Schools. They spend each summer living at the camp as a family.
"They were part of the team," Tom Vogt said of their children. "It was a family adventure."
The adventure wasn't new to Lisa Vogt. She first attended Camp Reed as a camper in 1970. She worked there as a counselor in 1979 and 1980.
Camp Reed is a place where kids go to disconnect from technology and have fun. Lisa Vogt said it's an important way for children to take a break from societal pressures in a place that emphasizes the simple things.
"It's just a humble place to learn some life lessons that we all need to learn," she said. "That's what motivates me. I want to give children the opportunities I had as a camper."
For many people, coming to Camp Reed is a family tradition. People who attended long ago send their children, who send their own children. Those campers then become counselors.
"Right now, our staff were mini-campers," said Lisa Vogt. "They've known us since they were 6 years old."
Whitman's father attended Camp Reed and her children have gone.
"I drank the Camp Reed Kool-Aid," she said with a laugh. "I was a die-hard camper."
Whitman first went to camp not because her father went there but because her best friend was going and she didn't want to be left behind.
"As far as I was concerned, I never wanted to come home," she said. "I wanted to be a Camp Reed counselor from the time I was 9 years old."
On Saturday, Whitman was one of hundreds of former camp employees who gathered at Camp Reed for an alumni weekend. Each wearing a T-shirt with their camp name on the back, they brought their children to swim at the beach, tour the lake in a canoe or take a tour of camp to see how it has changed.
Lena Tanguay and her husband, Joe "Jumbo" Tanguay, flew in from San Diego to attend the event. Lena attended the camp as a child and Jumbo was a counselor from 1982 to 1985. The two were at camp at the same time, but neither remembers meeting the other. They met and hit it off years later while in the same Navy unit. Jumbo said he was astonished to learn they had been at Camp Reed during the same years. As it turned out, her brother was in his cabin one year.
Her favorite activities were riding horses and playing in the creek that runs through camp.
"It's a magical place," she said as she wandered the grounds wearing a name tag that said "Mrs. Jumbo." "It's like coming back home."
He is now retired and his wife will retire from the Navy soon, Jumbo said. He wants to move back to the Spokane area and volunteer at Camp Reed.
"It's been the biggest blessing of my life," he said. "I will be back out here, doing something – participating, getting in the way."
Stan "Kwik Stan" Cooke worked as a counselor from 1979 to 1981. He'd never been a camper, but his brothers had gotten jobs at the camp so he got one too. He said his experience at Camp Reed taught him the leadership skills he uses at his job as a battalion chief with the Spokane Valley Fire Department.
"It was probably the most formative time of my life," he said.
Rachelle "Riff Raff" Montanaro was following in the footsteps of her older brother when she first attended Camp Reed in 1989. Justin "This just in" Colquhoun was four years older than she. "I was his shadow and followed him everywhere and did everything he did," she said. "There was no stopping me. I had to go out there."
Her first time at camp, also the first time she'd been away from home, was a little rough. She was scared and crying after hearing a scary ghost story and then having a group of older boys jump out of the bushes in the dark as she walked by. Her older brother was fetched and brought to her cabin, where he sat on her bunk and reassured her. After that, she couldn't be kept away.
Montanaro said she was attracted to camp by the counselors, who were positive role models for her. It was also a place where she didn't have to worry about being "cool" or wearing the right clothes.
"It's a place where you can feel like you fit in," she said. "In the real world, there's so much societal pressure, especially as a young person. It's a break from all that."
By 2000, Montanaro was a camp counselor. Her first week on the job was Camp Goodtimes, a weeklong camp for children who have cancer. She was assigned a cabin of 9- and 10-year-old girls.
Around the campfire one night, one of the girls talked about how lucky she was because her school principal had changed the rules to allow her to wear hats during her treatment.
"She was very tickled by that gesture," Montanaro said. "I had to get up and walk away. It was just so powerful to me."
That experience changed Montanaro's life. The same girl was back in her cabin the next year. The two grew so close that the girl was in Montanaro's wedding. The experience also inspired her to work for a nonprofit in Denver that funds pediatric cancer research.
Montanaro has two young girls. When they are old enough, they will go to Camp Reed, Montanaro said.
---