News > Spokane
Former L.C. valedictorian was victim of NY train-SUV wreck
Fri., Feb. 6, 2015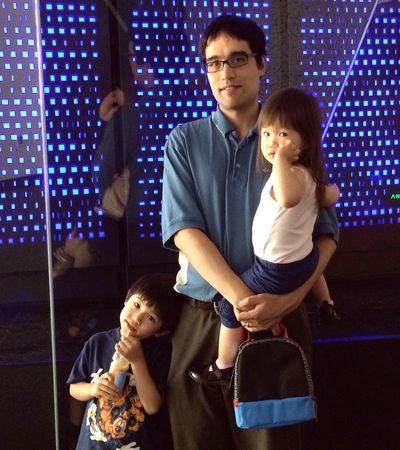 The scientific community knew Robert Dirks as a brilliant mathematician and researcher, but in Spokane he is remembered as a loving and compassionate student, son and brother.
Dirks, who was valedictorian of his class at Lewis and Clark High School in 1996, was one of five people who died Tuesday in an accident involving a commuter train and an SUV in New York.
The married father of two worked at D.E. Shaw Research in Manhattan and rode the train to and from his home in Chappaqua, New York, every day.
According to the company's website, Dirks was involved in "development of novel computational chemistry methods." He had worked there since 2006.
His work was complicated and his father, Mike Dirks, said he never tried to understand it. "He'd say 'Dad, don't try to explain what I do because they won't understand it. Just say I'm a scientist,' " his father said.
Dirks was born in Thailand but grew up in Spokane with his brother, Bill. His mother, Suree, is a native of Thailand and his father worked as a math teacher at North Central High School and Spokane Falls Community College for 47 years. Bill, the eldest, was valedictorian at Lewis and Clark in 1994.
His star shone bright early. He won math competitions, was selected to spend the summer after his junior year doing cardiovascular research at the University of Washington and scored a perfect 5 on every Advanced Placement test he took.
His high school math teacher, Greg Sampson, said Dirks finished Advanced Algebra Trigonometry in two weeks. It's a feat he hasn't seen before or since.
"He was just an amazing, amazing student," Sampson said.
Sampson said he remained in touch with the family and once tried to surprise Dirks with a visit while he was doing his doctorate work at the California Institute of Technology.
"I knocked on his door but he was in his lab, studying," Sampson said.
Dirks had a penchant for games and taught Sampson how to play bridge, but Sampson said he never got as good as Dirks was.
"Robert knew who he was as a teenager," Sampson said. "He wasn't a follower. He was definitely a leader."
Sampson remembers when Dirks and the other Math Club students organized a mini-Olympics in honor of his daughter's seventh birthday. One of the guests was younger and as the event went on was getting frustrated that he hadn't won anything.
Seeing this, Dirks went over with a gold medal. He told the young boy that there was just one more competition and asked what two plus two was. The boy thought, then gave the correct answer of four. Dirks handed over the medal to the proud boy.
"That kid got the biggest smile on his face," Sampson said. "That was pretty special to me."
Dirks turned down colleges like the Massachusetts Institute of Technology in favor of doing his undergraduate work at Wabash College in Indiana, where he double majored in math and chemistry and double minored in biology and music. He played the bassoon, clarinet and the piano.
Mike Dirks wasn't surprised that his son had become such an accomplished scientist.
"He always got everything the first time," he said. "He always excelled."
Dirks was the first doctorate student that Niles Pierce advised at Caltech. Doctoral students are allowed to pick their adviser and Pierce was a new professor. The two met for the first time at an old-fashioned diner and talked about engineering molecular devices with moving parts.
"It sounded exciting; it sounded far-fetched," Pierce said. "He was willing to take the risk of working with a young professor. He was excited about what I wanted to do."
His doctoral research focused on molecular programming and dynamic nucleic acid nanotechnology. He also developed computational algorithms that are now heavily used by researchers around the world, Pierce said.
At a school filled with brilliant minds, Dirks still stood out. He was always willing to help a new student or give advice when asked. "He was an unusual talent, even at Caltech," Pierce said. "He did remarkable things."
While studying at Caltech he met his future wife, Christine Ueda. The two married in 2007 and had two children; Owen, 5, and Phoebe, 2. Christine holds a doctorate in chemistry from Caltech and also worked at D.E. Shaw Research before becoming a stay-at-home mother about four years ago.
Mike Dirks said he retired from SFCC on Wednesday and he and his wife will travel to New York to help their daughter-in-law and grandchildren. "With Robert's death, we need to be available," he said.
Dirks left a hole as a scientist and a father that will be hard to fill. Mike Dirks said he was in awe of his son's skills as a father.
"I was an OK dad, but sometimes I got mad at my kids," he said. "Robert was just so patient and so loving."
His son made a point to spend evenings and weekends with his children, Mike Dirks said.
"It was all about the family."
Since he heard the news, Pierce has been reaching out to students and professors who knew Dirks during his time at Caltech.
"Everybody knows that he was brilliant," Pierce said. "They don't even need to say that. They all comment that he was a mentor to them or that he was kind to them or he was generous. He was just a very warm and wonderful peer and student and collaborator."
Local journalism is essential.
Give directly to The Spokesman-Review's Northwest Passages community forums series -- which helps to offset the costs of several reporter and editor positions at the newspaper -- by using the easy options below. Gifts processed in this system are not tax deductible, but are predominately used to help meet the local financial requirements needed to receive national matching-grant funds.
Subscribe now to get breaking news alerts in your email inbox
Get breaking news delivered to your inbox as it happens.
---