Sports
Eastern Washington counts on its versatile bench
Thu., Jan. 22, 2015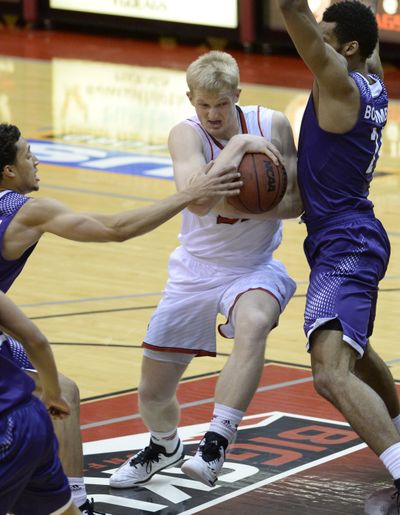 More than ever, Jim Hayford is going to his bench.
And more importantly, Eastern Washington's men's basketball coach is going there not by necessity, but by the virtues of his backups.
It's called program-building – from the bottom up – and the payoff is coming this year: The Eagles are 13-5 overall and 4-1 in the Big Sky Conference partly because Hayford is getting more minutes from more players.
That's already coming in handy, with forward Venky Jois still on the mend from an ankle injury going into this week's home stand against Northern Colorado and North Dakota.
A year ago, Eastern got just 41 minutes a game out of its subs. This year, the Eagles are getting almost 50, a luxury Hayford couldn't afford until this, his fourth year in charge of the program.
Hayford is getting quality minutes, including 30 bench points in an eight-point win over Idaho State, 21 in a three-point victory at Idaho and 28 in a seven-point win at Portland State.
Eight players are averaging double-digit minutes, with two more close behind. Most are underclassmen, which bodes well for the future.
The Eagles are no longer out of their depth.
"I think the ceiling of our team is how we get consistent bench production," said Hayford, who's getting big contributions out of forwards Bogdan Bliznyuk and Felix Von Hofe and guard Sir Washington.
The biggest surprise is Bliznyuk, a 6-foot-6, 215-pound true freshman from Ukraine by way of Federal Way, Washington. After seeing spot action in nonconference games, Bliznyuk is on the court 26 minutes a game in Big Sky play, averaging 13.5 points and shooting an impressive 64 percent from the field.
"We have a deep team, so I'm just waiting for my opportunities and capitalizing on them," Bliznyuk said.
"Bogdan has stepped up huge," said Hayford while putting in a plug for Bliznyuk as Big Sky Freshman of the Year.
In his last three games, Bliznyuk has hit 18 of 23 shots, or 78.3 percent. He can shoot from 3-point range, hitting three in the win over ISU. He's also 3.5 in the classroom, as in his grade-point average.
Von Hofe, a 6-5, 200-pounder from Melbourne, Australia, is seeing 13 minutes a game while making some big 3-pointers. Washington, a freshman from Las Vegas, is playing 10.5 minutes while giving a breather for Eastern guards Tyler Harvey and Parker Kelly.
Another key contributor off the bench is junior transfer Kyle Reid, who has been a presence on the defensive end.
"The hard part is when you're a really good player, knowing that your opportunities aren't going to come as often as you'd like, but when they do, you have to maximize them," Hayford said.
"You come off the bench to try to raise up our starting five," Washington said.
Local journalism is essential.
Give directly to The Spokesman-Review's Northwest Passages community forums series -- which helps to offset the costs of several reporter and editor positions at the newspaper -- by using the easy options below. Gifts processed in this system are not tax deductible, but are predominately used to help meet the local financial requirements needed to receive national matching-grant funds.
Subscribe to the sports newsletter
Get the day's top sports headlines and breaking news delivered to your inbox by subscribing here.
---