News > Spokane
Jan Quintrall resigns from city of Spokane
Wed., Jan. 28, 2015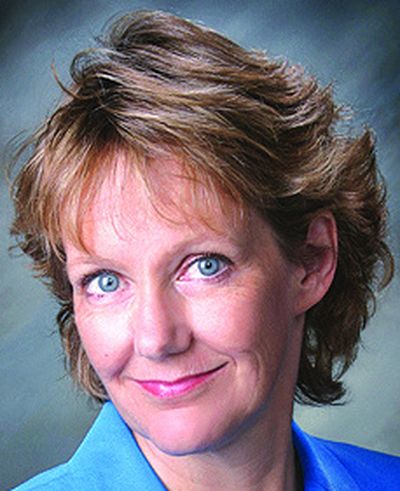 Jan Quintrall, the embattled head of Spokane's Business and Developer Services division, announced her resignation from the city Tuesday, saying she had "broken the public's trust, and I can't repair that."
In a letter to her employees, Quintrall said the city's "ongoing progress is continually being sidelined by the negative attention on me, with the focus being directed away from all the good staff is doing here."
In a statement, the city gave Quintrall credit for cutting how long it takes to get a permit from the city, cleaning up the areas under Interstate 90 and improving customer service at the city.
In the past few months, Quintrall has faced criticism from City Council members, prominent developers and the public for forcing the city's planning director to resign for what was described as a misuse of city funds.
Quintrall's departure follows revelations that she spent more than $400 on food and beverages at the Spokane Club for a dozen city employees – two days after Spokane Mayor David Condon officially accepted city Planning Director Scott Chesney's resignation.
"City Council wishes her the best in the future," Council President Ben Stuckart said. "I think council's relationship with her has been pretty rough in the last few months. … I know she was always trying to do what she thought was best, but I don't think that always worked out in the long run."
Scott Simmons, the city's strategic business analyst, will take over for Quintrall on a temporary basis. Brian Coddington, the mayor's spokesman, said there was no solid timeline to replace Quintrall, who he said made her decision to leave the city Tuesday morning. Coddington said Quintrall's final day at City Hall has not been determined.
Coddington said the decision to resign was Quintrall's and not influenced by the mayor.
"It'll be a short transition but there are projects that she needs to see through," Coddington said. "We need to ensure that this is seamless and we don't miss a beat."
When she joined the city three years ago, Quintrall immediately began transforming her division, which oversees the city's streets, engineering, business and other departments. At the time, she said the division was riddled with red tape and cumbersome for businesses.
Quintrall, who led a division with 270 employees and an $80 million budget, said her key task was to ensure city workers have "the right tools to do their jobs effectively" and suggested changes were on the way, saying "the bureaucracy breeds on itself."
Last week, the city's Civil Service Commission launched an investigation into Quintrall's hiring of a temporary worker making $44.75 an hour to oversee unionized, full-time city employees. The investigation's results are due next month.
In 2013, Quintrall hired Kyle Twohig to help run the city's engineering department. Twohig, who has no engineering degree, is the son of Spokane Public Facilities District CEO Kevin Twohig, who took over as president of the Spokane Club's board after Quintrall left that position.
Early in her tenure, she urged Condon to fire Joe Wizner, Spokane's building official who had been with the city for two decades.
But it was Quintrall's decision to force Chesney from his post in November that was met with the stiffest resistance.
Within hours of Chesney's ouster, prominent Spokane developers questioned the decision. Though Condon put his weight behind Chesney's ouster, he met with many of the developers who pushed back, including Jim Frank, the CEO of Greenstone Corp., which is building Kendall Yards, and Walt Worthy, the Davenport Hotel owner behind the construction of the 15-story Davenport Grand Hotel rising adjacent to the Convention Center.
Condon defended Quintrall at that meeting and praised her after her resignation Tuesday.
"Jan has broken down barriers, pushed her division and others in the City to think beyond traditional ways of doing things, and delivered tremendous results for the citizens she served," Condon said in a news release. "She has laid a tremendous foundation and built a great team."
Councilman Jon Snyder said he was concerned about the division's "personnel stability" after Quintrall's resignation.
"The turnover there has been so furious over the last couple of years," he said. "We've lost senior planners and associate planners, a building official, a whole department in weights and measures. It's been steady upheaval."
Snyder said responsibility for such turmoil wasn't only Quintrall's but also the mayor's.
"I don't know what stuff she was driving and what stuff the mayor is driving," he said.
Other council members struck a conciliatory tone.
"Jan and I had our differences," Councilwoman Karen Stratton said. "We didn't always agree on how she ran things, but I wish her the best of luck."
Councilman Mike Allen said, "Jan left it better than she found it."
Councilman Mike Fagan, the administration's strongest ally on the council, said Quintrall's resignation was "really unfortunate" and that she had done "a lot of good things."
"It's a surprise, but it's not really a surprise in the light of the news that came out" about the Spokane Club expenditures, Fagan said. "It definitely appears she may have screwed up. It definitely appears there's hypocrisy involved in this."
Snyder said Quintrall's missteps may come down to a misunderstanding of how government operates.
"I don't know if Jan was always cognizant of how different the public sector is from the private sector," he said. "That may have been a hard transition."
Local journalism is essential.
Give directly to The Spokesman-Review's Northwest Passages community forums series -- which helps to offset the costs of several reporter and editor positions at the newspaper -- by using the easy options below. Gifts processed in this system are not tax deductible, but are predominately used to help meet the local financial requirements needed to receive national matching-grant funds.
Subscribe to the Coronavirus newsletter
Get the day's latest Coronavirus news delivered to your inbox by subscribing to our newsletter.
---