News > Spokane
UGM offers free summer camp for disadvantaged kids
Sat., July 4, 2015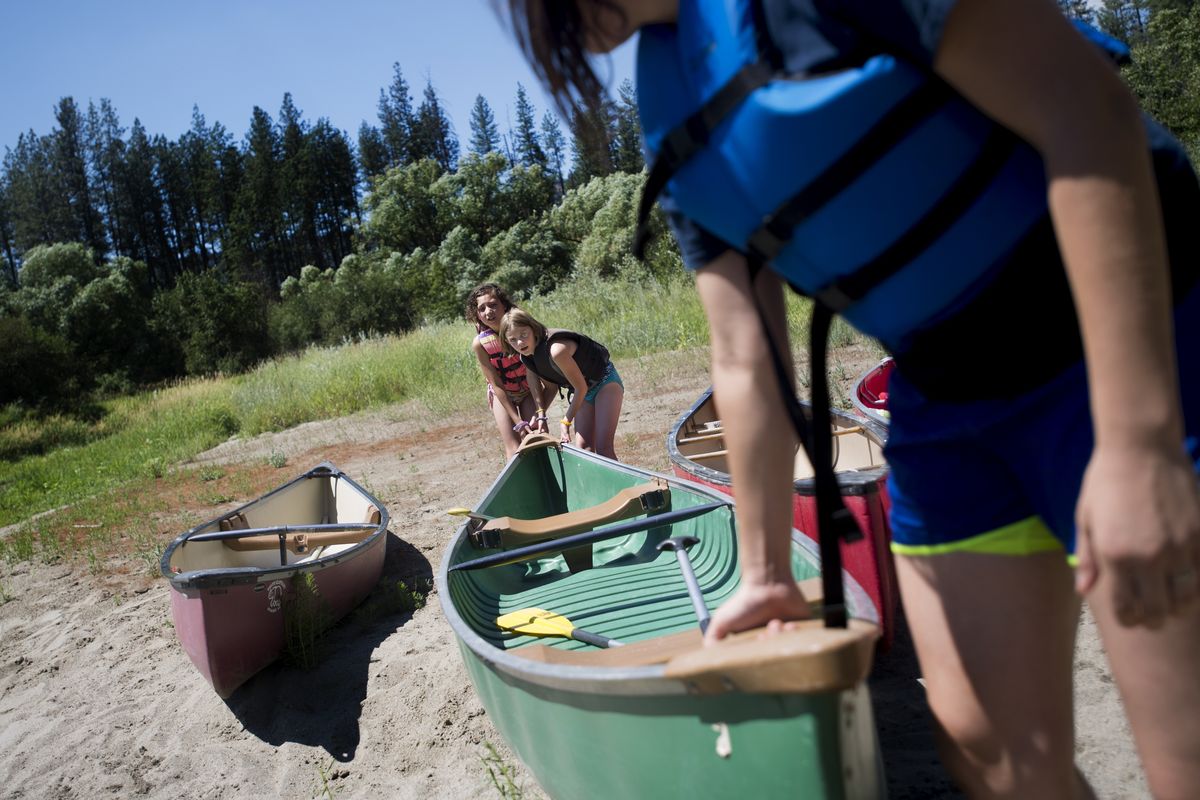 Camp counselor Kristiana Arellanes leads Kaydence Johnson, 9, left, and Samantha Hawker, 9, in pushing a canoe into the river at Union Gospel Mission's summer camp in Ford, Wash., on Thursday. (Tyler Tjomsland)
The children playing in the shallow waters of the Spokane River were laughing. The midafternoon dip was a refreshing respite from the day's heat. As they clung to canoes and raced through the water, they looked right at home.
For many of these kids this idyllic setting northwest of Spokane near the community of Ford is nothing like home.
"For some of these kids it's probably the best week of their lives. They get three meals a day," said 18-year-old counselor Elena Bridge. "You don't really think about it because they are just normal little kids and just want to play and have fun."
Bridge spent last week with a cabin of mostly 9-year-old girls. Some came from meth homes, or homes with one or both parents in jail.
"They just get to be kids and play and not worry about anything going on at home," Bridge said.
Union Gospel Mission's camp focuses on giving disadvantaged children the opportunity to attend summer camp. Youth Outreach Director Ryan Brown said children who'd never been to camp, or otherwise couldn't afford camp, are given first priority.
"These kids have never touched anything but pavement, probably," Brown said.
This week 60 children from Grant Elementary and 35 high school- and college-age counselors participated in the UGM camp. The free camp is made possible by donations and includes a clothing shed for kids who arrive without the right clothes. Over the course of the summer, more than 500 children will go through the camp.
"A kid can come up with nothing and go home with everything," Brown said.
It can be a disorienting experience. Children are whisked from their normal home life and thrust into the woods. Brown said they intentionally try to maintain continuity between the home and camp environments.
"We don't try to rip them to shreds and send them home," Brown said. "We're very gentle."
The counselors are mostly drawn from local churches. They spend time with the campers outside of the camp, too, often interacting with them on a daily basis, whether it's in school, at church or at the grocery store, Brown said. Jenny Weddle, a longtime volunteer at the camp, emphasized the importance of maintaining continuity. Otherwise, she said, the relationships formed don't last.
Throughout each camp, which runs Monday through Friday, they focus on team- and trust-building exercises. While it is a religious camp, its focus is not conversion, Brown said.
"It's presented in a way that if a kid comes in agnostic or atheist, he or she is not pressured," he said.
This is Brown's first year as camp director. He said his own life experiences allow him to connect with the campers directly. Brown grew up in Southern California and started using drugs at a young age. He had his first child when he was 17. By his early 20s he was a meth addict, with two children. He eventually ended up in Spokane, where he participated in UGM's drug rehabilitation program. He said that's where his life started to change.
"One of the directors at the mission saw me doing one of the chores there and he said, 'Hey, I see something valuable in you,' " Brown said.
That changed everything and in many ways inspired him to work with kids. Before that he hadn't felt valued. And that, Brown said, is the importance of the UGM camp.
"They need to know that they're valuable," he said.
Local journalism is essential.
Give directly to The Spokesman-Review's Northwest Passages community forums series -- which helps to offset the costs of several reporter and editor positions at the newspaper -- by using the easy options below. Gifts processed in this system are not tax deductible, but are predominately used to help meet the local financial requirements needed to receive national matching-grant funds.
Subscribe now to get breaking news alerts in your email inbox
Get breaking news delivered to your inbox as it happens.
---