News > Features
East meets west: Writer-actor Mandvi brings rare perspective to new HBO series
Sat., July 11, 2015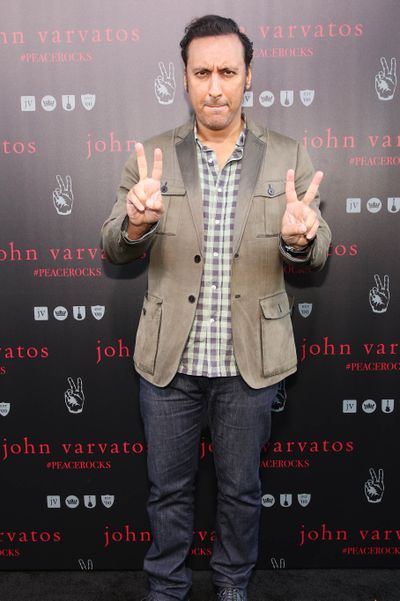 As the senior Muslim correspondent on Jon Stewart's "Daily Show," actor Aasif Mandvi parodied some of the media's most absurd notions about Islam, the Middle East and essentially any brown culture that qualified as "foreign."
While "reporting" on a puzzling amendment in Alabama to ban sharia law, he said: "Anyone could see how easily we could go from Alabama to Al-habama."
The India-born, America-raised Mandvi is yet again mining material in the ignorance between East and West, this time with HBO's new comedy drama series "The Brink." The series, which debuted to mixed reviews, opened to solid ratings.
As Rafiq, a driver for the U.S. Embassy in Islamabad, he's thrust into the middle of a potential world war when a military coup in Pakistan leads to American intervention in the region. Complicating matters are a terminally drunk secretary of State (Tim Robbins), a drug-dealing fighter pilot (Pablo Schreiber) and a loutish, low-level foreign officer with high aspirations (Jack Black).
Mandvi, also a writer and producer on "The Brink," cites "Dr. Strangelove" as an early blueprint for the series.
"You're dealing with geopolitics and all these heavy things," says Mandvi over breakfast in his Los Angeles apartment. "But you're also dealing with the ineptitude and narcissism and pettiness that goes on in the worlds of those people who are shaping global politics."
In a scene tailor-made for Mandvi, Rafiq and the ugly American Alex Talbot (Black) are caught on the streets of Islamabad in a political demonstration complete with burning effigies and armed militants. Cut off from the embassy, they flee to Rafiq's home, where his family sizes up Alex to decide if he's secretly a CIA operative.
As they talk in Urdu among themselves, one of them asks Rafiq if Alex understands what they're saying. "A U.S. State Department official actually bothering to learn the native language?" he answers. "You must be joking."
Over the past two decades Mandvi has played countless South Asian and Arab doctors, dentists, cab drivers, delivery boys, chefs, nerds and terrorists. In at least one old film credit he's simply referred to as "The Indian Character." He's appeared in "Spider-Man 2," TV's "Sleeper Cell," and Broadway's "Oklahoma!" Mandvi also stars in his own Web series "Halal in the Family," a Muslim version of "The Cosby Show."
"I never set off to be identified with any particular (group or) whatever," says Mandvi, 49, of his frequent roles playing the Other. "I'm an actor. I do lots of things. But it's just the way people started to see me."
In person Mandvi is far less formal than the suit-and-tie reporter he portrays on "The Daily Show" (where he's still a freelance correspondent). Dressed in shorts, a T-shirt and sandals, he talks about his recent move from New York to L.A. as he makes breakfast in the kitchen of his Silver Lake sublet. "None of this furniture is mine," he says of the modern, Hollywood-themed decor. "Just a heads up –it won't tell you anything about me."
The scrambled eggs he cooked are the color of a photo-worthy sunset - orangy-red with a tinge of purple thanks to the cayenne pepper, turmeric and cardamom he added. "That's the Indian in me," he says. "You must put spices on everything. As a kid, whenever we got sick, my mom would take milk and put turmeric in it. That was our medicine. That was the cure-all. Some people turn to Robitussin."
Although Mandvi was born in India, he moved to England as an infant and then relocated to Florida with his family when he was 16. There Mandvi studied drama at the University of South Florida and forged his early theater career in various productions at DisneyWorld. He eventually made his way to New York where he began his career in earnest off-Broadway and in bit parts for film and TV.
"Everything I have done – stuff on 'The Daily Show,' my book ('No Land's Man'), 'Halal in the Family' – it's existed in between cultures," he says. "Being American and being an outsider at the same time, it's a perspective I often bring to a character."
Which brings us back to Rafiq. In "The Brink," he appears to be one of the only reasonable and level-headed characters in the fast-moving, foreign-policy satire. His sophisticated composure is a switch from the usual media portrayals of people from that region.
"If I was just playing Rafiq it could have been a much more stereotypical role, but because I was involved in the writing, I was able to give voice to that character and give him a perspective," says Mandvi. "It's part of the reason they had me come in as a writer – to make sure Rafiq represented another point of view that wasn't American-centric. His family is wealthy, academic people who know global politics. They know much more about American foreign policy than Americans do because they're on the other side of those drones."
Mandvi says the show's co-creators, brothers Roberto and Kim Benabib, originally tried him out for a smaller, nonrecurring role. "Besides being a good writer, he also gives us an actor's perspective," says Roberto Benabib, who wrote and produced for the Showtime series "Weeds." "We'll say maybe this or that could happen, and he'll stop and say, 'Yeah, but where's the conflict the actor in the scene can play?' We found that invaluable."
Mandvi also contributed advice when it came to depicting Islamic and South Asian culture. It's rather ironic, however, that the actor often ends up playing the Muslim on screen and stage. He grew up in what he describes as a fairly secular home, and becoming some sort of spokesperson for the faith was never a goal.
"I have a cultural identification with it, whatever that means," he says. "It kind of comes down to when you see someone on the news saying that person is the embodiment of terrorism and evil, and you look at it and those people look like people in my family. My uncle and my grandfather. Now you're on some emotional level in opposition."
That tension plays out between "The Brink's" Rafiq and Alex, each of whom sit on different sides of the same quotient. "Jack's character ultimately embodies the ugly American," says Mandvi. "My character embodies the guy saying, 'The world does not revolve around America; you know that, right?' "
Local journalism is essential.
Give directly to The Spokesman-Review's Northwest Passages community forums series -- which helps to offset the costs of several reporter and editor positions at the newspaper -- by using the easy options below. Gifts processed in this system are not tax deductible, but are predominately used to help meet the local financial requirements needed to receive national matching-grant funds.
Subscribe now to get breaking news alerts in your email inbox
Get breaking news delivered to your inbox as it happens.
---