News > Spokane
Report: Teen's DNA on patrol car likely from skin
Thu., July 16, 2015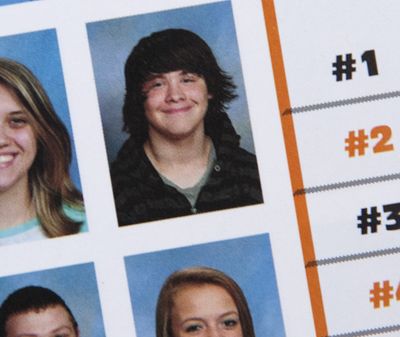 A Spokane Police Department report indicates the DNA of the teenage bicyclist found on the bumper of a Spokane County Sheriff's Office patrol car's bumper did not come from blood or saliva.
Ryan Holyk, 15, was riding a bike without reflectors or brakes and was crossing Sprague Avenue against the light last year when he encountered a speeding patrol car driven by sheriff's Deputy Joe Bodman, who was violating department policy by not using his emergency lights or siren.
It was initially assumed that Bodman hit Holyk, but the Sheriff's Office said in January three different investigations showed Bodman swerved in time and didn't hit the teenager. The report, written by Spokane police Detective Michael Carr, indicates the Washington State Patrol Crime Lab said the DNA was likely from skin cells. The crime lab report was received by Spokane Police Department investigators in September.
Carr's report is emphatic that Bodman did not strike Holyk.
"This collision can be contributed to the driving actions of Ryan Holyk," he wrote. "There is no evidence that the two vehicles ever came in contact with one another, in fact the evidence gathered is fairly conclusive that there was no contact."
Holyk's injuries included a broken left hand and wrist and a severe head injury in the center of his forehead, Carr wrote. Investigators believe he flipped over his handlebars and landed on his head.
A second report written by Detective Sgt. Jerry Cooper of the Washington State Patrol Major Accident Investigation Team agrees with Carr's conclusions.
"While I used different methodology in arriving at many conclusions, the investigators are correct in their analysis of speed and lack of contact between the units," Cooper wrote.
Cooper also examined the bike and Bodman's car and said he found no marks other than normal wear.
"The bicycle showed no signs of major contact damage," he wrote. "Had the patrol vehicle, traveling at high speed, struck or run over this bike there would be major deformation."
Holyk's injuries were consistent with hitting the pavement "in a forward motion" and he showed no signs of being dragged by the vehicle, Cooper wrote. He was found face down on top of his bike in the crosswalk.
Local journalism is essential.
Give directly to The Spokesman-Review's Northwest Passages community forums series -- which helps to offset the costs of several reporter and editor positions at the newspaper -- by using the easy options below. Gifts processed in this system are not tax deductible, but are predominately used to help meet the local financial requirements needed to receive national matching-grant funds.
Subscribe to the Coronavirus newsletter
Get the day's latest Coronavirus news delivered to your inbox by subscribing to our newsletter.
---
Subscribe and log in to the Spokesman-Review to read and comment on this story