A&E > Entertainment
How to Watershed
Fri., July 31, 2015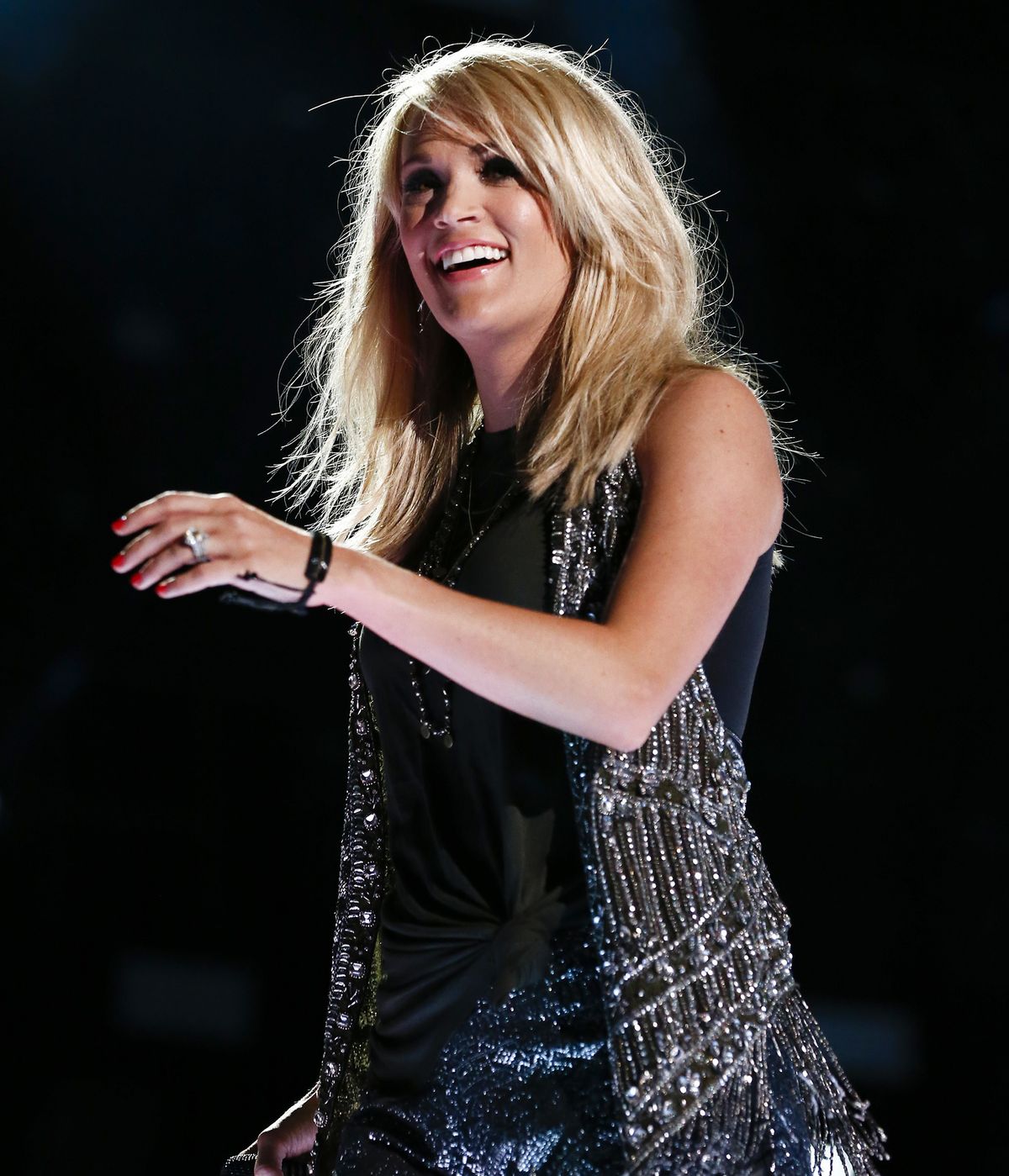 Dierks Bentley will close Watershed's main stage performances on Sunday; Carrie Underwood headlines Saturday night. (Associated Press)
For three days every summer, country music fans descend on the Gorge Amphitheatre in George for Watershed. This festival always sells out, and always draws really big stars: Blake Shelton, Tim McGraw, Carrie Underwood, Luke Bryan, Brad Paisley, Miranda Lambert. You see where this is going.
In The Spokesman-Review newsroom, our hardcore country music fan is Mary Beth Donelan, the newsroom administrative manager. She's skipping the festival this year because of a scheduling conflict, but she's been to it enough to make her an expert. So for any Watershed newbies out there, here's what you'll need to know to Watershed successfully, compiled from the Watershed website and from Donelan's own experiences.
Hey, 'Shedders! It's that time of year again to be outside and listening to some of the hottest acts in country music. For all those diehard country music fans, this is the best place to see 18 well-known acts on the Main Stage over three days; plus, there are another 18 up-and-coming bands that play at the newcomers stage (Next from Nashville) located up the hill in the food and merchant vendors area. Catch some of these bands in between the main acts. Tickets are sold out. http://watershedfest.com/
Things to know
Wristbands: The wristbands were mailed to ticket purchasers in June (instead of picking up at the festival in exchange for a paper ticket). The wristbands are your ticket into the concerts, and you will not be allowed into the festival without it. DO NOT put your wristband on until the day of the festival and DO NOT remove it until the end of the festival or you will not be allowed back in to the concerts. Once they are on, they lock instantly and they don't come off. If it is cut or tampered with, you will not be allowed in. They will not be replaced if lost or stolen.
Register Wristbands: Remember, each attendee must register their own wristband using their personal details and the 16-digit code on their wristband. Go to http://bit.ly/1JeFrYm. This helps track your unique wristband in case it gets lost or damaged. Once it is registered, it cannot be transferred to another guest.
Arrive early: The gates opened Thursday. If you didn't leave early from Spokane, plan on waiting in long lines to get in. There are usually two lines of vehicles going into the campgrounds. You will get a closer spot the sooner you get there and lessen your walk to the amphitheatre.
No telling how slow the lines will be with the new wristband procedure this year. You will need to show your camping vouchers to get on the property, and they most likely will be checking to see everyone in the vehicle has a concert wristband.
Also, each person in the vehicle will be given a colored band to designate their camping area if they are in any camping area other than general. You cannot walk freely through the other campgrounds, and there are security personnel who stand at the entrance to each campground and look for your colored wristband to let you in.
Camping sites are assigned as you arrive, and spaces cannot be held or reserved, so if you want to camp in groups, you must arrive at the same time.
Stake down your tents, canopies, etc. Sometimes in the evenings the wind can really kick up while you are at the concerts, and you don't want to come back to find everything tipped over, inside out or in a neighbor's campsite in a tangled mess. (This happened to us.)
Hydration: It is hot there, so drink plenty of water. Many people wind up at the first aid station with dehydration. You are allowed to bring in one 20-ounce factory-sealed bottle of water into the concerts. They have stations to refill your bottle once inside. Lots of alcohol is available for purchase once inside the amphitheater. You will need to bring your driver's license each day to verify your age, and a wristband will be placed on your wrist to indicate you are 21 or older. A different color is issued each day.
Bathroom facilities: There are a large number of portable toilets at the amphitheater. There are also portable toilets and showers in the general camping area and flushable toilets and private showers in the Premier and Terrace campsites.
Showers: Be prepared for long lines for the showers. Wear flip flops – the showers can be muddy as they don't sit in a paved area. Best time to use them are early in the morning before most people are awake, or late at night after the concerts. Don't forget your towel, shampoo, soap, etc. Not all showers have hooks, so if you get to choose, find one that does, as you don't want your stuff sitting in a puddle of water.
Ice: Be sure to bring plenty of ice in good insulated coolers. The General Store sells small bags of ice for $5, and you can go through a lot of them if you are trying to keep your food and drinks cold.
Before leaving camp: Be sure to put away and lock up all your valuables in your campsite. There have been rumors of some concert-goers staying behind to rummage through others' campsites.
To save money, it's a good idea to eat before heading to the concerts, as the food and drinks are expensive inside the amphitheater. There is a wide variety of food items available for purchase. They allow you to bring in a Ziploc bag with snacks (crackers, cookies, etc.)
You are sitting on the hillside, which is steep, so blankets are great, or low-back beach chairs are really comfortable for watching the concerts.
It's a good walk to and from the amphitheater. Plan on walking just under a mile from your campsites, so comfortable shoes are a must. There is a shuttle bus that picks up at Premier and drops you off at the main gate, but the bus fills up fast and takes a while to make the roundtrip, so walking is the best option. Terrace also has a shuttle bus run. It is quite dark when the last concert is over, so it's a good idea to have a flashlight to find your campsite.
Lockers: Three-day lockers are available with universal cellphone chargers inside. Each locker allows you unlimited in and out access throughout the day. Lockers measure approximately 8 inches by 12 inches by 18 inches. Available on Watershed website; first 100 rentals are $50 each.
What to bring to the concerts: As the concerts kick off around 2 p.m., be prepared with sunglasses, a hat, sunscreen, water, blankets and beach chairs. There is no shade on the hillside. Hand-held, battery-operated fans are great for the afternoon concerts. Umbrellas are not allowed as they block the view of others (but people still bring them). Also, by the evening it gets cool, especially if the wind kicks up, so a sweatshirt is a good idea. Binoculars come in handy for close-up viewing.
The experience: There are more things to do on the concert grounds other than watch the concerts. These activities are included in your ticket price. They include a Ferris Wheel, Ring of Fire, Drop Zone, Triple Waterslide, Foam Parties, Human Foosball, custom-built Malibu Rum Beach House, Bud Light Party Deck and more. Don't forget your swimsuit!
Souvenirs: The souvenir booths are stocked with items for the bands playing each day, but once the night is over, items affiliated with those singers are no longer available, so don't miss out.
Local journalism is essential.
Give directly to The Spokesman-Review's Northwest Passages community forums series -- which helps to offset the costs of several reporter and editor positions at the newspaper -- by using the easy options below. Gifts processed in this system are not tax deductible, but are predominately used to help meet the local financial requirements needed to receive national matching-grant funds.
Subscribe to the Spokane7 email newsletter
Get the day's top entertainment headlines delivered to your inbox every morning.
---