News > Pacific NW
Tour Deshais: For cyclist, mountain stretch a daunting game of peak-a-boo
Fri., June 12, 2015
NEWHALEM, Washington – Around every turn, the sentinel mountains of the North Cascades grow bigger and taunt me.
Mount Despair.
Damnation Peak.
Mount Terror.
Yeah. Sounds about right.
I haven't even gained 500 feet yet but the hills are winning the mind game.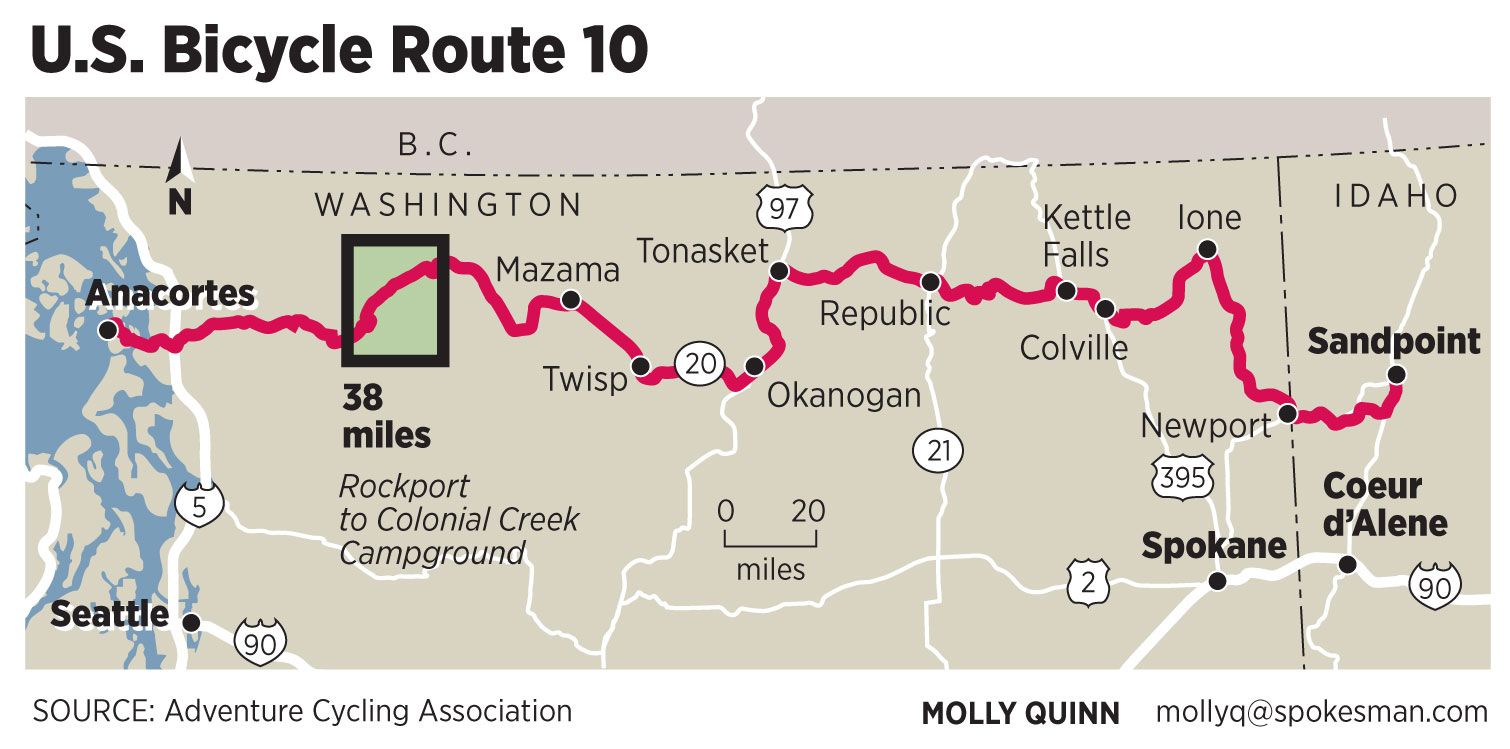 But by the end of the day, I'll have climbed 1,500 feet. Tomorrow I'll reach Washington Pass, at 5,477 feet.
Terror. Despair.
Of course, not all is lost. The wind is generally pushing my way. Just not enough. I still must suck down my water, energy bars and syrupy power goo to inspire my wobbly legs to pump.
Yet something in me looks forward to the desolate stretch ahead.
I say desolate not because of the lack of life or beauty. Anyone who has been here knows of the unspeakable grandeur. And this dynamic ecosystem supports a diverse collection of wildlife, from bears and salmon to hoary marmots and vine maples.
It's desolate because after I leave Newhalem, there's no pay phone or cell service. And my campsite at Colonial Creek is the last spot for drinking water until Mazama 50 miles later.
In short, no one will know if the mountain leaves me a blubbering, Jell-O-legged mess on the side of the road. (Enjoying the views of course.) That is, no one will know until I get service again and write about it.
There is another peak I failed to mention.
Mount Triumph.
I think I'll head that way.
Local journalism is essential.
Give directly to The Spokesman-Review's Northwest Passages community forums series -- which helps to offset the costs of several reporter and editor positions at the newspaper -- by using the easy options below. Gifts processed in this system are not tax deductible, but are predominately used to help meet the local financial requirements needed to receive national matching-grant funds.
Subscribe to the Coronavirus newsletter
Get the day's latest Coronavirus news delivered to your inbox by subscribing to our newsletter.
---