News > Spokane
Fish Lake fire threatens homes
Thu., June 18, 2015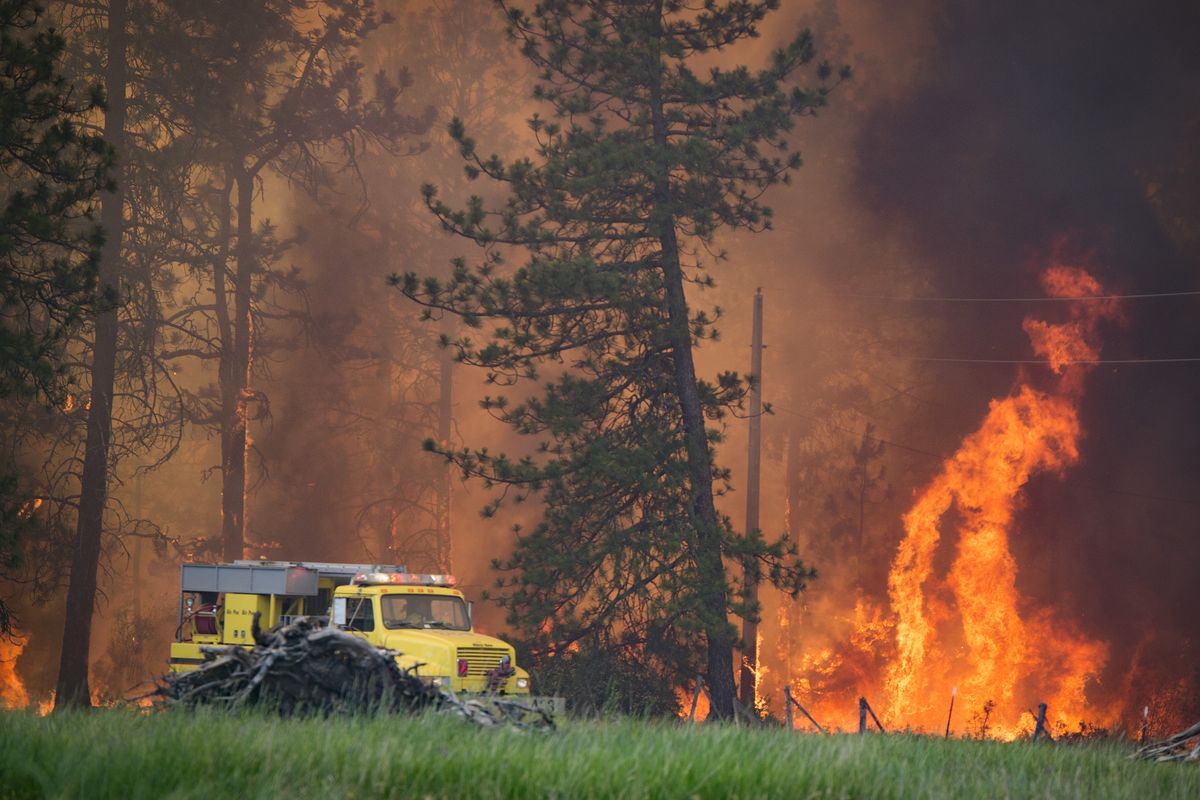 A Spokane County Fire District 3 brush rig works Wednesday at the Fish Lake fire along Scribner Road. Below: A firefighting helicopter drops a load of water on the fire. (Colin Mulvany)
A fast-moving wildfire near Fish Lake County Park east of Cheney threatened several homes Wednesday afternoon.
The three-alarm fire started about 2:30 p.m. near railroad tracks, said Chief Bruce Holloway of Spokane County Fire District 3. It grew quickly and moved northward but had slowed by about 6 p.m.
Initial reports were that one home had burned down on Scribner Road, but firefighters managed to save the home, Department of Natural Resources spokesman Guy Gifford said.
The Fish Lake fire quickly grew to 145 acres but was held there by a determined effort of firefighters, who had assistance from tanker aircraft and helicopters dropping water and fire retardant. Crews from nearly every fire district and department in the county responded, along with the DNR, a tanker truck from Fairchild Air Force Base and a special firefighting train from BNSF.
Cheney-Spokane Road was shut down for a while, and some residents in the area were asked to leave their homes.
A towering pillar of smoke from the fire was visible from downtown Spokane for much of the afternoon.
Randy Wing, who lives near Cheney-Spokane Road, saw the smoke on his way home. He found a spot on a cliff above the southern tip of Queen Lucas Lake, where he watched a helicopter repeatedly fill its bucket and dump water on flames just across the narrow lake. The lake is just south of the unincorporated town of Marshall.
"I was just worried about where it was," he said.
A fire destroyed several homes in the area a couple years ago, he said. "There's a lot of houses in there."
Gus Melonas of BNSF Railway Corp. said the railroad helped fight the fire by sending a five-car train carrying water tanks. The fire is near the BNSF line from Spokane to Pasco, which was shut down by the fire Wednesday afternoon. Four trains were held as firefighters worked, Melonas said.
The train carried 11 water tanks carrying 4,200 gallons each, used to spray the area as well as fill up DNR trucks on site, he said.
As of 8:30 p.m. the size of the fire had been pinpointed at 145 acres, Gifford said. Previous estimates had placed the size at 90 acres. Gifford said firefighters hoped to have a line dug around the fire by 10 p.m. Wednesday.
"We're making progress," he said. "The fire isn't going anywhere."
Gifford said about 100 firefighters would be assigned to the fire today to knock it down completely.
The cause of the fire is under investigation.
Staff editor Addy Hatch contributed to this report.
Local journalism is essential.
Give directly to The Spokesman-Review's Northwest Passages community forums series -- which helps to offset the costs of several reporter and editor positions at the newspaper -- by using the easy options below. Gifts processed in this system are not tax deductible, but are predominately used to help meet the local financial requirements needed to receive national matching-grant funds.
Subscribe now to get breaking news alerts in your email inbox
Get breaking news delivered to your inbox as it happens.
---