A&E > Entertainment
Walla Walla wines in a class of their own
Fri., June 26, 2015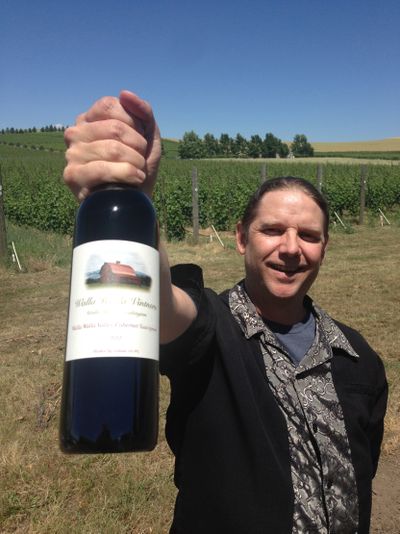 WALLA WALLA – Since the 1970s, the Walla Walla Valley has been well-known for producing some of the Northwest's finest red wines. Little has changed.
The valley's earliest wineries set the standard for high-quality wines – particularly reds – and that continues today.
In the third annual Walla Walla Valley Wine Competition, Walla Walla Vintners took the top prize with the winery's 2012 cabernet sauvignon.
Walla Walla Vintners is one of the region's oldest wineries, dating back to the mid-1990s. Meanwhile, one of the Walla Walla Valley's newest producers, Palencia Winery, showed it can keep up with longtime vintners.
Owner/winemaker Victor Palencia earned seven gold medals, including the best white wine with his 2014 sauvignon blanc.
Here are reviews of a few of the top wines.
Walla Walla Vintners 2012 Cabernet Sauvignon, Walla Walla Valley, $38: Winemaker William vonMetzger crafted this divine red using grapes from five top vineyards, including estate fruit. The result is a wine with tremendous complexity and strength. Luscious flavors of cocoa powder, black olive, blackberry and pomegranate are backed by perfect structure. (14.4 percent alcohol)
Palencia Winery 2014 Sauvignon Blanc, Columbia Valley, $18: Winemaker Victor Palencia excels with sauvignon blanc, and this example is clean and bright with aromas and flavors of minerality, lemongrass, honeydew and fresh-cut apple. It's all beautifully balanced. (13 percent alcohol)
Bergevin Lane Vineyards 2012 Calico Red, Columbia Valley, $15: This blend of syrah, cabernet sauvignon, merlot, malbec and petit verdot is as delicious as it is affordable. It provides aromas and flavors of dark chocolate, spice, black cherry and a whisper of smoke, all backed by amazing structure. (13.9 percent alcohol)
Grantwood Winery 2013 Petit Verdot, Walla Walla Valley, $22: This tiny producer just west of Walla Walla has crafted this delicious red with aromas of black olive, dark chocolate and blackberry, followed by scrumptious flavors of plum, blueberry and black tea. (14 percent alcohol)
Saviah Cellars 2013 Dugger Creek Vineyard Barbera, Walla Walla Valley, $30: Owner/winemaker Rich Funk's stunning red opens with aromas of black truffle, black cherry and oak spice, followed by flavors of blueberry, cherry and plum. It's a rich, round, well-balanced wine. (14.3 percent alcohol)
Long Shadows Vintners 2014 Poet's Leap Riesling, Columbia Valley, $20: This international collaboration between Germany's Armin Diel and longtime Washington wine executive Allen Shoup again has produced one of the state's best rieslings. This wine offers aromas and flavors of white blossoms, apricot and apple, all backed by beautiful acidity. (12.9 percent alcohol)
Woodward Canyon Winery 2011 Estate Reserve, Walla Walla Valley, $79: Owner Rick Small and winemaker Kevin Mott made this wine from cabernet franc (95 percent) and petit verdot, and it is stunning. Aromas of black tea, black olive and raspberry lead to flavors of black cherry and dried herbs, all backed by firm tannins and beautiful balance. (14.5 percent alcohol)
Adamant Cellars 2012 Winemaker's Select Cabernet Franc, Walla Walla Valley, $42: This small producer at the Walla Walla airport is crafting delicious reds, including this cab franc. It is a classic red, thanks to aromas and flavors of chocolate, blackberry, vanilla and crushed herbs. (14.2 percent alcohol)
Dumas Station Wines 2011 Cabernet Sauvignon, Walla Walla Valley, $38: This winery in tiny Dayton, Washington, has produced a superb cab with aromas of dusty black currant, black licorice and mint, followed by plush flavors of huckleberry, chocolate and spice. (13.4 percent alcohol)
Five Star Cellars 2009 Stellar, Walla Walla Valley, $48: This cab-based blend from a longtime Walla Walla airport winery is luxurious with aromas and flavors of dark chocolate, blackberry pie and black tea, all backed by rich tannins. (14.5 percent alcohol)
Eric Degerman and Andy Perdue run Great Northwest Wine, an award-winning news and information company. Learn more about wine at
www.greatnorthwestwine.com
.
Local journalism is essential.
Give directly to The Spokesman-Review's Northwest Passages community forums series -- which helps to offset the costs of several reporter and editor positions at the newspaper -- by using the easy options below. Gifts processed in this system are not tax deductible, but are predominately used to help meet the local financial requirements needed to receive national matching-grant funds.
Subscribe to the Spokane7 email newsletter
Get the day's top entertainment headlines delivered to your inbox every morning.
---