Breaking ground, building courage
Seven years after an accident that left him quadriplegic, Casey McKern is paying it forward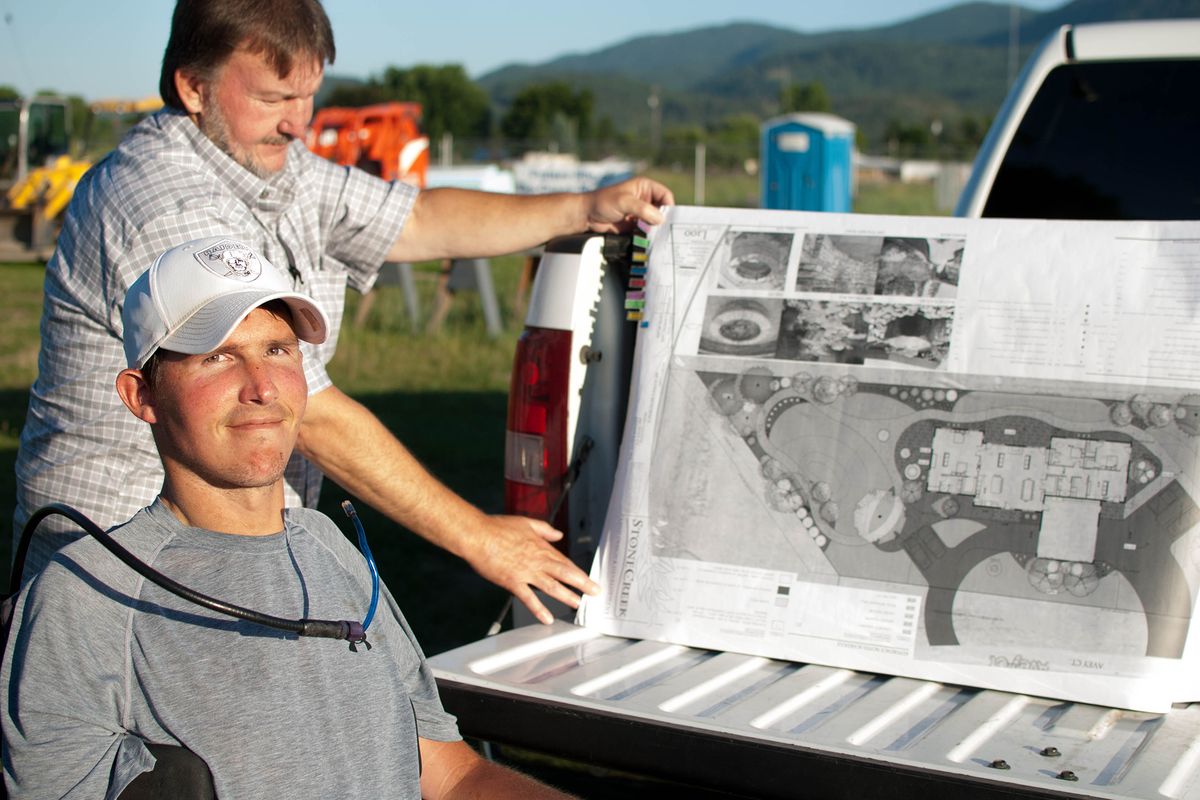 Casey McKern remembers every moment of the day that changed his life: May 16, 2008.
He remembers driving to his favorite swimming hole in Kettle Falls.
He remembers it being the first 90-degree day of the year; fierce, crackling northeast Washington heat.
He remembers taking a deep breath and diving.
And most of all, he remembers hitting the riverbed.
That time of year, where the Colville River feeds into the Columbia, the waters recede, drawing down 60 feet to accommodate spring runoff.  
The water was only knee-deep.  
"I just held my breath and jumped in," McKern said.  "I hit the bottom, everything went numb, and I knew exactly what had happened."
The numbness never went away.  
Just like that, the athletic linebacker for his hometown football team would have to learn to live life without feeling from the neck down.
His community rallied around him, raising money to offset his expenses. Seven years later, he's doing what he can to repay that kindness. His foundation, in collaboration with Habitat for Humanity, is building a house where those with spinal cord injuries can stay while their own homes are being made accessible.
That day in the river, McKern started shaking his head furiously, signaling for help. When it became clear that the thrashing in the water wasn't a cruel joke, something they used to do as kids, his friend Cody Nailor pulled him out of the water.
Thirty minutes later, McKern remembers the throbbing beat of helicopter propellers slicing through the parched summer air as he was transported to the hospital.  
They gave him a tranquilizer to put him out for the ride, and he didn't wake up for a week.
He found himself in the intensive care unit of Sacred Heart Medical Center in Spokane, and he grappled with questions of how he would live life.  
How would he fish?
How would he hunt?
How would he be independent?
Discouraged, he took to writing to a girl he'd befriended named Riley; their mothers knew one another.  
Riley had been diagnosed with bone marrow cancer, and was bedridden in an Idaho hospital.  
In letters back and forth, they both commiserated over their circumstances and shared ideas.
Riley said her dream was to raise a dog named "Chemo" that could be used as a therapy dog for suffering patients.
Meanwhile, 80 miles north of McKern, an entire community was mobilizing in his name, trying to raise what money they could to donate to a cause: helping Casey McKern.  
A softball game at his hometown high school raised $5,000.
A Kettle Falls vs. Inchelium alumni football game raised $600.
The middle and elementary schools brought in a combined $2,330 in competing coin drives.
A pair of first-graders raised $40 at a lemonade stand.
A 9-year-old boy offered his piggy bank, worth $100.
Six-hundred bracelets sold in town brought in much more than their asking price of $3 a piece.  
And in a community that had a median income of only $26,700, Kettle Falls raised more than $20,000 in their "Courage for Casey" campaign.
Some of the money was used to retrofit the McKern family home with features that would accommodate Casey's new circumstances: special sleeping arrangements, and ramps to make the house more accessible for a wheelchair.  
But he paid the rest forward.
In the spring of 2009, McKern started the Casey McKern Foundation with the goal of paying back those who had helped him through the dark times after his accident.
The first official act of the foundation, McKern said, was to send money to Riley so she could train a puppy named Chemo to be a therapy dog.
"She never made it," McKern said.  "She died while the money was in the mail."
But Riley's mother took her daughter's mission and ran with it. With the money provided by the Casey McKern Foundation, she made Riley's wish come to life: To this day, there's a therapy dog named Chemo somewhere in Idaho.
From there, things for the Casey McKern Foundation took off: They began helping people whose houses burned down, people who had cancer and people with spinal cord injuries.
"We kept the focus fairly local since those were the people who helped me so much," McKern said.  
An avid hunter, McKern has a special system that attaches to his wheelchair and allows him to hunt with a firearm. He helps people with similar injuries to acquire the same equipment.
"Anything you can control that gives you independence helps," he said.
The foundation holds two main fundraisers every year: a Raise Your Glass event in the spring, which showcases local breweries and merchants, and a Balls and Chain Walleye Tournament in the fall that McKern said usually raises around $30,000.  
Potentially McKern's biggest achievement in his campaign to appreciatively "pay it forward" to his community, however, is a project that broke ground in April.
'A true sense of purpose'
"Yeah, we're building a house," McKern said.
"A house?"
"Yeah," he said, "it is designed to help people with spinal cord injuries."
In 2012, McKern was talking with his friend Eric Weatherman about finding a home that would be more accommodating of his injuries. He was getting frustrated with having to navigate through his current living environment, less than ideal for someone who uses a wheelchair.
As the idea progressed, however, it turned into: why not build a house from the ground up?
"But I didn't want it to be about just me," McKern said. "I didn't want to get caught up in myself."
The idea quickly became about more: How to help others with similar struggles.
"People hear about this project and think, 'Oh, Casey's getting a house.' And I don't want it to be about that.  I want it to be about helping others," he said.
McKern and Weatherman approached Habitat for Humanity, an international nonprofit organization, with the idea: a house designed to assist people with spinal cord injuries to gain independence and freedoms they otherwise would never have.
But they needed help with funding.
"A third of the way through our presentation," McKern recalled, "they stopped us and said 'We're on board.' "
Local architect Brenda Buckner donated her time to make the plans.
Last spring, when the time came to choose property to build on, Weatherman found two adjoining lots in Kettle Falls.
He paid for the land out of his own pocket.  
McKinstry plumbers from Spokane donated labor and materials, and were done in a day.
Local businesses have followed suit, donating lumber, concrete, doors and windows.  
Weatherman, who owns Columbia Navigation, uses tugboats to clear the river of driftwood. But right now his crew is busy working on the McKern project, and Weatherman is paying them their usual wage to work on a volunteer project.
"It's incredible," McKern said. "It's amazing to me that he's donated so much of his time to this project. He's done as much, if not more than I have. I'm very grateful."
McKern said it's hard for him to justify having a house built just for him. He wants as many to benefit as they can.
"A lot of times when people get spinal cord injuries, their insurance will pay for their house to be converted," McKern said, "but then there'll be a lag time of like three months where they just sit around waiting for their house to be rebuilt."
The Casey McKern house would give those people a place to live and be independent during that time.
Additionally, he wants the house to be a destination for travelers – city dwellers, for example, who want to get out into the country, "feel the wind in their hair" and fish or hunt.
"It's a nightmare to travel when you have a spinal cord injury," he said.  "It's terrible."
Hotels are rarely equipped to make a stay comfortable for someone with that sort of injury.
The house, which was originally designed to be roughly 1,500 square feet, was under budget with its previous design.
"Habitat told us, 'You guys are under budget, so you might as well do this the way you want to do it.  You have the money to spend,' " McKern said.  
They expanded the design to 4,000 square feet on a single level.  "It's huge," he said.
Part of it will be McKern's living quarters.  The rest is for guests who wish to come and stay in an environment where, in a sense, their injury matters just a little less.
The facility will be equipped with a voice control system named H.A.L. – Home Automated Learning – that will be linked to just about everything: blinds, lights, television, radio, doors.  
"It will be nice for me to be able to open a door without asking someone to do it for me," McKern said.
Weatherman and McKern have a difference of opinion when asked when the project will be completed: McKern, although optimistic, doesn't want volunteers to push themselves too hard. He's hoping for the middle of next summer.
Weatherman says he'll hand McKern the keys before the snow flies this year.
In some ways, McKern says, it's as if seven years ago, when he held his breath to dive into the cool waters of the Columbia River, he just sort of kept holding it: waiting for a chance to do something big.
And there it will stand: a 4,000-square-foot reminder of his oath to pay back the community that rallied for him in his darkest time.
He'll be able to feel freedom again.
He'll have what he calls "a true sense of purpose."
And maybe for the first time since May 16, 2008, he'll be able to breathe.
---