News > Spokane
Buddy program bonds all kinds of kids
Wed., March 4, 2015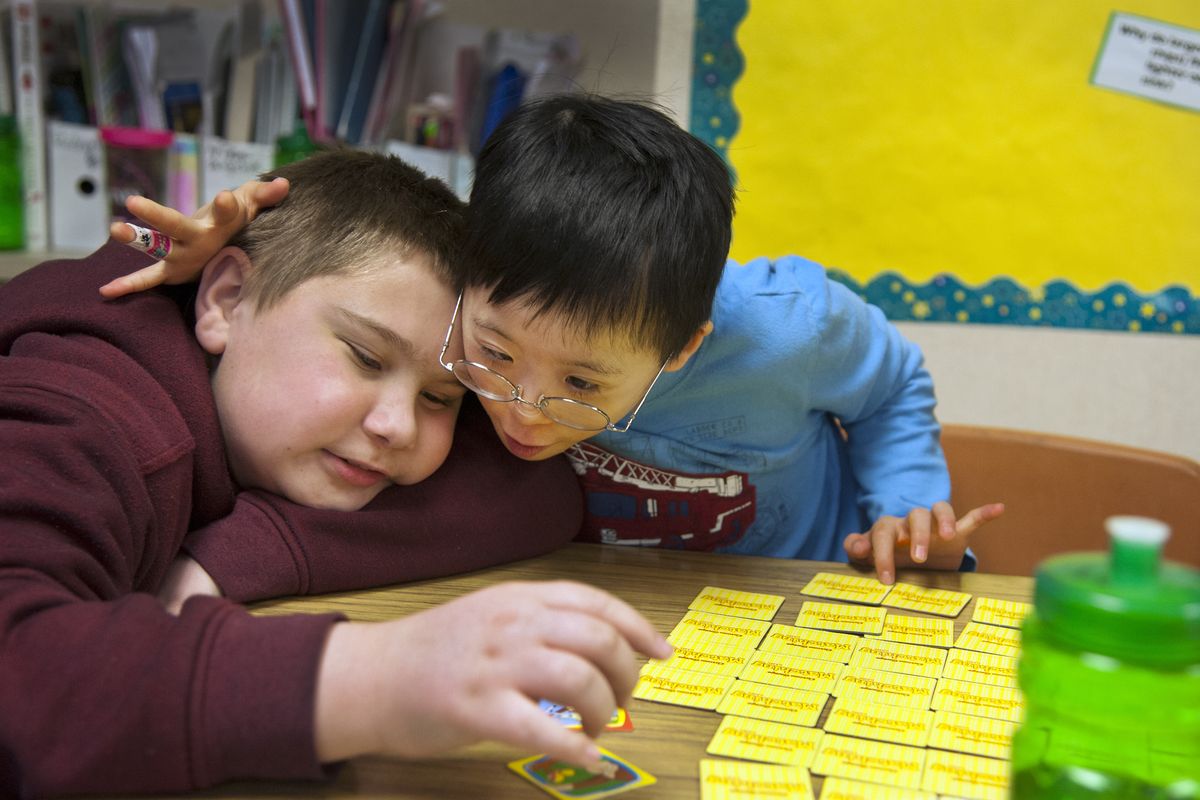 Madison Elementary School students Corbin Fritz, left, and Chris Nathaniel play a memory game during a meeting of the Madison Buddies last Wednesday. The Madison Buddies program partners general education and special education students at lunch and in the classroom to help develop relationships. (Dan Pelle)
Camaraderie and joy filled a Madison Elementary School classroom where students came together to play table games last week.
Laurelle Skipper playfully ignored William Johns when the fifth-grader warned her that her Jenga technique would lead to failure. Glenn Stites pretended not to notice Chance Schmidt moving the wrong game piece on their Hoot Owl Hoot game board.
No one cared about winning or losing; the students were there to build relationships.
The program is called Madison Buddies, and it's modeled on a national program, Circle of Friends, that was founded in 1999. By pairing general education and special education students, the program aims to bring understanding of differences among students, decrease bullying and create bonds between peers.
The program's mantra: "We are each unique and beautiful, but together we are a masterpiece."
So far, 51 students at the school are involved in the program, and all 28 of the developmentally delayed students have a buddy.
"I wanted to have the choice to hang out with other kids," said Stites, a general education student in the fifth grade.
The program started this school year. Principal Shellye Horowitz saw a Circle of Friends video on YouTube and proposed the idea to school counselor Kendra Denny-Maurer. Buying the official program was not affordable, so school officials created their own version.
Students who didn't take band, strings or choir were asked if they wanted to participate.
"I wanted to help," said Serenity Woodard, 11. "I wanted to see what it was like."
Fifth- and sixth-graders go into the special education classrooms to help their buddies with lessons. The kids often eat lunch together and do other activities.
"It really has integrated special education students into the general population," Denny-Maurer said.
Special education teacher Stacey Higgins said the program has been great for all the students involved. "Our kids think those kids are bigger than life. The kids just light up."
Jaden Lewis is one of the school's success stories. The sixth-grader was frequently in trouble until he became involved with Madison Buddies. As he sat next to Oliver Cross at lunch last week, rubbing the boy's back between bites, bad behavior seemed to be replaced with compassion.
"I wanted to sit by my buddy here," Lewis said. "I really want to be a teacher, that's why I think this is important."
Teachers at the end of the table tried to wave away their emotions when they heard Lewis talk of his goal.
Luther Allen, 12, sat on the other side of Cross. The sixth-grader said he feels "called" to spend time with special education students.
"People look down on them, and it's important to realize their hearts and how amazing they are," said Allen, 12, who ate lunch at a table filled with special education students.
Local journalism is essential.
Give directly to The Spokesman-Review's Northwest Passages community forums series -- which helps to offset the costs of several reporter and editor positions at the newspaper -- by using the easy options below. Gifts processed in this system are not tax deductible, but are predominately used to help meet the local financial requirements needed to receive national matching-grant funds.
Subscribe now to get breaking news alerts in your email inbox
Get breaking news delivered to your inbox as it happens.
---