A&E > Entertainment
'Partial victory' for remaining Kettle Falls Five, as jurors acquit family of most charges
Wed., March 4, 2015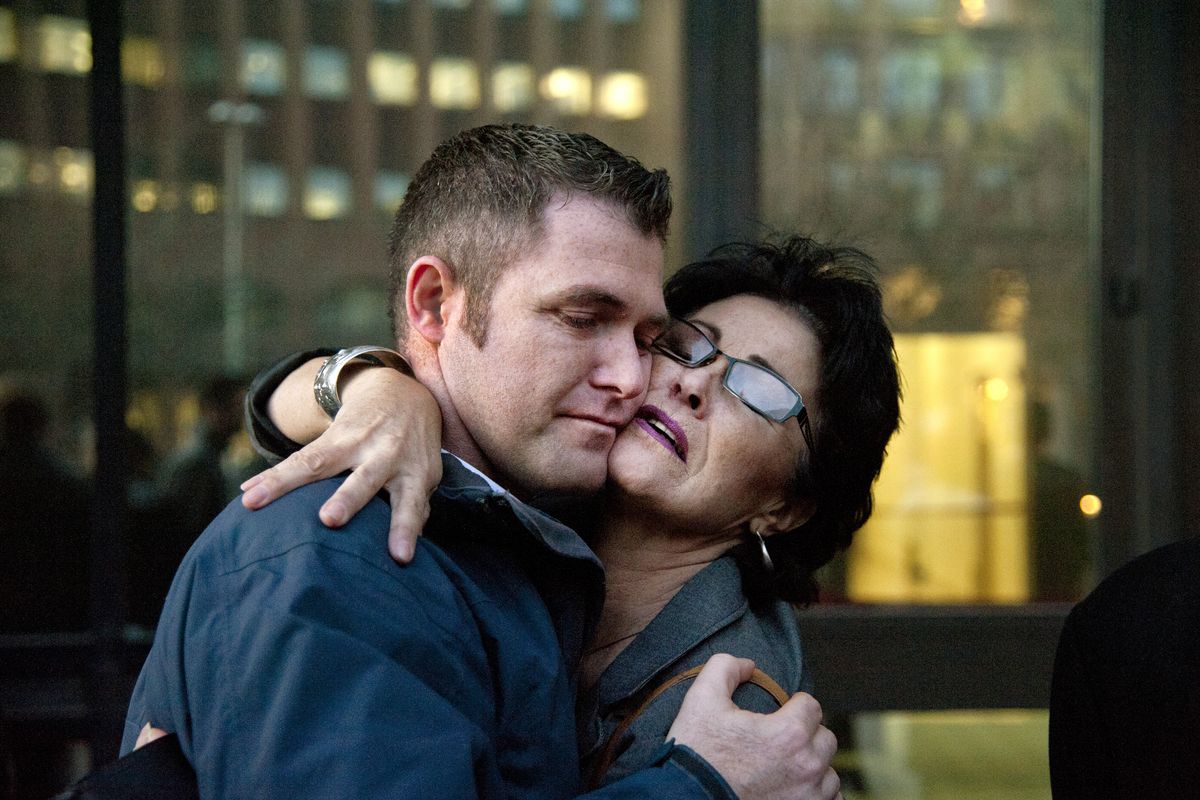 Rhonda Lee Firestack-Harvey embraces her son, Rolland Gregg, after they were acquitted on four of five federal pot charges at the U.S. Courthouse in Spokane. They were convicted on one charge of growing marijuana by a federal jury. (Dan Pelle)
In a courtroom that had been filled with whispers, soundless protests and spontaneous applause all week, the moments before jurors acquitted the three remaining members of the "Kettle Falls Five" of most of their charges were silent.
When Assistant U.S. Attorney Earl Hicks asked that Rhonda Lee Firestack-Harvey, her son Rolland Gregg and his wife, Michelle, be taken into custody, that silence was broken.
"Are you kidding me?" one man whispered.
Firestack-Harvey and the Greggs were found guilty Tuesday evening of growing between 50 and 100 marijuana plants on their 33-acre property northeast of Kettle Falls, Washington, but the jury acquitted them of four other charges, and Firestack-Harvey's attorney, Jeff Niesen, called the outcome a partial victory.
Prosecutors had asked the jury to find them guilty of manufacturing more than 100 plants, a charge that would have carried a five-year minimum sentence. But the jury determined they manufactured between 50 and 100 plants.
Niesen said the family will seek leniency at sentencing, tentatively scheduled for June. The judge denied the request to immediately jail them.
"We've tried this case as a group," Niesen said, referring to Rolland Gregg's attorney, Phil Telfeyan, who took the lead on the defense team at trial, and Bevan Maxey, who represented Michelle Gregg. "We're content with how it turned out."
The case of the so-called "Kettle Falls Five" has been closely watched nationwide as an indicator of how tough the federal government will be in pursuing criminal marijuana charges in states that have legalized the drug for medicinal and recreational uses. Co-defendant Larry Harvey, Firestack-Harvey's husband, was removed from the case last month due to a diagnosis of terminal pancreatic cancer. The final defendant, Jason Zucker, took a plea deal for 16 months in prison and testified for the prosecution last week.
Throughout the five-day trial, defense attorneys were not allowed to argue that the Greggs and Firestack-Harvey had medical marijuana cards from doctors. Nor were they allowed to discuss the apparent shifting tides in attitude to marijuana nationwide and the creation of a legal market in the state.
Niesen said that will change at sentencing, where attorneys will be able to bring up "all the arguments we couldn't use in court."
"Everything's fair game," he said.
Jury deliberations began just after 9 a.m. and lasted until about 5 p.m.
U.S. Attorney for Eastern Washington Mike Ormsby sat in the courtroom when the verdict was read.
After U.S. District Judge Thomas Rice denied Hicks' request to immediately detain the defendants, Ormsby said the outcome would not affect the "very few" marijuana cases that are pending in the district.
"I think the jury did its job," Ormsby said, complimenting Hicks and the defense attorneys for their work on the case.
Rice requested Hicks bring to him in writing a motion to arrest the defendants, which would be decided at a court hearing to be held later. Hicks also asked that Firestack-Harvey wear an electronic monitor because of an email he said she sent to Zucker's wife just before his testimony. Niesen said he had seen no such email and that there was no threat.
Ormsby said he had faith Rice would consider the request to arrest the defendants and rule appropriately in the coming weeks.
"The judge knows what he's doing," he said.
Conspiracy, firearm possession and distribution charges against all the defendants were thrown out by the jury. They also found that Firestack-Harvey was not "maintaining a drug-involved premises." In all, jurors threw out four of the five charges against every member of the group.
In the silence before the verdict was read, Rolland Gregg started to rise from his seat in the courtroom. Telfeyan, his attorney, lifted a hand to his shoulder and pulled him back.
A few minutes later, a more relaxed Gregg shared an embrace with Telfeyan in front of the Thomas S. Foley United States Courthouse, onlookers beckoning them to pose for cellphone photographs.
"It's not a complete win," Niesen said. "But it's the best we could have hoped for with a criminal conviction."
Local journalism is essential.
Give directly to The Spokesman-Review's Northwest Passages community forums series -- which helps to offset the costs of several reporter and editor positions at the newspaper -- by using the easy options below. Gifts processed in this system are not tax deductible, but are predominately used to help meet the local financial requirements needed to receive national matching-grant funds.
Subscribe to the Spokane7 email newsletter
Get the day's top entertainment headlines delivered to your inbox every morning.
---