Gonzaga dominates Iowa to reach Sweet 16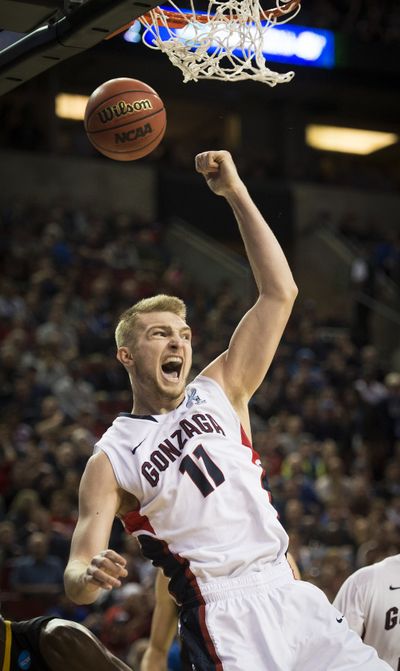 SEATTLE – It was all on display.
The inside power of Przemek Karnowski and Domantas Sabonis. The perimeter accuracy of Gary Bell Jr. and Kevin Pangos. Kyle Wiltjer's deft shooting touch and inside-outside versatility.
Making the extra pass. Making Iowa miserable.
Second-seeded Gonzaga put on an offensive clinic in the first half – most of the game, really – and put the seventh-seeded Hawkeyes away in the second for a convincing 87-68 NCAA tournament win Sunday at KeyArena.
The Zags (34-2) left no doubt in sealing their first trip to the Sweet 16 since 2009. They'll face 11th-seeded UCLA at 4:15 PDT Friday in Houston. Gonzaga defeated the Bruins 87-74 at Pauley Pavilion on Dec. 13.
"I tweeted after this one. I had to," said Bell, an infrequent tweeter. "That felt great. Three years of winning one (NCAA tournament) game and going home after the second, we finally got the two (wins). We're going to enjoy it and then get ready for Friday."
The Zags were ready from the tip against the Hawkeyes, who fielded the tallest starting lineup Gonzaga has encountered this season. It turned out to be a mismatch as Sabonis, Karnowski and Wiltjer combined to make 20 of 28 shots, score 51 points and pull down 20 rebounds.
Wiltjer did most of his damage with four 3-pointers and midrange jumpers, but he also contributed to GU's 40 paint points and a 34-22 rebounding edge.
The 7-foot-1 Karnowski chipped in four of Gonzaga's 20 assists, one a no-look feed to Bell for 3-pointer that hiked GU's lead to 46-29 at half.
"I wasn't working on it," said Karnowski, smiling, "I just saw it and I was happy he caught it and finished it."
The guards won their matchup, too. Pangos, with four 3-pointers that barely ruffled the net, had 16 points and three assists. Bell made down two 3s and finished with 10 points, four assists and two steals.
Kyle Dranginis supplied four assists and three points. Eric McClellan added two assists and pestered point guard Mike Gesell for a lengthy portion of the second half.
"This team is so much fun to be associated with when we're playing like that and we're in attack mode and sharing the ball," coach Mark Few said. "And then just flying around on the defensive end covering for each other. That's how we played for long stretches this season."
Iowa (22-12) never led and trailed 27-15 after a Sabonis' rebound and jump hook. The margin grew to 15 on Wiltjer's trey from the wing and GU finished the half with a 10-3 run.
The Zags shot 62 percent in the first half, 61 in the second half.
"They have weapons any way you look at it," Hawkeyes coach Fran McCaffery said. "You can trap the ball screen, they have shooters, they can throw it inside. They can drive the ball. They share the ball."
Not to be left out, Gonzaga's defense did a creditable job on primary scorers Aaron White and Jarrod Uthoff. The two 6-foot-9 forwards combined for 39 points. They scored some easy baskets after GU turnovers and on inbounds plays but otherwise had to work hard for their points in half-court sets.
GU's offense cooled off temporarily, mainly due to a few unforced turnovers early in the second half. The Hawkeyes never applied serious pressure. Iowa cut Gonzaga's lead to 11 but the Zags pulled away with a 9-0 burst fueled by putback points by Sabonis and Wiltjer and Pangos' corner 3-pointer. Gonzaga led by as many as 22.
"Everything was falling in the first half," Karnowski said. "Outside, inside, high-low, everything was working. We got a little sloppy at the beginning of the second half but we kept our composure and stuck with it."
Gonzaga's celebration began when Pangos and Wiltjer exited in the closing minute to a standing ovation from the Zag-heavy crowd and hugs from Few and the coaching staff.
"There's no greater feeling than this because I haven't been able to experience it and most of the guys in the locker room haven't," Pangos said. "We just wanted to do it selfishly for ourselves and our fan base because we believed we were good enough."
---