News > Spokane
Veteran's long-unmarked grave given a headstone
Sun., May 24, 2015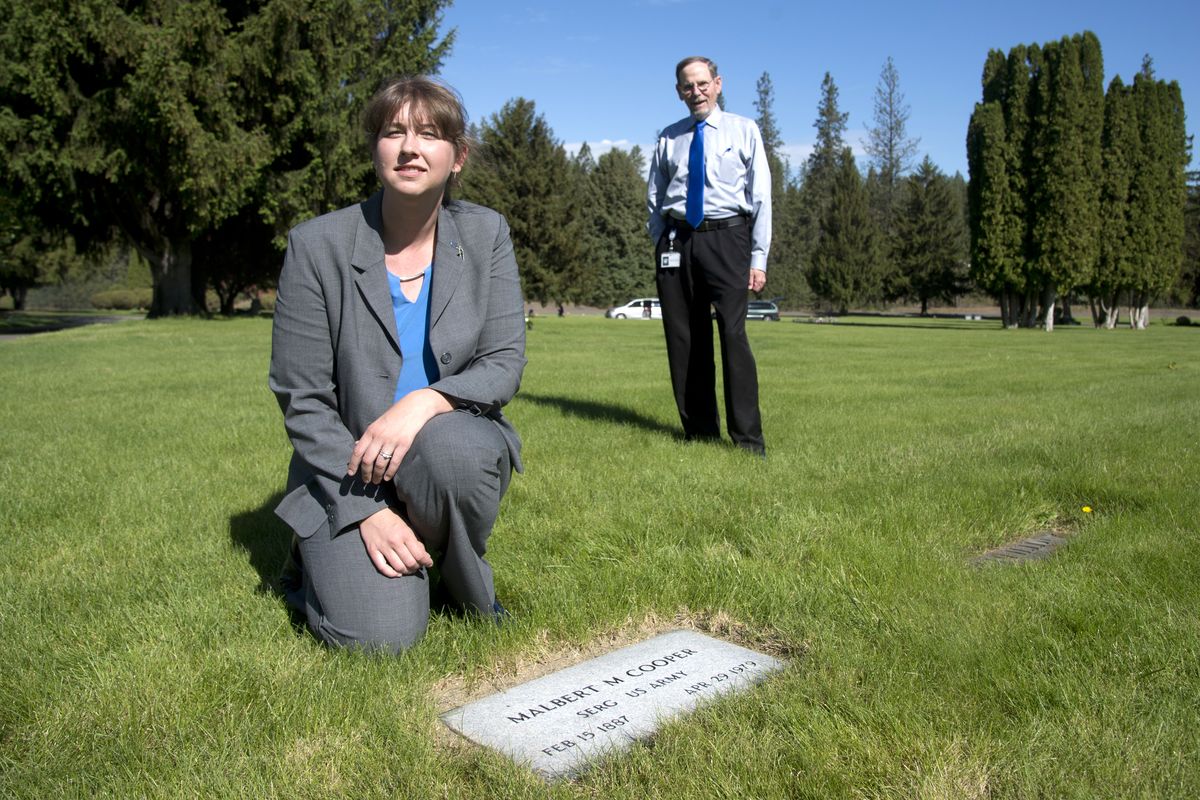 Veterans Services Officer Nadel Barrett, left, and Veterans Services Director Chuck Elmore helped secure the headstone for Malbert Cooper's grave at Spokane-Cheney Memorial Gardens. The pre-World War I veteran died in 1979 and was buried without honors in an unmarked grave. Barrett's research prompted the Department of Veterans Affairs to pay for a headstone. (Jesse Tinsley)
When Chuck Elmore heard that a black Army veteran had been buried in the 1970s in an unmarked grave at Spokane-Cheney Memorial Gardens, he thought resolving the issue might take a few weeks.
Six years later, Elmore has finally seen Sgt. Malbert M. Cooper receive the headstone he deserved.
"I don't know if anybody at the time realized he was a veteran," Elmore, head of Spokane County's Veteran Services, said last week.
A dedication Wednesday will honor Cooper, who was stationed at Fort George Wright from 1910 to 1916, up until the brink of America's entry into World War I.
At least one Spokesman-Review writer, Dorothy Powers, knew of Cooper's service. She interviewed the 82-year-old in 1969, a decade before his death, about what life was like for a black soldier living in Spokane at the outset of global conflict.
"I liked Spokane," Cooper told Powers in 1969. "I made a whole lot of friends, both White and Negro. I had a world of friends. Many Spokane businessmen became my friends."
Years before, Cooper dated Selma Clark. Her son, George Freeman, is now 76 and remembers "Mr. Mack" as a worldly man ready with advice.
"If you had an issue, or a dilemma, he could always look at it and come up with two possible answers," Freeman said.
Patricia Bayonne-Johnson, an avid history hunter and vice president of the Eastern Washington Genealogical Society, brought Cooper to Elmore's attention in May 2009. Bayonne-Johnson was tasked with a genealogical "cold case" by her organization, and after researching Cooper in various history books, she traveled to the cemetery in search of his grave for a photo to pair with her work.
"His name was very different," Bayonne-Johnson said. "I figured I could find information on him."
She and her husband wandered the cemetery grounds for an hour after consulting with staff, but they couldn't find a marker.
Bayonne-Johnson said Cooper was buried by the Department of Public Assistance, which would not pay for a headstone.
"They would only provide finances for the burial," she said.
She contacted Elmore by email, starting a search for relatives that would ultimately prove unfruitful. The lack of family complicated a request to the Department of Veterans Affairs to provide a grave marker for Cooper, who was living alone after making his home in Spokane for more than six decades.
"I talked to Sen. (Patty) Murray's people about it," Elmore said. "They said the last response they got from the VA is that, if we wanted a headstone there, we were going to have to get a court order."
Elmore hired Nadel Barrett, a Navy veteran, as a Veterans Services officer in January. She took on Cooper's case and ultimately secured a "yes" from the VA – without a court order.
"He was a member of the community," Barrett said. "It's just kind of hard to believe that no one would have done this."
The VA provides headstones, at no cost to applicants, to any veteran who dies in combat or is honorably discharged from the armed forces. The application requires a signature from next of kin, or someone authorized by the veteran before they die to apply for the headstone. The closest Elmore could find was Freeman.
"I was about to give up," Elmore said. "But I'm not the kind of guy that ever does that."
Elmore wrote to the National Archives and received Cooper's paperwork, indicating he enlisted in 1910 and was sent to Jefferson Barracks in St. Louis, Missouri, before arriving at Fort George Wright in August of that year. Powers, the Spokesman-Review reporter, wrote that Cooper's early years were spent in his hometown of Baltimore, then performing various odd jobs before enlisting in the Army.
"You might say I hoboed East and I hoboed West," Cooper told Powers in 1969. "Once a friend and I got to Des Moines, Iowa, and we joined the Ringling Brothers circus as roustabouts just to travel with it to St. Paul."
Cooper served in the 25th Infantry Regiment as first sergeant of H Company in 1911 when former President Theodore Roosevelt visited Fort George Wright. The first black troops were stationed there in 1909, according to Army records. While stationed in Spokane, Cooper's company was sent to Hawaii and the Philippines.
When Powers visited Cooper in 1969 at his apartment in the East Central neighborhood, his uniform was no longer intact. But he pulled out his sharpshooter medals and a letter commemorating his service, grinning for the camera.
Elmore invoked military language to describe the difficulty of getting Cooper his headstone, and the satisfaction of seeing it installed.
"The man's a veteran, and he deserves to have a headstone," Elmore said. "We won the war. We lost a lot of battles along the way, but we won the war."
Newsroom librarian Angie Flint contributed to the research for this story.
Local journalism is essential.
Give directly to The Spokesman-Review's Northwest Passages community forums series -- which helps to offset the costs of several reporter and editor positions at the newspaper -- by using the easy options below. Gifts processed in this system are not tax deductible, but are predominately used to help meet the local financial requirements needed to receive national matching-grant funds.
Subscribe now to get breaking news alerts in your email inbox
Get breaking news delivered to your inbox as it happens.
---