News > Idaho
Idaho Capitol's disability access spurs more remodeling
Thu., May 28, 2015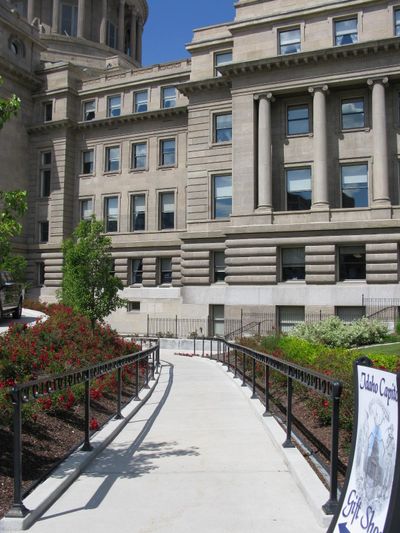 BOISE – After spending $120 million to renovate its state Capitol, Idaho will pay $400,000 more to make the building more accessible to people with disabilities.
State officials wrongly assumed the historic structure was exempt from compliance with the Americans with Disabilities Act when the work was done five years ago.
"We were operating under the premise that we were not fully reconstructing the Capitol building," Jan Frew, state deputy public works administrator, told lawmakers last week. "It's a historic building, so we were utilizing many of the exemptions that are allowed for historic buildings."
For instance, all functions that take place in the building are accessible via some method, but not every door or entrance is accessible.
But the U.S. Department of Justice received a complaint that the building renovation didn't meet the law's requirements, and after an extensive investigation, agreed on 110 changes with state officials.
The work will be completed by July 2017; it includes adding wheelchair-accessible seating to the House and Senate galleries, installing signs that include Braille, and pouring new concrete ramps.
"When the Department of Justice became involved, their main interpretation was that if you're spending $120 million, whether it's new or existing, every part of the Capitol building should be accessible," Frew said. "They didn't think that the historic building exceptions should apply anymore."
Some of the compromises made were to craft new door pulls or levers that are accessible but are made to mimic the historic doorknobs they'll replace, and to add signs to improve directions to accessible routes.
But perhaps the most controversial requirement is that Idaho replace two sloping sidewalks that lead to the new accessible, lower-level south entrance added in the renovation – because they were found to be a half-percent off from cross-slope requirements.
The cross-slope for the ramps is allowed to be at a maximum of 2 percent, but when federal officials inspected, they found it measured 2.5 percent. "The design showed it as the 2 percent, and it has not settled," Frew said. "It was basically put in incorrectly. However, we accepted it, and the time for requiring the contractors to come back in is long past."
Replacing just those sloping sidewalks and their handrails will cost about $50,000, Frew estimated.
Idaho Lt. Gov. Brad Little called the requirements "frustrating."
"I know the Capitol is so much more accessible than it used to be," he said. "I guess we've got to do what we've got to do."
The renovation included adding underground wings with large new public hearing rooms, additional elevators and more.
Funding for the modifications will come from state endowment funds dedicated to maintenance of the state Capitol.
Local journalism is essential.
Give directly to The Spokesman-Review's Northwest Passages community forums series -- which helps to offset the costs of several reporter and editor positions at the newspaper -- by using the easy options below. Gifts processed in this system are not tax deductible, but are predominately used to help meet the local financial requirements needed to receive national matching-grant funds.
Subscribe to the Coronavirus newsletter
Get the day's latest Coronavirus news delivered to your inbox by subscribing to our newsletter.
---
Subscribe and log in to the Spokesman-Review to read and comment on this story