A&E > Entertainment
Spokane Civic Theatre's opener 'Catch Me' based on real-life con artist's escapades
Thu., Sept. 17, 2015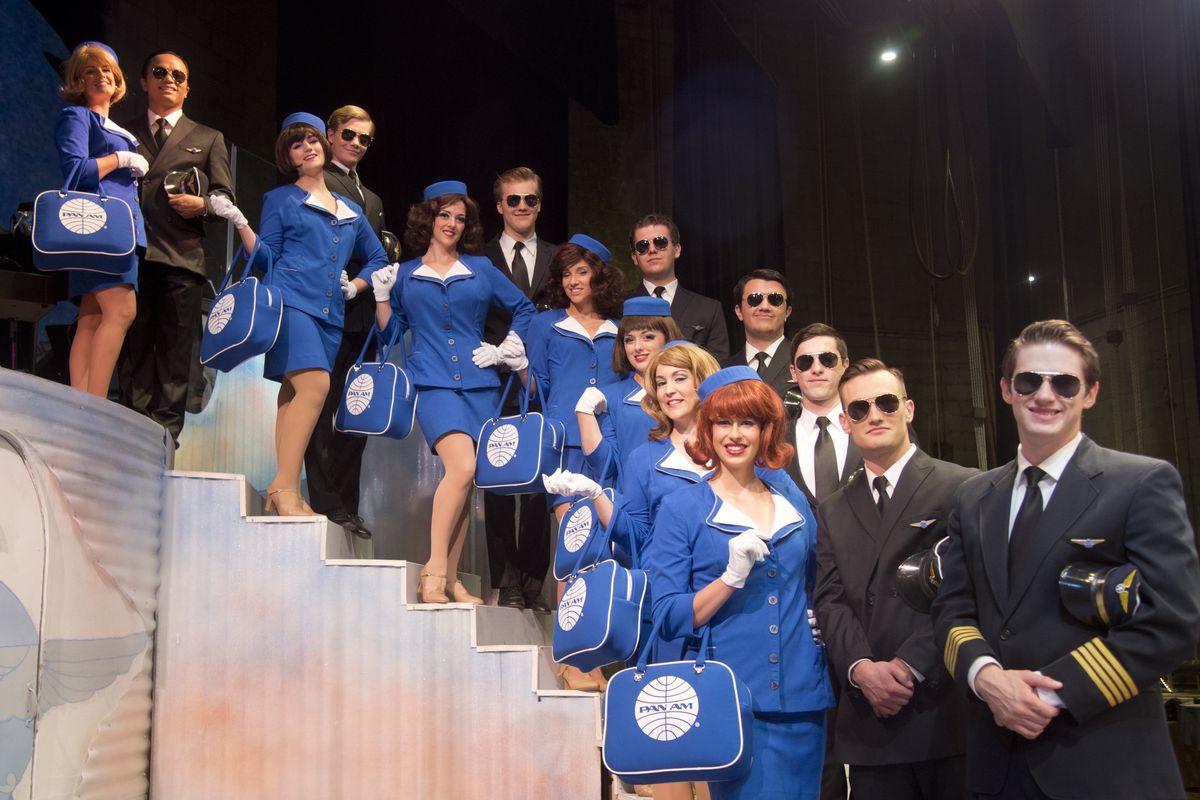 Cody Bray, far right, plays Frank Abagnale Jr. in the Spokane Civic Theatre production of "Catch Me If You Can," which opens today. (Jesse Tinsley)
If Steven Spielberg's "Catch Me If You Can" didn't open with a "based on actual events" disclaimer, you'd never buy it. The story seems so outlandish that, were it pure fiction, audiences would dismiss it as Hollywood hokum.
That acclaimed 2002 film was adapted into a musical that premiered on Broadway in 2011, and the show kicks off Spokane Civic Theatre's new season tonight. Directed by Keith Dixon, "Catch Me If You Can" is a big, splashy affair following the exploits of Frank Abagnale Jr., a real-life con artist and forger who successfully masqueraded as a Pan Am pilot, a pediatrician, a college professor and an attorney while eluding the FBI throughout the 1960s.
The "Catch Me If You Can" musical is as fizzy and fashionable as a Rock Hudson-Doris Day romp, and it's framed like an old-school variety show, with Abagnale (Cody Bray) serving as our debonair host.
"It harkens to Jack Paar and Ed Sullivan in its structure and style," Dixon said. "The band's onstage, reminiscent of your variety show bands. Your ensemble is kind of like the Frank Abagnale dancers. … There's five or six production numbers, there are 200 costumes. It is as big as they come, in many respects."
Abagnale clings to several antagonistic relationships – one with his no-nonsense father (Chet Gilmore), who was the first victim of Frank's extortions, and with Brenda (Amber Fielder), a young nurse who falls for him without knowing who he really is. But it's tenacious FBI agent Carl Hanratty (Michael Hynes), the sheriff of Nottingham to Abagnale's Robin Hood, who seems to best understand Frank's penchant for subterfuge.
"While they're very different from each other, they're drawn to each other," Dixon said. "It's definitely a cat-and-mouse game."
Abagnale was eventually caught – though he twice escaped from police custody – and served a prison sentence of about five years. He later penned a best-selling memoir about his lawless life and now works (appropriately enough) as a security specialist for the FBI.
And though he was a criminal, Abagnale somehow remains a devilishly appealing figure, and both the film and stage adaptation of his life portray him as a charming, roguish slickster. (That he was played by Leonardo DiCaprio in Spielberg's film no doubt added to the appeal.)
"I think on some level we're enamored with the fact that he was a kid," Dixon said. "I mean, he was 16 when he started all this. He was as charismatic as the day is long, and you feel for him because he wanted to make things better for his family. At the same time, he wanted out of what his family had become. So it's set up to be sympathetic to begin with."
Dixon, who also serves as Civic's artistic director, is helming two other shows this season – the classic social satire "Dangerous Liaisons" and the musical adaptation of the 1990 film "Ghost" – and the stylistic and dramatic disparities among those three titles are indicative of the variety in this year's scheduled shows.
"We have quite the eclectic mix of shows this year," Dixon said. "It's a gearshift, but variety is the spice of life."
Local journalism is essential.
Give directly to The Spokesman-Review's Northwest Passages community forums series -- which helps to offset the costs of several reporter and editor positions at the newspaper -- by using the easy options below. Gifts processed in this system are not tax deductible, but are predominately used to help meet the local financial requirements needed to receive national matching-grant funds.
Subscribe to the Spokane7 email newsletter
Get the day's top entertainment headlines delivered to your inbox every morning.
---