Sports
Digest: Kevin Greene follows unique, loud path to Hall of Fame
Wed., Aug. 3, 2016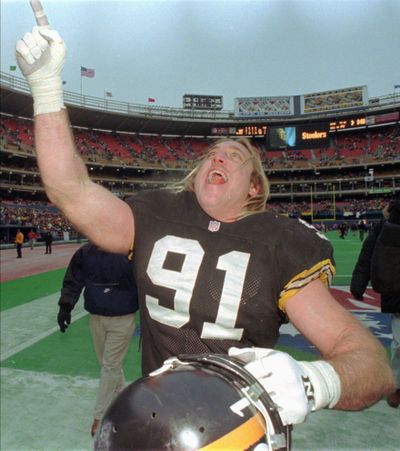 NFL: The showman in Kevin Greene sometimes overshadowed the football player. Not that the outside linebacker who spent 15 seasons posing over fallen quarterbacks seemed to care.
There was the preening after most of his 160 career sacks, third most in NFL history. The side gig in professional wrestling. The unmistakable untamed blonde hair. The mouth that didn't seem to have an off switch, be it on the field, in the locker room or in life.
The image Greene carefully cultivated as a hell raiser for four teams from 1985-99 belied the ardent student underneath. How else to explain how a former walk-on at Auburn molded himself into a 6-foot-3, 247-pound force of nature, one that now finds himself in the rarest company of all: the Hall of Fame?
"I wasn't the biggest (and) I wasn't fastest," Greene said. "But as long as you have a motor, you have heart … that will overcome any physical limitations."
Outsmarting opponents helps. For all of Greene's considerable charisma, the most important moments of his career often came in silent film sessions far away from the cameras as he searched for weaknesses to exploit.
"I figured out how to pass rush," Greene said. "I figured out how to put a guy, an offensive tackle three to four inches taller, 80 pounds heavier, put him in a position of failure, and I did that."
Over and over again.
Perhaps the most startling aspects of Greene's time with the Rams, Steelers, 49ers and Panthers were his durability and productivity. He missed just a dozen games at a position where longevity is fleeting. Ten times he finished with at least 10 sacks, including 12 with Carolina in his final season in 1999 at age 37.
"Kevin to me represents all the things you want in a Hall of Famer: great work ethic, passion and love for the game, great consistency," said longtime NFL coach Dom Capers, who will present Greene for induction. "He brought that energy and enthusiasm into the locker room every Sunday."
It occasionally bubbled over, but that energy is what set Greene apart. There were days while Capers was coaching the Panthers – where Greene served as both outside linebacker and coach-in-training – when Capers would wring his hands over how to set the proper emotional tone. Turns out, he needn't have bothered.
"You always worried if you have the right things to say before a game," Capers said. "But I never had to worry about that because Kevin would have that locker room so wired up before we took the field."
Call it the byproduct of a fervent devotion that extended far beyond mere X's and O's. Teammates were "brothers." The players he led while spending five seasons as a linebackers coach in Green Bay from 2009-13 were his "boys."
"The way he approached the game is the way he approached life," said Packers linebacker Clay Matthews. "It might rub some people the wrong way as far as how he went about his business. But at the same time, he coached us for truly the love of the game. It wasn't about the money. It wasn't about the fame."
That doesn't mean Greene was averse to chasing glory. He played eight seasons for the Rams, playing with a brazen style that seemed like a perfect fit in glitzy Los Angeles. Yet one season under taciturn Chuck Knox in 1992 left him cold. He planned an expansive tour when he hit free agency in the spring of 1993. It didn't last long. One trip through the Fort Pitt tunnel – with downtown Pittsburgh exploding into view as he crossed the confluence of the Monongahela, Allegheny and Ohio rivers – and a brief chat with Steelers coach Bill Cowher did the trick.
"I knew 15 minutes talking to coach Cowher, I'd found my home," Greene said.
Serving as a tag-team partner with fellow outside linebacker Greg Lloyd, Greene led a revival of the "Steel Curtain" defense that propelled Pittsburgh to three straight playoff berths and a spot in the 1996 Super Bowl.
While the ultimate prize never materialized and he left for Carolina after the season, there's little doubt where Greene considers his true NFL home. Greene will receive his Hall of Fame ring during a halftime ceremony at Heinz Field on Oct. 2 when the Steelers host Kansas City.
"I really bleed black and gold," he said. "That really was the pinnacle of my career. We just crushed people. We had the right attitudes on defense."
One that began with Greene and Lloyd and cascaded down the roster.
"His intensity, his leadership, his productivity on the field, was Hall-of-Fame quality," said former Steelers safety turned coach Carnell Lake. "From classroom work to offseason conditioning, he's what you wanted in a teammate."
And in a coach too. Matthews credits Greene for turning him into a perennial Pro Bowler with the Packers, one whose football life closely mirrors that of his mentor. A former college walk-on like Greene, Matthews found a kindred spirit when he arrived in Green Bay in 2009.
"I felt like we really kind of hit it off just being guys who were looked down upon and not expecting much," Matthews said. "I think ultimately, he wanted to go out there and prove not only did he belong, but he was the best at doing it."
And if you didn't like the way – or the volume – with which he did it, that was your problem.
Greene will be inducted to the Pro Football Hall of Fame in Canton, Ohio on Saturday.
Pats celebrate Brady turning 39: The crowd gathered at New England Patriots training camp broke into the first of several choruses of "Happy Birthday." Tom Brady, who turned 39 Wednesday, waved to the crowd, then went back to work. Brady, of course, will miss the first four games of the regular season because of his "Deflategate" suspension, is allowed to practice right up until the Patriots make their final roster cuts, but then has to be away from the team.
His birthday was a center of attention Wednesday.
"He didn't get it (from his teammates) too bad today," said safety Devin McCourty. "I tried to make a wish for him, we celebrate his birthday with some interceptions but he wasn't for it. There were no interceptions today."
Falcons looking for boost from Freeney: Veteran linebacker Dwight Freeney was the talk of the Falcons' training camp on Wednesday, a day after agreeing to a one-year deal with the team. Freeney, who is expected to arrive Thursday, is an important addition to a defense that ranked last in the league in sacks last season.
Coach Dan Quinn said Freeney will play in nickel packages as a pass-rush specialist.
Thomas' grandmother's sentence commuted: Demaryius Thomas used the Denver Broncos' celebratory White House visit in June to deliver a handwritten note to President Barack Obama thanking him for commuting Thomas' mother's drug sentence last year and then asked him to do the same for his grandmother.
The Broncos WR is ready to pen another thank you note after he was told the president fulfilled his wish. Minnie Pearl Thomas was among 214 federal inmates whose sentences were cut short Wednesday by Obama.
Thomas' grandmother, who was serving life for a drug offense, will be released Dec. 1.
Mathieu signs five-year extension: Tyrann Mathieu signed a five-year, $62.5 million contract extension with the Arizona Cardinals. The deal makes him one of the highest-paid defensive backs in the game.
Nike to leave golf equipment business
Miscellany: Nike is getting out of the golf equipment business, a surprising announcement that is sure to send Tiger Woods, Rory McIlroy and other players searching for new clubs and golf balls next season.
Nike said it would stop making clubs, golf balls and golf bags, instead devoting its resources to shoes and apparel, longs its strength in the golf marketplace.
"We're committed to being the undisputed leader in golf footwear and apparel," said Trevor Edwards, president of Nike Brand. "We will achieve this by investing in performance innovation for athletes and delivering sustainable profitable growth for Nike Golf."
Ricketts lifts Toronto: Tosaint Ricketts scored his first Major League Soccer goal to help Toronto FC beat Real Salt Lake 1-0 on Wednesday night.
Toronto's (9-7-6) won its third straight to move into sole possession of second place in the Eastern Conference. The Reds are unbeaten in eight games in a row a home.
Ex-UNC faculty member disputes charge: Attorney Randall Roden, who represents Jan Boxill, a former North Carolina women's basketball academic counselor and faculty member, filed a 54-page response this week to an NCAA charge that she provided improper academic assistance to athletes. That was one of five charges against UNC tied to its long-running academic fraud scandal, though Roden's response included a letter to the NCAA complaining of an "impossibly burdensome and fundamentally unfair" process for gathering and reviewing evidence in the case.
Both UNC and Boxill filed responses Monday and released them publicly Tuesday. The NCAA enforcement staff has 60 days to respond.
China's Muni He advances: China's Muni He made a 35-foot birdie putt on the 22nd hole to beat qualifying medalist Mariel Galdiano in the first round of the U.S. Women's Amateur in Springfield, Pennsylvania.
Isner advances in Atlanta: John Isner opened his bid for a fourth straight BB&T Atlanta Open title, overpowering France's Adrian Mannarino 6-4, 6-0. Isner had 16 aces on the Atlantic Station hardcourt in the warmup event for the U.S. Open.
The top-seeded former University of Georgia star has reached the finals in Atlanta five of the previous six years and is 21-3 in the event. He has 10 ATP Tour titles.
Schiavone drops set going to quarterfinals: Former French Open champion Francesca Schiavone dropped the first set on her way to beating Lu Jiajing of China 4-6, 6-1, 6-2 Wednesday in the Jiangxi Open second round in Nanchang, China.
Local journalism is essential.
Give directly to The Spokesman-Review's Northwest Passages community forums series -- which helps to offset the costs of several reporter and editor positions at the newspaper -- by using the easy options below. Gifts processed in this system are not tax deductible, but are predominately used to help meet the local financial requirements needed to receive national matching-grant funds.
Subscribe to the sports newsletter
Get the day's top sports headlines and breaking news delivered to your inbox by subscribing here.
---