Sports
Olympics begin with Sweden beating South Africa in soccer
Wed., Aug. 3, 2016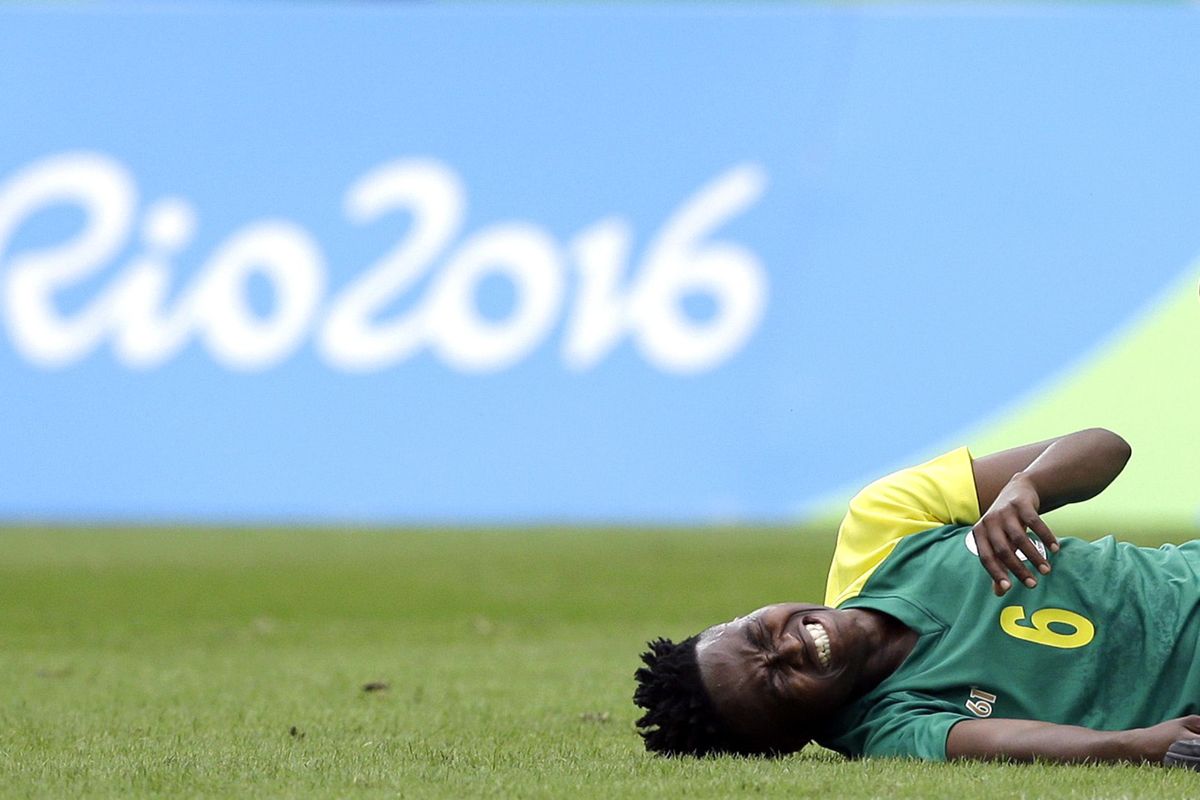 South Africa's Mamello Makhabane grimaces in pain after being fouled during the opening match of the Women's Olympic Football Tournament between Sweden and South Africa at the Rio Olympic Stadium in Rio de Janeiro, Brazil, Wednesday, Aug. 3, 2016. (Leo Correa / Associated Press)
RIO DE JANEIRO (AP) – The first Olympics in Brazil are underway – aptly with a game of soccer in the sport's spiritual home. Just not a very memorable one.
Sweden's women beat South Africa 1-0 in a drab group-stage game Wednesday in front of a sparse crowd of only a couple of thousand spectators in Rio de Janeiro. It was settled by veteran defender Nilla Fischer opening her third Olympics by scoring in the 75th minute.
The Olympic Stadium was far fuller and more boisterous later in the day when the hosts were in action. Brazil's women began their quest for a first Olympic soccer title against China, a day before the men's team opens against South Africa in the capital Brasilia.
Organizers will be hoping the 14 soccer games being played over Wednesday and Thursday will see excitement build ahead of Friday's opening ceremony at the Maracana Stadium, which hosted the World Cup final two years ago.
The Olympic flame is now in Rio, ready for the lighting of the cauldron on Friday. The torch relay, which began with a ceremonial lighting in Ancient Olympia, Greece in April, hitched a ride on a tour boat to reach the first city in South America to host the Olympics.
A protest involving 50 people stopped the relay on Tuesday in Sao Goncalo, one of the poorest cities of greater Rio, in a sign of the strife that threatens to disrupt movement around the games venues. Police used tear gas on Wednesday in further clashes as the torch was paraded through the streets of Rio.
Protesters are demanding improvements in education and healthcare, with some angered by the 39.1 billion Brazilian reals ($12 billion) – a mix of public and private money – being spent on building venues and infrastructure for the Olympics.
Brazil embarked on its Olympics bid at a time of prosperity in 2006, but the games are opening with the country in the grip of its worst recession in decades.
The opening event of the Olympics was staged in a venue with a tainted association.
The Olympic Stadium is also known as Joao Havelange Stadium, named after the 100-year-old Brazilian who led soccer's governing body FIFA for 24 years. Havelange stepped down as honorary president of FIFA in 2013 to avoid possible suspension for taking kickbacks.
Soccer will make way for track and field in the stadium from Aug. 12.
Local journalism is essential.
Give directly to The Spokesman-Review's Northwest Passages community forums series -- which helps to offset the costs of several reporter and editor positions at the newspaper -- by using the easy options below. Gifts processed in this system are not tax deductible, but are predominately used to help meet the local financial requirements needed to receive national matching-grant funds.
Subscribe to the sports newsletter
Get the day's top sports headlines and breaking news delivered to your inbox by subscribing here.
---