Sports
Mark Marks' words: Cougars new receivers talented
Sat., Aug. 6, 2016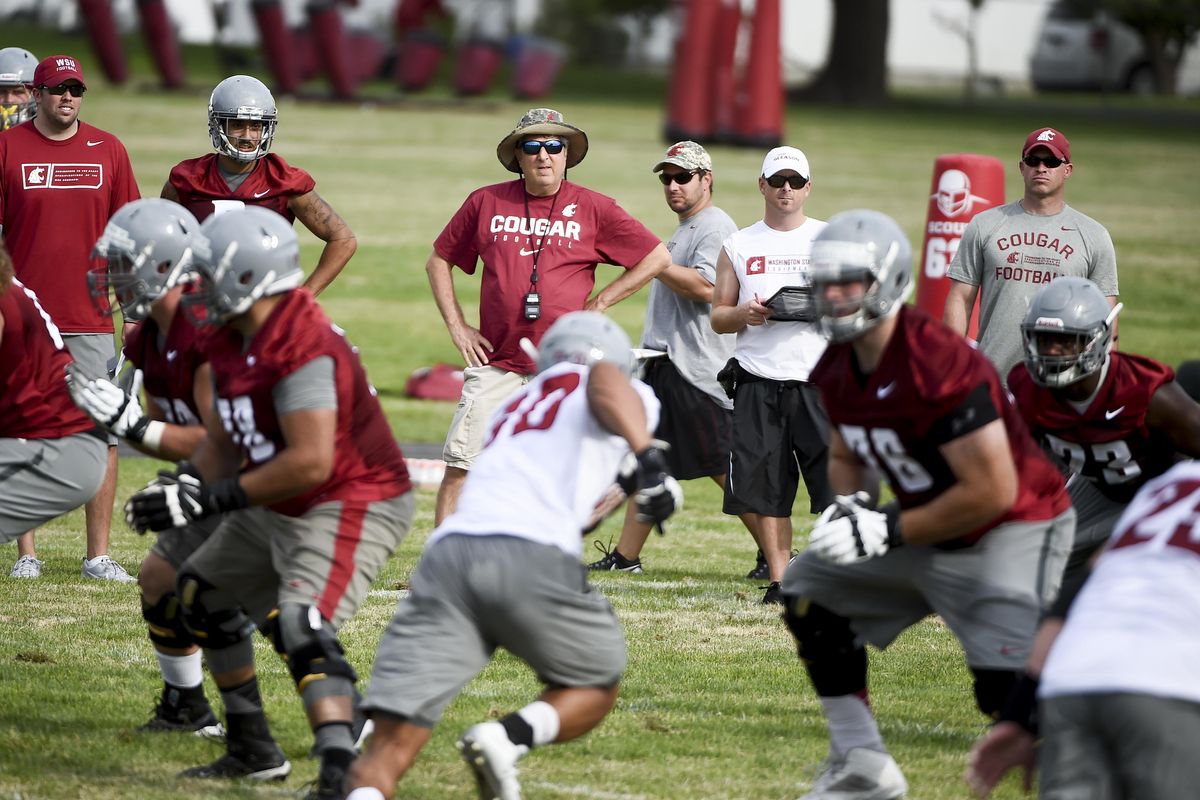 WSU head coach Mike Leach watches his team during practice on Saturday in Lewiston. (Tyler Tjomsland / The Spokesman-Review)
LEWISTON – Because of rules restricting what sorts of practice football coaches can observe during the offseason, Mike Leach and his staff simply had to trust the word of senior receiver Gabe Marks.
Washington State held its first football practice of the season on Saturday at Sacajawea Junior High in Lewiston, where the coaches and other observers discovered what Marks knew all along: The new Cougars receivers can ball.
The outside receivers in particular stand out. Of course, this group of trees would stand above any group of humans outside of an NBA frontcourt.
The most impressive new pass catcher the Cougars debuted is actually a fifth-year senior, C.J. Dimry, but even he is practically a greenhorn. Dimry transferred to WSU from a junior college last season and was injured during WSU's first fall practice. Then, he was injured again on WSU's first spring practice.
So finishing Saturday's practice was a big step for the 6-foot-6 receiver. In the process, he dominated WSU's defensive backs in one-on-one drills and skeleton passing periods, using his large frame and long arms to reel in touchdown passes before defensive backs even had a shot at the ball.
"Stretch? Stretch Armstrong right there," said quarterback Luke Falk. "Just throw it to CJ and he'll get it. He made it through his first practice and we'll celebrate tonight. It was a good day for him."
The actual newcomers are a pair of fully-grown freshmen: Dezmon Patmon (6-foot-4, 207 pounds) and Isaiah Johnson (6-3, 213), the latter of whom enrolled early and participated in spring ball. Grant Porter is another freshman receiver with a shot to play, although it seems likely he will play inside.
"The young guys are getting better and better every year," said senior inside receiver River Cracraft. "We're going to have some guys who can contribute."
Cracraft earned a starting spot as a freshman. Now one of the team's senior leaders, he is in a position to impart his earned knowledge to the young receivers with the authority of an elder.
"I talk to those guys as much as I can," Cracraft said. "The speed of the game is a little bit different but, all in all, it's just football. You were recruited here because you can play."
Johnson had the size to make an impact even last year, when he could have been finishing up his high school career instead of practicing with the Cougars, but showed improved body control and confidence on Saturday. Patmon made a stellar catch downfield on one of Falk's rare errant passes.
"I threw it to Dez just hoping for a prayer and he got it," Falk said. "I was pretty excited about that."
That trio's ability makes the X-receiver position one of the tightest battles on the team, according to Leach, despite Tavares Martin appearing to lock up the spot in the spring (nobody is breaking Marks' hold on Z-receiver).
Martin did nothing to lose the position on Saturday, and made one of the day's most impressive plays by going to the ground to make a one-handed catch while fighting off starting cornerback Treshon Broughton.
The defensive backs also stood out on Saturday – the fact both the secondary and receivers had good days speaks to the depth the Cougars are building. Primarily, the defensive backs played more physically than they have in past years, perhaps a function of being more secure in their knowledge of the defense and certain in their movements.
"It's a positive, obviously," defensive coordinator Alex Grinch said when asked about the battle between the secondary and WSU's oversized receivers. "We tell those guys we aren't going to win every rep, especially with as many balls as we see in a given day. But we've got to make sure we win our share of them as well."
Local journalism is essential.
Give directly to The Spokesman-Review's Northwest Passages community forums series -- which helps to offset the costs of several reporter and editor positions at the newspaper -- by using the easy options below. Gifts processed in this system are not tax deductible, but are predominately used to help meet the local financial requirements needed to receive national matching-grant funds.
Subscribe to the sports newsletter
Get the day's top sports headlines and breaking news delivered to your inbox by subscribing here.
---