News > Spokane
100 years ago in Spokane: GOP presidential candidate visits, hammers opponent
Mon., Aug. 15, 2016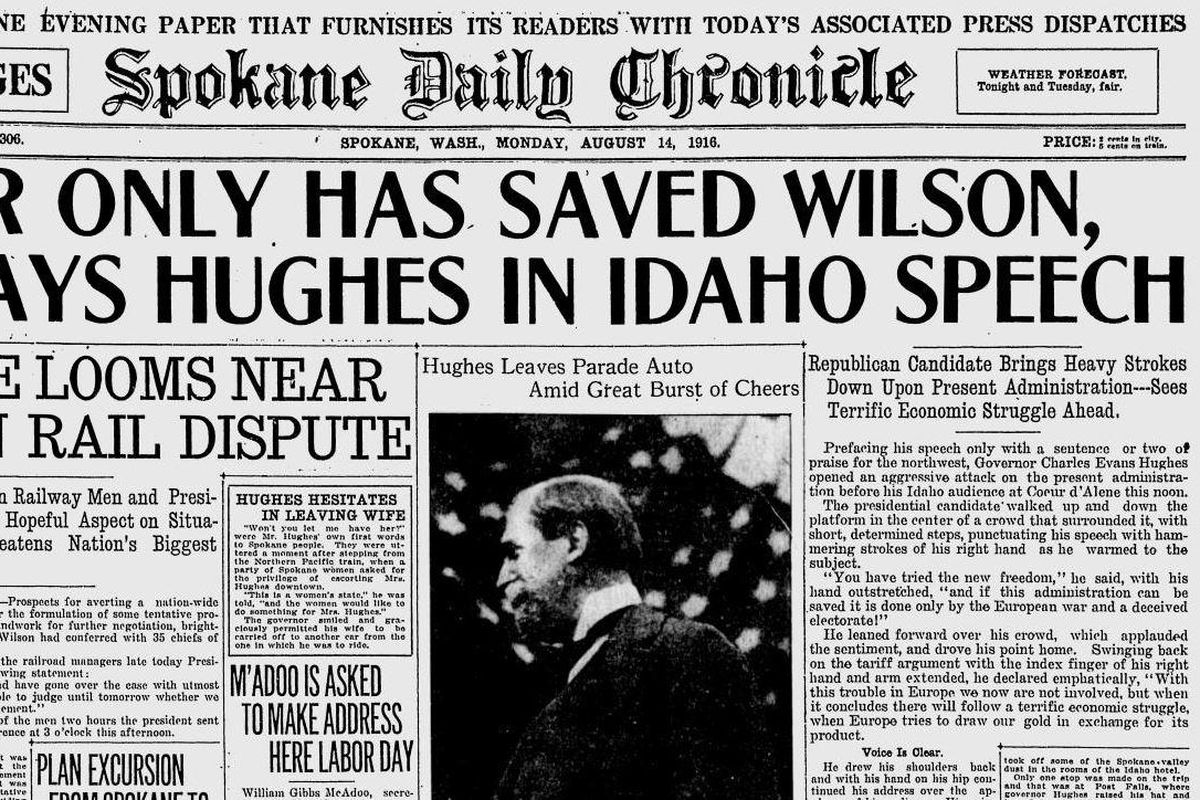 Republican presidential nominee Charles Evans Hughes campaigned in Coeur d'Alene and Spokane, the Spokane Daily Chronicle reported on Aug. 14, 1916. (Spokane Daily Chronicle archives)
From our archives, 100 years ago
Republican presidential candidate Charles Evans Hughes hammered his Democratic opponent, incumbent Woodrow Wilson, in speeches in Coeur d'Alene and Spokane.
"If this (Wilson) administration can be saved, it is done only by the European war and a deceived electorate," said Hughes, with hand dramatically outstretched.
He also took another swipe at Wilson when he said, "I don't believe that the need for America is oratory, but organization and discipline."
He said he had been attacked for waging what we would today call a negative campaign.
"They say I am not constructive, but I propose an administration that will protect industry and American labor," he said. "Is that constructive? I propose a budget system that will conserve our national finances. Is that constructive?"
Earlier in the day, an estimated 20,000 people lined Spokane's downtown streets, cheering and waving handkerchiefs, to watch his motorcade pass.
This local adulation would not, in the end, add up to victory for Hughes. He lost both Washington and Idaho by sizable margins, and failed to unseat Wilson from the presidency.
Also on this date
(From the Associated Press)
1945: In a prerecorded radio address, Japan's Emperor Hirohito announced that his country had accepted terms of surrender for ending World War II.
Local journalism is essential.
Give directly to The Spokesman-Review's Northwest Passages community forums series -- which helps to offset the costs of several reporter and editor positions at the newspaper -- by using the easy options below. Gifts processed in this system are not tax deductible, but are predominately used to help meet the local financial requirements needed to receive national matching-grant funds.
Subscribe now to get breaking news alerts in your email inbox
Get breaking news delivered to your inbox as it happens.
---