Sports
MLB Notes: Indians' Michael Brantley has shoulder surgery, out for 4 months
Tue., Aug. 16, 2016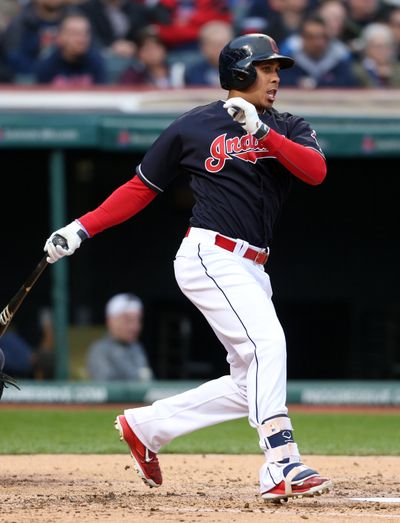 The Indians are optimistic outfielder Michael Brantley will be ready for baseball activities when spring training begins.
Brantley, who played in only 11 games this season, had surgery on his right shoulder Monday to address chronic biceps tendinitis. He's expected to begin his normal offseason workout program in mid-to-late November.
"That's partly the reason we wanted to try to do it now," Indians manager Terry Francona said Tuesday. "He'll need a good spring training. He's got 39 at-bats this year. Having him not have to be behind in spring will be really big. I think there's a real chance that will happen."
Indians head athletic trainer James Quinlan said surgeons cut the biceps tendon and anchored it to a different part of the shoulder during Monday's 45-minute procedure in Dallas. Brantley had surgery in November after suffering a torn labrum. The Indians say the labrum is intact and the remainder of the shoulder joint looked good.
Brantley began the season on the disabled list and was activated in late April, but returned to the DL on May 10. He attempted to come back several times, but the shoulder still bothered him when he tried to hit.
"He's got a lot on his plate and he's had lot," Francona said. "For a guy who hasn't played, he's pretty tired. He's given a lot to try to come back. He's going to have to do that again. The good news is if anybody's willing, he's the guy."
Utley gets curtain call
Phillies fans gave Dodgers second baseman Chase Utley a curtain call after he homered in his first game in Philadelphia since a trade last season to Los Angeles. That came after fans met him with a 1 1/2-minute ovation before he struck out leading off the game.
Utley was a six-time All-Star in 13 seasons as Philadelphia's second baseman, helping the team win five straight N.L. East titles and the 2008 World Series. Fans showed their appreciation with a cheer before he struck out in the first inning at Citizens Bank Park.
In the fifth inning, Utley hit a two-out solo homer and raced around the bases in customary fashion. Fans clamored for a rare curtain call by a visiting player, and Utley obliged to another standing ovation.
"We had a lot of great times here at this stadium," Utley said prior to the game. "I spent so much time here, so many great memories. I can't really say enough about the support I received. Obviously we had some great players and great coaches, but the fans kind of took us to the next level."
Utley's presence put a buzz in Philadelphia's ballpark during what's been a lackluster season. Fans applauded when he jogged to the outfield for warmups, and he twice stopped to sign autographs between conversations with former teammate Ryan Howard in center field. There were signs throughout the ballpark welcoming Utley back.
As Utley hit leadoff wearing his familiar No. 26, public address announcer Dan Baker introduced him to shouts and applause, including from players on both teams. Utley doffed his helmet and waved to the crowd, and when he tried to step to the plate, fans continued their ovation. Plate umpire Ron Kulpa moved to clean home plate while Utley stepped out again, touching his heart and raising his fist in appreciation.
"I truly believe without their support and without them pushing us to be better, we would not have had the team that we had," Utley said of the fans.
Eovaldi out until 2018 season
New York Yankees righty Nathan Eovaldi said he will miss the remainder of this season and all of next year because of two tears in his elbow that require serious surgery. It's a stunning blow to the Yankees, who hoped Eovaldi would be a key cog in their rotation for several seasons when they acquired him from the Miami Marlins in a December 2014 trade.
One of the hardest-throwing starters in the majors, the inconsistent Eovaldi was 9-8 with a 4.76 ERA in 124 2/3 innings this year. He can become a free agent after next season, so at the very least, his future in New York is uncertain.
After receiving a second opinion on his ailing elbow, Eovaldi says he has a torn flexor tendon and a partially torn ulnar collateral ligament. The torn UCL will necessitate a second Tommy John surgery for the 26-year-old Eovaldi, who had the procedure nine years ago when he was a high school junior.
Clearing the bases
Texas Rangers leadoff hitter Shin-Soo Choo is set for surgery Wednesday to have a plate inserted near the break in his left wrist and forearm. Choo went on the DL Tuesday for the fourth time this season. … St. Louis Cardinals OF Matt Holliday will have surgery on his right thumb, an injury that could sideline him for the rest of the regular season. … The Tigers acquired Braves IF Erick Aybar for IF Mike Aviles and minor league catcher Kade Scivicque. Aybar, 32, is an 11-year veteran with extensive experience at shortstop. This season, he is hitting .242 in 97 games.
Local journalism is essential.
Give directly to The Spokesman-Review's Northwest Passages community forums series -- which helps to offset the costs of several reporter and editor positions at the newspaper -- by using the easy options below. Gifts processed in this system are not tax deductible, but are predominately used to help meet the local financial requirements needed to receive national matching-grant funds.
Subscribe to the sports newsletter
Get the day's top sports headlines and breaking news delivered to your inbox by subscribing here.
---