News > Spokane
Beacon Hill fire threatened dozens of homes
Sun., Aug. 21, 2016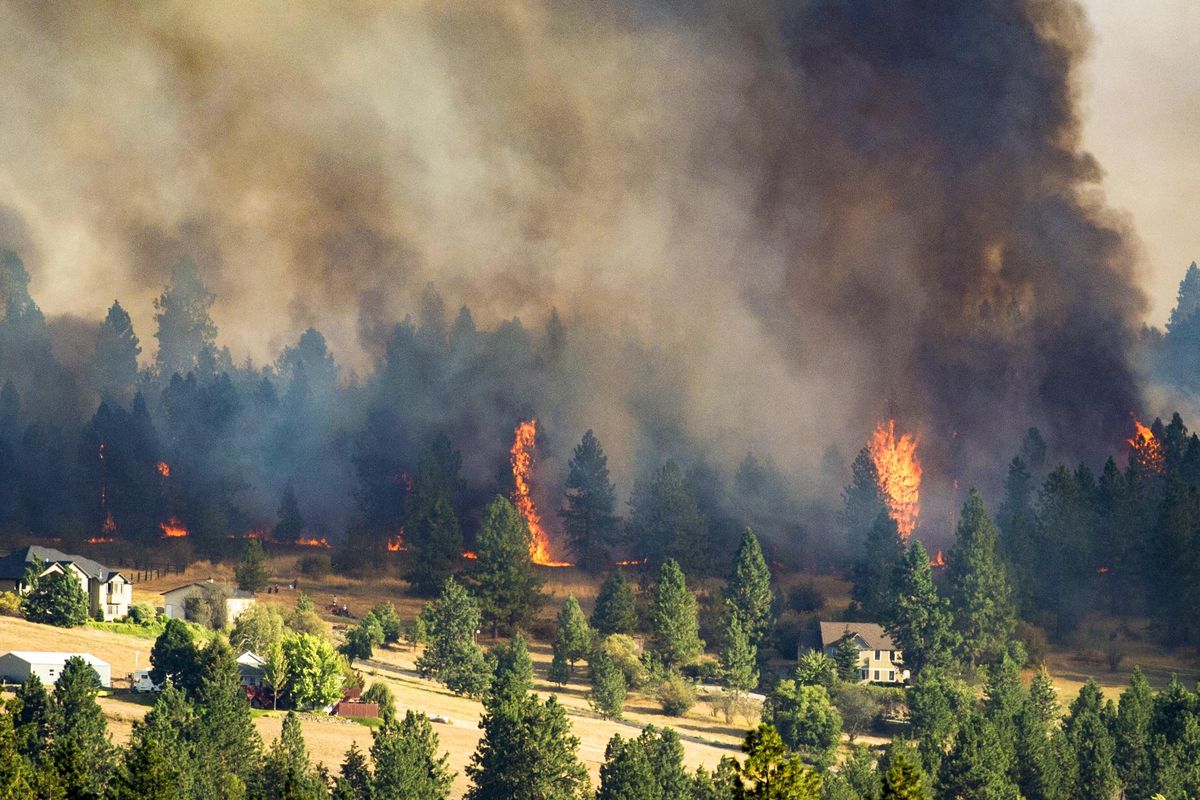 A fast-moving wildfire approaches homes on the north side of Beacon Hill, Sunday, Aug. 21, 2016, in Spokane. (Colin Mulvany / The Spokesman-Review)
Jessy Westland was at work when she learned a fast-moving fire had started near Beacon Hill in north Spokane. Her 5-year-old son was there, staying at her grandparents' home.
She raced from Spokane Valley up Bigelow Gulch Road, fearing the worst as white smoke billowed from the area.
Level 3 evacuation orders – to get out now – were in effect as the fire enveloped roughly 150 acres of parched trees and grass, threatening dozens of upscale homes. Westland was stopped at a police roadblock, so the weeping mother parked her truck and watched helplessly as the home disappeared into a cloud of smoke on the other end of a large field.
To her relief, it was spared.
"It's like my second home," she said. "We're always up there."
At least two homes were destroyed in the fire. One family fled down the hill to a neighbor's house. They didn't want their names published but said relatives had been using garden hoses to try to beat back the advancing flames.
Once firefighters had the blaze under control, the frame of a large house could be seen atop the hill's highest perch, faintly silhouetted over a wall of gray smoke.
The fire started at about 2:30 p.m. near Bigelow Gulch and Thierman Road. Officials said it had burned 250 acres by late afternoon but later reeled back their estimates.
Bryan Schaeffer, assistant chief of the Spokane Fire Department, said it will take at least a day to clear the area of hot spots.
"There's still a lot of fire in pockets throughout those 150 acres," he said.
Authorities hadn't announced a cause of the fire as of Sunday evening. No injuries were reported.
Neighbors gathered along dirt roads to watch as strong winds pushed the fire toward the northeast. Some drove by in trucks and SUVs loaded with belongings – furniture, dog kennels, pictures, a paddle boat.
Jacob Gilbertson was celebrating his son's first birthday at the family's home about a quarter-mile east of the fire line. The pool party ended when smoke wafted into the backyard, and the family quickly started moving their vehicles and checking their insurance policies.
Gilbertson and his father-in-law walked down the road to assess the damage. Their clothes and faces were pocked with red fire retardant, which had been dropped by passing planes.
"We were walking and we heard a couple of explosions and it was like oil barrels blowing up or something, so we looked over and there was this house on fire," Gilbertson said. Another neighbor kept numerous rounds of live ammunition in the house, he said.
Tom Wright was driving from his home in north Spokane when saw the smoke. So he canceled a planned visit to Sandpoint and sped up the hill, where he found a panicked horse in a fenced yard.
Wright took the horse away from the fire and waited for the owners to come home. As it turned out, the owners were Scott Crawford, a Spokane Valley fire captain, and his wife, Cindy Crawford. They said they were grateful to Wright and called him a "good neighbor."
"We get fires here every year, but never this close," Cindy Crawford said.
Bigelow Gulch had reopened by 7 p.m. Schaeffer said local departments were prepared for a day like this.
"Obviously, our plans were pulled out and everything worked the way it was supposed to," he said. "One thing to remember is that our normal 100-call-per-day call volume continued while we responded to these big events."
Staff writer Jonathan Glover contributed to this report.
Local journalism is essential.
Give directly to The Spokesman-Review's Northwest Passages community forums series -- which helps to offset the costs of several reporter and editor positions at the newspaper -- by using the easy options below. Gifts processed in this system are not tax deductible, but are predominately used to help meet the local financial requirements needed to receive national matching-grant funds.
Subscribe now to get breaking news alerts in your email inbox
Get breaking news delivered to your inbox as it happens.
---