News > Spokane
Fast-moving wildfires burn thousands of acres, force evacuations in Spokane, Lincoln counties
Sun., Aug. 21, 2016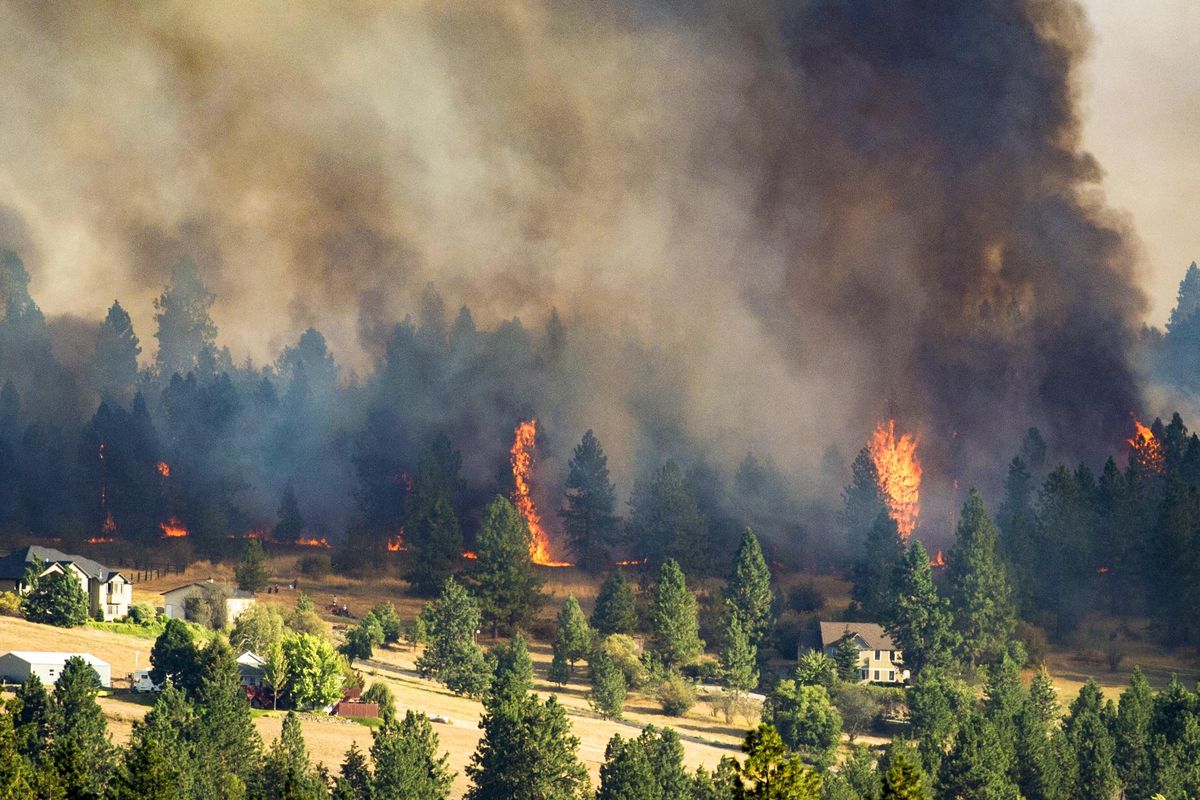 A fast-moving wildfire approaches homes on the north side of Beacon Hill, Sunday, Aug. 21, 2016, in Spokane. (Colin Mulvany / The Spokesman-Review)Buy a print of this photo
Two wildfires raged out of control in the Spokane area Sunday, burning nearly 3,000 acres, destroying an unknown number of homes and forcing hundreds of residents to flee. A third massive wildfire burned more than 1,600 acres in Lincoln County, north of Davenport.
Here's the latest on all three fires:
Beacon Hill
A fast-moving brush fire on Beacon Hill in north Spokane burned several structures Sunday afternoon, fire officials said. The fire had burned about 150 acres by Sunday evening, the state Department of Natural Resources said.
One family told a reporter they lost their house in the fire, and that relatives were using garden hoses to try to beat back the advancing flames.
Zach McVicker said two homes burst into flames in a neighborhood near the Beacon Hill fire.
A Level 3 evacuation was in effect, meaning fire officials wanted homeowners to leave immediately. The evacuation boundaries were Valley Springs on the south, Thierman Road on the east, Joseph Lane on the north and a west boundary due north and south of Joseph Lane.
Craig Goodwin, who lives in the Northwood area, said he went to a neighbor's home at the intersection of North Thierman Road and Bigelow Gulch Road to see how bad the fire was. He was able to take a few pictures of the home surrounded by flames before deputies from the Spokane County Sheriff's Office showed up and asked people to leave.
"I don't think it burned down. It didn't have a lot of trees around it," he said of the house.
He said firefighters were attempting to enter the home when a large tree near it caught fire, forcing crews to retreat. He left shortly after.
Goodwin's home is outside the evacuation area.
"Everyone in the neighborhood has sprinklers on and is paying attention to what's going on, but at least where we are in Northwood right now, we don't seem to be in danger," he said.
Resident Tom Wright said the flames engulfed the hillside and threatened dozens of upscale homes.
Wright rescued a horse named Chance from a ranch owned by Scott Crawford, a Spokane Valley fire captain who wasn't home at the time.
The captain's wife, Cindy Crawford, said, "We get fires here every year, but never this close." The couple has lived there 16 years.
Jessy Westland was at work in Spokane Valley when she heard about the Beacon Hill fire. Her 5-year-old son Logan Roeghle was at his grandparents' home near the fire, and she tried to get to him but was stopped at a police road block.
"They won't let me up there," a tearful Westland said. But she was able to speak on the phone with Logan and hear that he was alright.
Spangle
A power line that went down in a field 6 miles northeast of Spangle started another wildfire just before 3 p.m. Sunday.
The Yale Road fire quickly blew up to about 2,500 acres, and multiple homes, outbuildings and power poles were lost, said Tony Nielsen, chief of Fire District 8.
"This really is a significant fire moving very quickly," said Gerry Bozarth, a spokesman for Spokane County Emergency Management.
Fire bosses were hopeful they had halted the fire's progress Sunday evening, as the winds died down and scores of firefighters worked the fire's fringes, Bozarth said.
The fire started in wheat stubble and roared across fields, brush and timber south of Valleyford. Crews tried to prevent the fire from threatening Freeman High School, but firefighting resources were stretched thin by the multiple fires raging Sunday afternoon.
The homes were destroyed after the fire jumped a canyon, according to eyewitnesses. On state Highway 27, a stream of trucks and cars hauled livestock, boats, classic cars and other possessions away from the fire perimeter.
Becky Delano rushed from North Idaho to help her grandmother evacuate her century-old home south of Valleyford. After taking her grandmother, Pat Terry, out of the house, Delano loaded a valuable gun collection into a dog crate and got it out as well. Her uncle Jason Terry's home nearby burned, Delano said.
Bruce Berglund and his wife Kris were ordered to evacuate their home in the path of the Yale Road fire. They grabbed their two children and the family dog and fled. Berglund said he hopes everything else is protected in their fireproof safe.
Farmers are climbing into their combines and turning over their recently harvested wheat fields to try to reduce the amount of dry stubble that could be consumed in the inferno.
Evacuations for the Yale Road fire include these boundaries: Palouse Highway on the north, Cornwall/Valley Chapel Road on the south, Hangman Creek on the west and state Highway 27 on the east.
Davenport
A fast-moving fire north of Davenport grew to 1,600 acres Sunday, triggering evacuations.
The Hart Road fire burned down multiple structures and was threatening 60 homes as of Sunday evening, the Washington Department of Natural Resources said. The fire jumped the Spokane River in multiple places onto the Spokane Indian Reservation, forcing Wellpinit residents to begin evacuating homes late Sunday.
Daniel Moldrem, who lives on Hart Road about a mile east of state Route 25, said he was at home with his family around 2:50 p.m. Sunday when they saw smoke coming over a nearby hill. Ten minutes later, a Lincoln County Sheriff's Office deputy showed up telling them to leave immediately.
"We just kind of scrambled, grabbed what we could and threw it all in the cars," he said.
Moldrem left with his parents and brother as DNR crews watched the house, he said. The family gathered at the Old Apostolic Lutheran Church in Davenport, which is serving as an impromptu meeting place for people displaced by the fire.
"Pretty much everyone who was evacuated kind of just came to the parking lot and we've been waiting here," Moldrem said Sunday evening. He estimated about 200 people were in the parking lot and said the church cooked dinner for the group.
Rob Harper said he was on the Spokane River a few miles upstream from the Porcupine Bay boat launch when he noticed smoke starting to fill the sky around 3 p.m.
"We didn't worry about it too much until it started getting thick and ash started falling on us out of the sky," he said. Around 5 p.m., he said the fire approached the river.
All residents within a 5-mile area north and northeast of state Route 25 and Hart Road were asked to evacuate immediately due to the wildfire north of Davenport, in what's called a Level 3 evacuation order. Wellpinit residents were ordered to evacuate immediately late Sunday. A temporary shelter was set up at the Lincoln County Fairgrounds.
A Level 2 evacuation was in place for residents east of Hart Road to Mill Canyon Road, meaning residents should be ready to leave the area at a moment's notice, the Lincoln County Sheriff's Office said.
A second fire, estimated at 250 acres, started near Deep Lake in Stevens County on Sunday, DNR said. That fire was in heavy timber and threatening structures.
Local journalism is essential.
Give directly to The Spokesman-Review's Northwest Passages community forums series -- which helps to offset the costs of several reporter and editor positions at the newspaper -- by using the easy options below. Gifts processed in this system are not tax deductible, but are predominately used to help meet the local financial requirements needed to receive national matching-grant funds.
Subscribe now to get breaking news alerts in your email inbox
Get breaking news delivered to your inbox as it happens.
---