A&E > Entertainment
Macklemore, Ryan Lewis at the Bing: What you should know
Mon., Aug. 22, 2016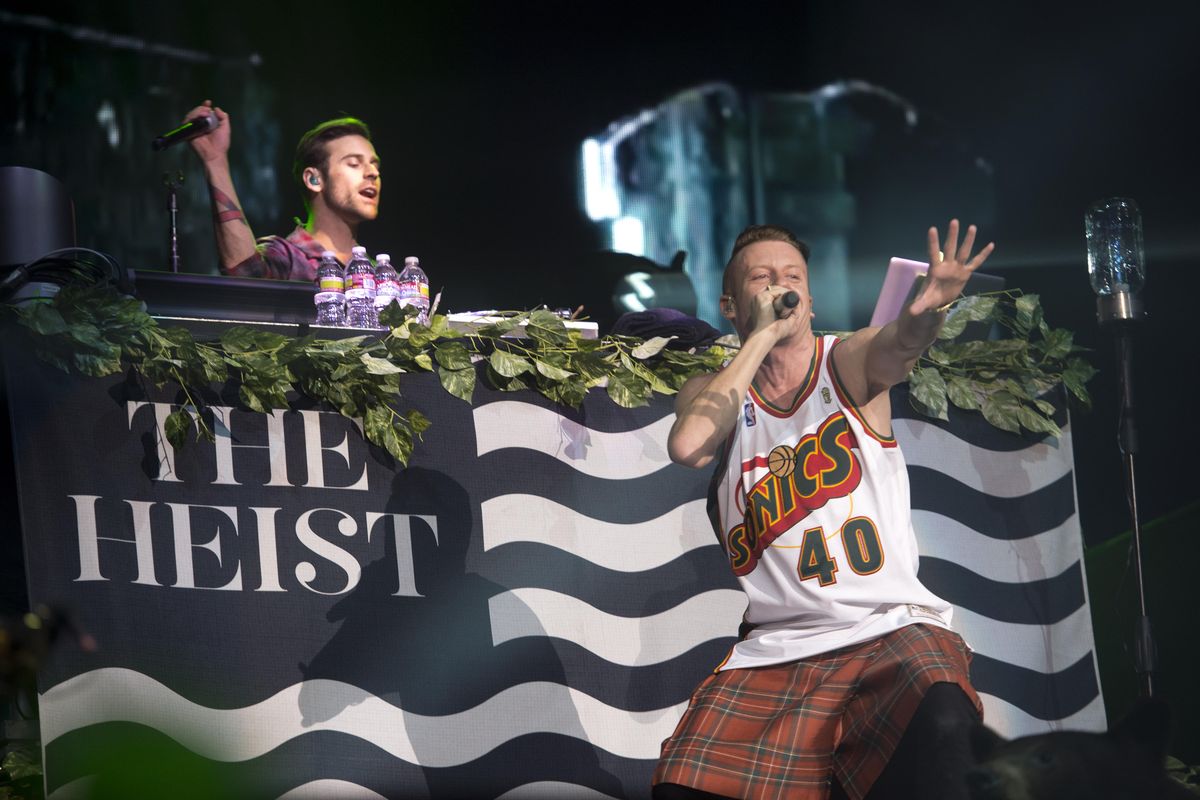 DJ Ryan Lewis, left, who grew up in Spokane, keeps the beat behind the DJ console while rapper Macklemore holds sway in front at a concert at the Spokane Arena on Wednesday, Oct. 23, 2013. Lewis and Macklemore brought their hit-laden show to the Spokane audience of 8,000. (Jesse Tinsley / The Spokesman-Review)Buy a print of this photo
Seattle hip-hop stars Macklemore and Ryan Lewis will swing through Spokane on Tuesday on the Camping Trip, an eight-gig tour of smaller venues and towns around Washington, including Walla Walla, Yakima, Hoquiam, Bellingham, Olympia, Bremerton and Enumclaw.
The tour kicks off at the Bing Crosby Theater in Spokane, Ryan Lewis' hometown. It's the duo's first gig here since they sold out the Star Theatre at the Spokane Arena in 2013. (Unless you count that time last summer when they filmed the video for "Downtown" here.)
Here are four things you should know about Tuesday's show at the Bing:
1. It sold out. Like almost immediately. In fact, the whole eight-show tour was sold out by 1 p.m. the day it went on sale. And it's no surprise. The Bing only holds about 750 people. Closer to 8,000 saw them when they played the Arena in October 2013, and they sold out the 1,500-capacity Knitting Factory in 2012. Tickets for the Camping Trip were downright cheap, too, at $22 a pop. They aren't cheap anymore. What few tickets that have been posted for sale on Craigslist come with a steep price tag: $250-$300.
2. The merch is pretty cool. The band commissioned T-shirts for each of the stops on the Camping Trip. The Spokane shirt sports an illustration of the Monroe Street Bridge, along with the words "Lilac City." As noted on Macklemore's Instagram account, the band worked with "local" artists to create each T. The Spokane design is by Toron Smith, who lives in (cough, cough) Seattle. The T-shirts and other merchandise will be available for sale outside the Bing beginning at 2 p.m. Tuesday.
3. Don't have a ticket but still want to see the guys? Macklemore (aka Ben Haggerty) and Lewis will be hanging out and signing merchandise for one hour beginning at 6 p.m. Tuesday (on a first-come, first-served basis). They plan similar appearances before each of the Camping Trip shows.
4. In case you haven't heard, downtown is a bit of a mess. Road construction has eliminated on-street parking and torn out sidewalks on Monroe and Lincoln streets between Main and Second avenues. The Bing is right in the middle of all of this, so plan your trip downtown accordingly.
Local journalism is essential.
Give directly to The Spokesman-Review's Northwest Passages community forums series -- which helps to offset the costs of several reporter and editor positions at the newspaper -- by using the easy options below. Gifts processed in this system are not tax deductible, but are predominately used to help meet the local financial requirements needed to receive national matching-grant funds.
Subscribe to the Spokane7 email newsletter
Get the day's top entertainment headlines delivered to your inbox every morning.
---