Sports
WSU safety Shalom Luani arrested for felony assault
Wed., Aug. 24, 2016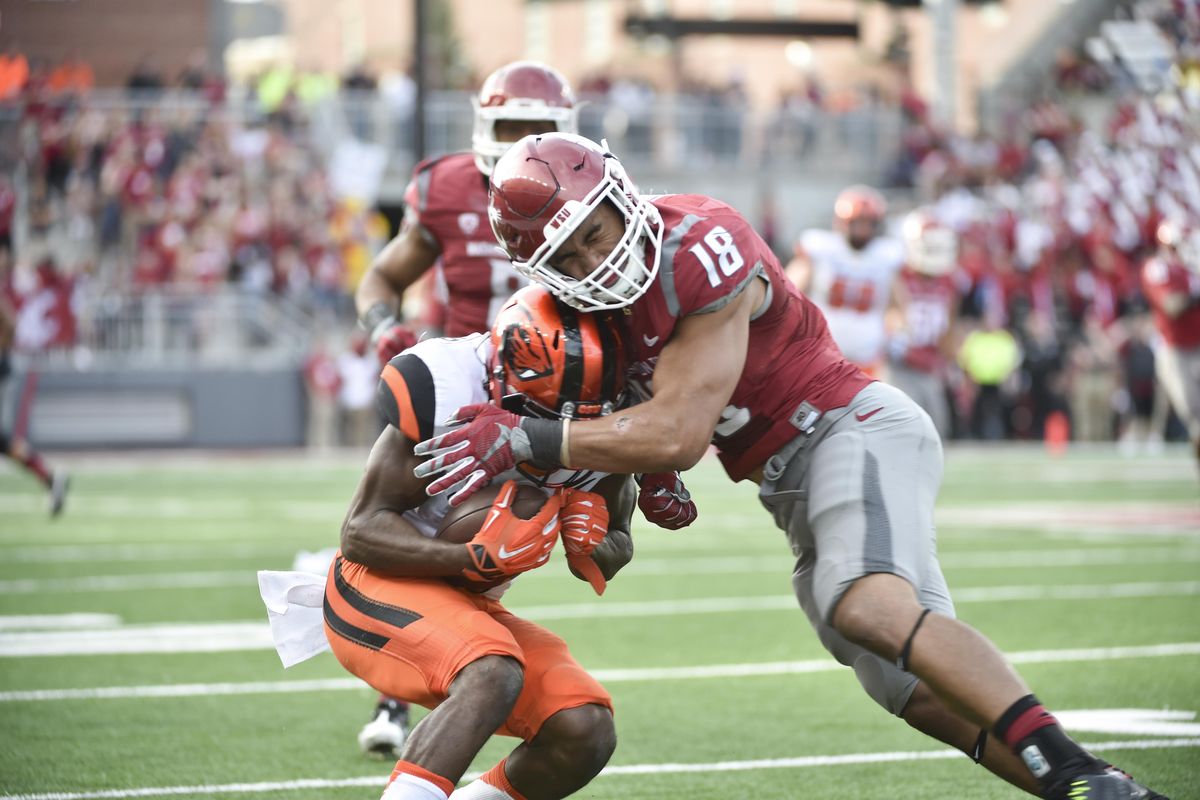 In this Saturday, Oct. 17, 2015 file photo, Washington State safety Shalom Luani (18) hits Oregon State's Victor Bolden (6) during the second half of a Pac-12 college football game at Martin Stadium in Pullman. WSU won the game 52-31. (Tyler Tjomsland / The Spokesman-Review)
PULLMAN – Washington State starting free safety Shalom Luani was arrested early Wednesday morning on the charge of breaking a man's nose during a dispute outside Domino's Pizza in Pullman.
Luani, a senior, was arrested and released for second degree assault, a felony charge.
According to Pullman Police commander Chris Tennant, the 22-year-old Luani became verbally abusive when his order took too long.
"Luani was very frustrated with the two-hour wait for his pizza and became disorderly, yelling at management and other customers," Tennant said.
Tennant said that Luani struck the victim under the chin, forcing his head back against the entrance door. The two went outside and a fight started. When officers arrived the victim was "bleeding profusely." Officers believe there may be a second victim as well."
Luani was an honorable mention All-Pac-12 player in 2015, his first year with the Cougars.
Luani's alleged assault comes on the heels of a fraternity party fight that allegedly involved a number of WSU football players. WSU student Alex Rodriguez received a broken jaw in the fight and required facial reconstructive surgery. Tennant said that investigation is ongoing, and that police hope to make arrests next week.
Tennant added that Luani is not a suspect in that case.
Alex Rodriguez's mother, Susana Senent of Spokane, said she plans to take legal action if no one is held accountable for her son's injuries. Rodriguez is talking again, but his medical bills continue to pile up, she said. He likely will have titanium plates in his jaw for the rest of his life.
"I will sue if no one gets arrested for this," Senent said.
Local journalism is essential.
Give directly to The Spokesman-Review's Northwest Passages community forums series -- which helps to offset the costs of several reporter and editor positions at the newspaper -- by using the easy options below. Gifts processed in this system are not tax deductible, but are predominately used to help meet the local financial requirements needed to receive national matching-grant funds.
Subscribe to the sports newsletter
Get the day's top sports headlines and breaking news delivered to your inbox by subscribing here.
---