Sports
EWU's Havili, Alconbendas can't wait to play again
Wed., Aug. 31, 2016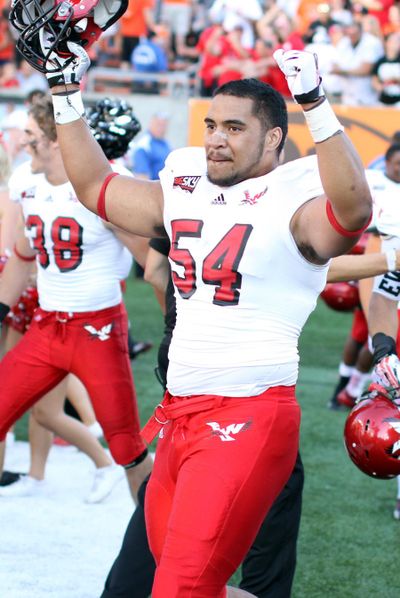 Two Eastern Washington players are ready to make up for lost time. A lot of it.
Former Eagle inside linebacker Albert Havili was moved to the line after the 2014 season, then suffered a knee injury in spring ball that cost him all of 2015.
Now he's back, playing defensive end. Better year, his hard work put him atop the depth chart for the season opener Saturday at Washington State.
Twenty-one months after playing his last game, the 6-foot-2, 255-pound Havili has a fresh attitude to go along with the fresh start.
"I do miss being in space (as a linebacker), but there's less thinking on the line – I just get to attack," Havili said with a smile.
The wait has been even longer for placekicker Roldan Alcobendas, who suffered a knee injury as a senior at Camas High School in 2013 and thus missed that fall.
After earning the starting spot the following year, Alcobendas had a season-ending knee injury just four weeks into the season. Complications and more surgery cost him the 2015 season as well.
"It was a grind, but I just stuck with it and I had to trust myself to come through," Alcobendas said.
Now Alcobendas is expected to handle field goals and extra points, and he's in the mix to kick off.
"It's just glad to be where I am … I'm excited but I'm just trying to remain focused," Alcobendas said.
Eagles crave more turnovers
In their last five matchups against teams from the Pac-12, the Eagles have held their own. But for a few turnovers, that 1-4 won-lost record might be a lot better.
Two special teams fumbles and two interceptions cost Eastern dearly in a 30-27 loss at Washington in 2011. It happened again three years later, as EWU coughed the ball up twice while the Huskies were error-free.
The Eagles' turnover margin from those five games: minus-7.
"We've been in all these competitive games, but turnovers have hurt us," coach Beau Baldwin said.
Portland State ready for more
It was a magical season last year for Portland State and first-year coach Bruce Barnum.
The Vikings went 9-3 last year, beating FBS schools Washington State and North Texas along the way. They'll try for a repeat this year the only way they know how: with Barneyball.
PSU football in 2015 was build on blocking, tackling, and believing in each other, Bruce Barnum, from the beginning.
"The motivation is there," said Barnum, the reigning FCS Coach of the Year, who returns 14 starters and 11 all-Big Sky Conference selections.
"We have changed, every team changes every year, with new in, and old out. But, I see a little bit more attention to detail, just in guys wondering where they're supposed to be, how is this supposed to work?"
No one expected the Vikings to have the season they had in 2015, especially with a largely unproven group of players. That list was headed up by quarterback Alex Kuresa, who was rejected as a passer by every Division I program in his home state of Utah.
Now, the challenge for Kuresa isn't just making it; instead, it's about taking his team to the next level.
"I think it's just holding everyone to an expectation," said Kuresa, who won the Big Sky's Newcomer of the Year award in 2015. "We don't want to let anyone get complacent, we don't want to let anyone try to live off of what people have done in the past."
MSU's Choate faces Idaho, Linehan
Two years from now, this could become a major rivalry. For now, the Montana State Bobcats just want to get past Idaho and quarterback Matt Linehan.
Linehan, the son of Dallas Cowboys offensive coordinator Scott Linehan, threw for nearly 3,000 yards and 17 touchdowns as a sophomore last season. He completed just under 63 percent of his passes.
"The one thing you can tell is that the Linehan kid is a coach's kid," MSU coach Jeff Choate said this week ahead of his first game as a collegiate head coach.
The Vandals are expected to join the Big Sky in two years, but for now Choate wants to know how his rebuilt defense will hold up against Linehan and a veteran Idaho offensive line.
"You obsess about all the details when you're in a leadership position," Choate said. "The unknowns of not having been in a game situation with this group of young men before, those are the things you're most curious to see."
Local journalism is essential.
Give directly to The Spokesman-Review's Northwest Passages community forums series -- which helps to offset the costs of several reporter and editor positions at the newspaper -- by using the easy options below. Gifts processed in this system are not tax deductible, but are predominately used to help meet the local financial requirements needed to receive national matching-grant funds.
Subscribe to the sports newsletter
Get the day's top sports headlines and breaking news delivered to your inbox by subscribing here.
---