Sports
A brief run by Tiger, and now everyone chasing Hideki Matsuyama
Sat., Dec. 3, 2016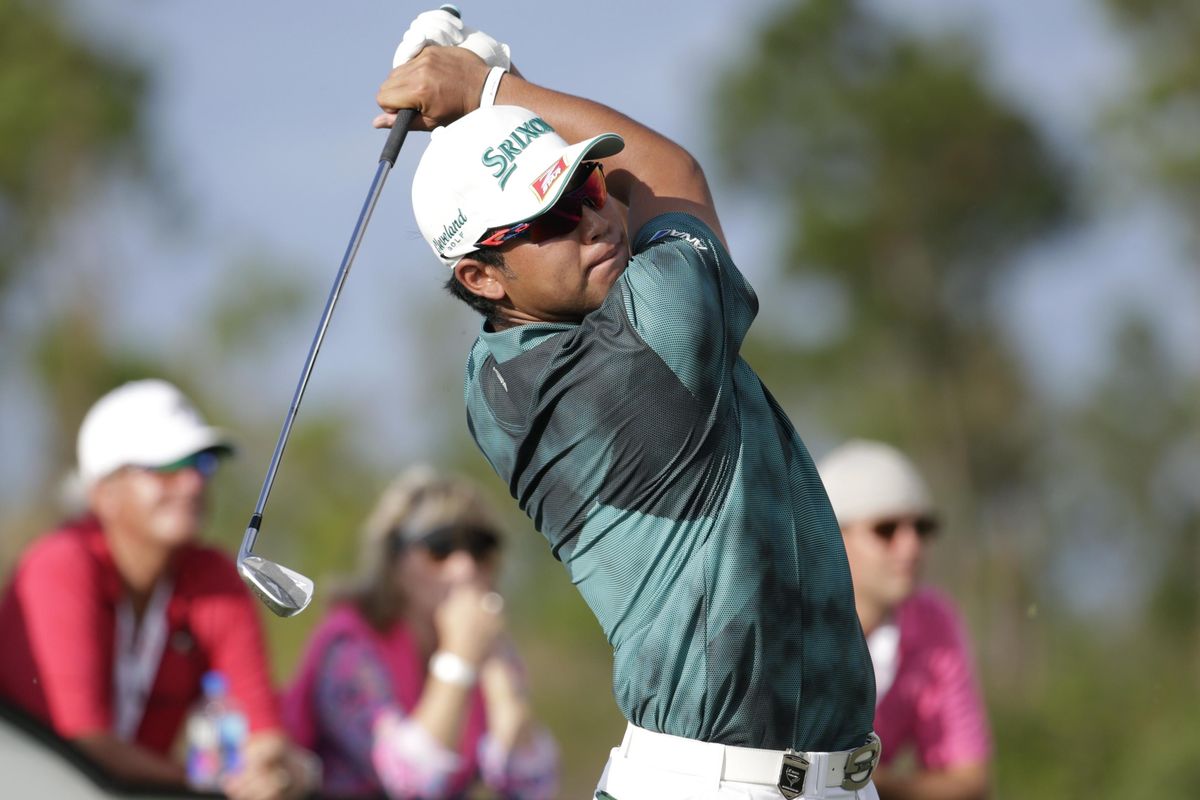 Hideki Matsuyama, of Japan, watches his shot from the 12th tee during the third round at the Hero World Challenge golf tournament, Saturday, Dec. 3, 2016, in Nassau, Bahamas. (Lynne Sladky / Associated Press)
NASSAU, Bahamas – Tiger Woods raised his right index finger in the air when he holed a long bunker shot, his fourth birdie in five holes that put him within two shots of the lead early in the third round Saturday of the Hero World Challenge.
He couldn't sustain it, missing too many fairways and too many putts inside 10 feet. He didn't get to the number under par that he thought would give him a chance to contend in his first tournament in 15 months.
Turns out even a good finish wouldn't have mattered – not the way Hideki Matsuyama is playing.
Matsuyama, coming off seven-shot victories in his last two tournaments, holed out for eagle with a wedge and kept his mistakes to a minimum for a 7-under 65 to build a seven-shot lead over British Open champion Henrik Stenson (66) and U.S. Open champion Dustin Johnson (72).
Woods missed three straight putts inside 10 feet and hit into the water on the 18th for a double bogey that gave him a 70, leaving him 11 shots behind. Still, the opening hour was filled with big excitement and higher expectations when he pulled to within two shots of the lead.
Jordan Spieth was playing in the group behind, heard the cheer of the holed bunker shot and saw the board with Woods 4 under through 5.
"It's hard to say he's exceeded any expectations because it's Tiger," Jordan Spieth said. "But I think he's very pleasantly surprised. I'm not sure how he's feeling. But taking off that amount of time, you can't expect to get right into it
"I'm pumped to see what he's doing this week."
Woods has made 19 birdies in three rounds of his first tournament since August 2015. Asked what he would have said at the start of the week to hear that he was 8-under par through three rounds, Woods replied, "I'd have said I'd be pretty far behind. And I'm right."
Matsuyama was at 19-under 197, matching the 54-hole score by Bubba Watson last year at Albany. A year ago, Watson had a two-shot lead. No one is close to Matsuyama, the hottest player in golf over the last two months.
"I knew somebody was going to go low, but I thought it was going to be probably three, four guys that would post this kind of a score," Woods said. "But Hideki is just playing unbelievable golf."
Johnson tried to stay with him, but had a hard time keeping it out of the sandy areas off the tee. Matsuyama was two shots ahead when he laid up on the short seventh hole, which played downwind, and then one-hopped his wedge into the cup for an eagle. Just like that, the lead was up to four. And when Johnson kept making mistake, ending with a double bogey on the 18th, the margin only got wider.
Brandt Snedeker (69) and Matt Kuchar (71) were at 11-under 205.
Matsuyama took notice early when he saw Woods made a brief run up the leaderboard.
"Only Tiger could take a year-and-a-half off and put up the numbers he's putting up this week," Matsuyama said. "I don't care how many strokes I'm leading over him, I still worry about him, fear him."
That was more respect than reality. The winners of golf's two oldest major championships this year don't sound like they have much of a chance from seven back.
"Anything's possible, but I'm going to have to shoot a really special round," Johnson said.
Matsuyama won his first World Golf Championships title last month in Shanghai at the HSBC Champions, winning by seven shot over Stenson and Daniel Berger. He won the Taiheiyo Masters in Japan two weeks later, again by seven shots. He has won three times in his last four events. The only player to beat him in the last two months was Justin Thomas in Malaysia.
Thomas was in the Bahamas, but only for a birthday party.
"That's exactly what he did at HSBC Champions, and it was not much to do at that time," Stenson said. "And possibly, that could be the same tomorrow. I'll just try to focus on my game and we'll see where it takes us."
Woods still captivated the small island crowd, at least with his start. He three-putted for bogey to slow his momentum, and he missed a pair of 6-footers for par early on the back nine. Still, most players said his score was above their expectations given the injuries he had and the rust he accumulated.
Woods said he had no expectations at all, though he was surprised about his start. Typically after a long layoff, Woods said he struggles to get going. Now it's about finishing a round.
"That's the most concerning part of the game, is getting off to I guess halfway decent starts," Woods said. "But I've been into the round early, and I've been able to build a significant amount of positive shots and go under par early. And unfortunately, I haven't been able to keep it going, except for yesterday. I didn't hit the ball that poorly today, but hit bad putts in the middle part of the round."
Local journalism is essential.
Give directly to The Spokesman-Review's Northwest Passages community forums series -- which helps to offset the costs of several reporter and editor positions at the newspaper -- by using the easy options below. Gifts processed in this system are not tax deductible, but are predominately used to help meet the local financial requirements needed to receive national matching-grant funds.
Subscribe to the sports newsletter
Get the day's top sports headlines and breaking news delivered to your inbox by subscribing here.
---