News > Features
Holiday gifts for hosts, homebodies and everybody else
Sat., Dec. 3, 2016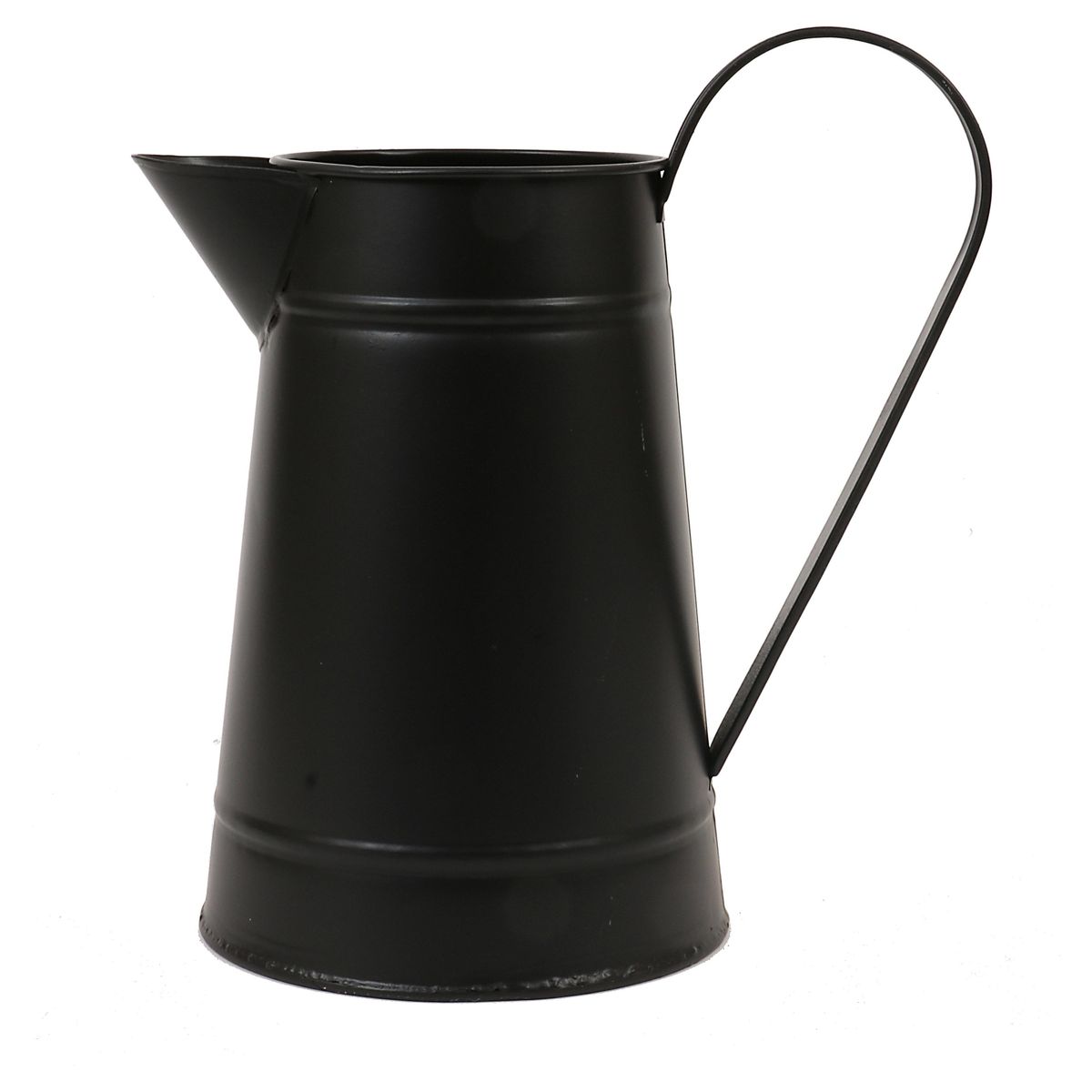 A drink pitcher that doubles as a watering can and triples as a vase is a sweet gift for the lay horticulturist in your life; the tin Darby Way Watering Pitcher Black ($13, target.com) is fashioned in the trending farmhouse style but is classic enough to withstand fleeting fads. (Target / Target)
For people who love, love, love to nest and entertain, a gift for the home is always a win. You know the type: a homebody who loves to organize, a newlywed in a new house, a consummate party planner. You doubtlessly have someone in your life like this, so we've compiled an expansive list of ideas for you to choose from. If you can't find something here, then your gift recipient really is the mythical person-who-has-everything.
Charm any host with one of nine witty animal Cocktail Napkins Sets ($45, amano.bz). "Make mine a double," say two grasshoppers. "Buzzed," says the bee. "Just a splash," says the whale. The challenge is in choosing the pun.
Mark and Graham's smart, plaid Double Insulated Wine Tote ($79, markandgraham.com) is like an entertainer's emergency travel kit. That it insulates two bottles of wine is pretty great on its own, but then you add the self-storing cheese board, wine key, bottle stopper and removable center for when you want to keep snacks cool instead, and you've got a really wonderful thing going.
Try a tasseled twist on the classic throw with Nate Berkus's Striped Tassel Throw Blanket ($35, target.com). It has an abundance of luxurious passementerie at a welcome price.
Every wine lover needs it, whether pouring or holding the stemware: Chateau Spill's Emergency Stain Rescue ($8, thegrommet.com). It will take out berries, beets and the toughest merlot spill. Pair it with the gift of your favorite red wine, or stick it in a holiday stocking. The 4.05-ounce size is just right.
The Gallery 7 Piece Perfect Wall Picture Frame Set ($100, allmodern.com)does all the hard work of arranging an artful salon-style wall for a new renter or homeowner. Seven solid-wood frames in black, white or walnut come with a template and layout options for a foolproof, sophisticated collage.
Even the smallest of social occasions can feel special with a matching Italian carafe and glassware set. Pair it with a bottle of wine or a recipe for a seasonal cocktail, and you might get invited to stay and enjoy it yourself. Snowe's Drink Essentials Set ($70, snowehome.com) has one pourer and four glasses, made of break-resistant Italian lead-free crystallized glass.
There's one truth all hosts know: You can never have enough serving dishes. The Hartland Stone Oval Platter ($50-$90, simonpearce.com) mixes in with any collection, with its classic cream color, rustic scalloped edges and ability to go from oven to table.
It's said that Marie Antoinette once quipped "Let them eat cake." Fast-forward 227 years, and designer Kate Spade says "Eat cake for breakfast." We'll consider both permission to encourage that baker-in-law to keep on baking with the Eat Cake 3 Piece Set ($35, katespade.com), which has sweets emblazoned on a potholder, oven mitt and dish towel.
Now here's something really fun. The Foodie Dice Seasonal Dinners Tumbler is a jar of nine dice to roll to create a sumptuous meal. The five primary dice (protein, cooking method, grain or carb, herb, bonus ingredient) stay the same no matter the season, but throw in the four seasonal veggie dice and you've got seasonal gourmet. Save your favorites with Recipe Cards ($44 for both, foodiedice.com).
Any foodie with a love of handcrafted items will appreciate the White Butter Keeper ($46, food52.com). A larger design of a Food52 favorite, this piece is hand-thrown by San Diego-based Sawyer Ceramics with a clean, white glaze. Fill the base with water and overflow the other half with butter, then assemble for an airtight seal that keeps butter perfectly soft on your counter.
Give a cook a new kitchen skill with the Eataly Pasta Tool Set ($38, store.moma.org). Gadgets include two ravioli presses, one gnocchi maker, one spaghetti maker and four recipes.
Give bakers an update on their workhorse mixing bowls. The Three Piece Bamboo Mixing Bowl Set with Pour Spouts' twist is in the material: bamboo instead of plastic or metal, for a soft, organic touch ($38, clickdesignthatfits.com). It's dishwasher and microwave safe and even biodegradable - but you can count on the recipient keeping this for years.
Jammers who put up preserves will relish the ability to put their own stamp on their wares. Choose a design with a monogram, name or address for the Personal Embosser With Stand ($40, williams-sonoma.com), and throw in some gold, silver or blue foil labels, sold separately.
Encourage the dessert-maker in your life to swirl up some goodies. The hint is a pairing of a soapstone Ice Cream Scoop and Hot and Cold Soapstone Handheld Bowls ($85 for both, uncommongoods.com). The scoop is heat-conducting, so you can run it under hot water and scoop that ice cream more easily. The bowls come in a set of two, each with a freezable soapstone bowl and an acacia wood holder, so your hands don't freeze, too.
Has it been a hard work year? Is your office mate in need of some cheer? The Dots and Feelings Stapler ($18, modcloth.com) will do it. A sweet pale pink meets a smattering of irregular polka dots and adds a smile to any desk.
There is no one who couldn't use West Elm'sFolk Pad Printed Bowls ($8, westelm.com). The global-inspired prints lend a well-traveled feel. Serve breakfast or ice cream in a set of them, or use one alone as a catchall.
The Chesapeake Bay is one of the most complex estuary systems in the world, with more than 11,684 miles of coastline - all represented meticulously in Haptic Lab's hand-stitched navy or gold Chesapeake Bay Quilt ($289, hapticlab.com). Haptic Lab makes quilts of cities and coasts around the world. Any quilt can be personalized for $25.
It's an ideal yet elusive housewarming present: something both unexpected and functional. The M.F.E.O. Jungalow Hanging Planter ($75, westelm.com) measures up, with a diamond-shaped holder that can be fitted with any style of pot or plant. We love, too, that West Elm makes goods made by small businesses such as the L.A.-based M.F.E.O. accessible to all.
For a book or cookbook lover, go beyond a bookend: Give the multipurpose Concrete Jungle Bookend ($28, urbanoutfitters. com), which has a pocket for pens and a perch for a tiny plant.
A toolbox grill? There is no more-perfect gift for the outdoorsy person in your life. The Barbecue Toolbox ($120, suck.uk.com) has an 8-by-15-inch cooking rack, a warming rack, a removable tray for charcoal, an adjustable vent, and even a tray for tools, herbs and spices.
Take note: A naturalist's notebook is not a superfluous gift. Anyone with a yard of trees, an interest in fall leaves or a penchant for hiking can use the Observer's Notebook: Trees ($15, amazon.com) to better their minds and study the natural world. Inside are charts of tree shapes and leaves to help identify species, blank maps for mapping out a tree census and blank pages for assorted arboreal notes.
A drink pitcher that doubles as a watering can and triples as a vase is a sweet gift for the lay horticulturist in your life. The tin Darby Way Watering Pitcher Black ($13, target.com), designed in partnership with New York's Beekman 1802 FarmHouse, is fashioned in the trending farmhouse style but is classic enough to withstand fleeting fads.
When you can't give a gift in person, a warm blanket is the perfect thing to send. It's a hug in wool form. Minnesota-based Faribault has been making woolen blankets since 1865, and this year, it partnered with hip CB2 to design the Faribault Plaid Blanket ($189-$219, cb2.com) in trendy grays and teals. It comes in a full/queen or king size.
Shaker sisters used to use carriers to store and transport sewing and knitting projects. So, sure, the crafter in your life will love the authentic cherry Shaker Oval Carrier ($49, shakerworkshops.com). But so will anyone who loves folksy or rustic centerpieces.
The Freezable Wine Bag ($16, packit.com) provides extra chill for a bottle of bubbly with built-in gel that freezes for 12 hours and then is ready to go to parties, parks and picnics. A chest freezer isn't needed to store it, either; it folds flat. Plus, it comes with a strap for carrying.
Plants can be personal choices, but surely, a Tripod Plant Stand ($29, urbanoutfitters.com) is for everyone. The black metal plant stand is supportive of all botanical pursuits and fits in with all home styles.
Rather than write another book on home-design tips, Grace Bonney, blogger at the popular Design Sponge, wrote something that inspires on a deeper level. "In the Company of Women: Inspiration and Advice From Over 100 Makers, Artists and Entrepreneurs" ($21, amazon.com) captures stories of how interior designers, furniture designers, magazine editors and chefs fought for their dreams and learned hard-won lessons along the way. This is a coffee-table book for the soul.
Who couldn't use the watermelon-shaped Super Chill Cooler Bag ($32, bando.com)? Its sizable form keeps lunch as cool as a, well, watermelon, but its fun style is also inspiring Instagrammers to use it as a purse or poolside bag.
Local journalism is essential.
Give directly to The Spokesman-Review's Northwest Passages community forums series -- which helps to offset the costs of several reporter and editor positions at the newspaper -- by using the easy options below. Gifts processed in this system are not tax deductible, but are predominately used to help meet the local financial requirements needed to receive national matching-grant funds.
Subscribe now to get breaking news alerts in your email inbox
Get breaking news delivered to your inbox as it happens.
---