News > Spokane
WSU researcher honored for creating a gene test to save dogs
Tue., Dec. 13, 2016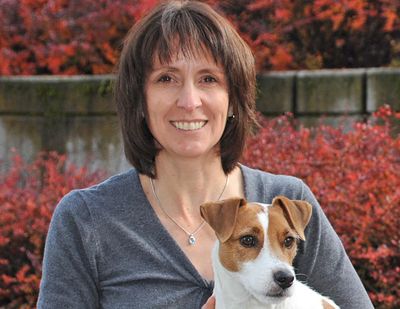 For years, veterinarians struggled to understand why a common heartworm medicine causes some dogs to fall into a coma and die. But they knew it primarily affects herding dogs, such as collies and Australian shepherds – breeds known for their furry white feet.
An adage emerged: "White feet, don't treat."
A Washington State University professor, Dr. Katrina Mealey, solved that puzzle in 2001 by pinpointing a mutation that makes the drug react differently in some dogs and cats. She also invented a simple genetic test to detect the mutation, likely preventing thousands of pet owners from poisoning their furry friends.
At a conference in Boston next year, Mealey will be inducted into the National Academy of Inventors, a prestigious organization with more than 750 fellows worldwide, including 28 Nobel laureates. The honor comes three years after she was named a "woman to watch in life science" by the Washington Biotechnology and Biomedical Association.
Mealey grew up with pet collies and went on to earn doctorates in pharmacology and veterinary medicine. Her team at WSU has been testing for the problem mutation since 2004.
For $60, pet owners can submit for testing a vial of a pet's blood or a swab of its mouth. Detailed instructions are available on the lab's website, vcpl.vetmed.wsu.edu.
Mealey said the lab processes about 150 DNA samples each week. They come from around the world, typically from the owners of herding dogs. But even mixed breeds that don't resemble herding dogs may have the mutation, she said.
"Unless it's a pedigreed purebred, we recommend testing," she said.
The mutation has been observed in about a dozen dog breeds. A certain gene produces a protein that pumps drugs and other toxins out of the brain. With the mutation, however, the gene doesn't produce enough of the protein, allowing certain drugs to accumulate in the brain.
The results can be devastating. Mealey pointed to one case in 2009 involving a miniature Australian shepherd named Cash.
When Cash was a puppy, his owner took him to visit some horse stables in Montana. It's there, veterinarians suspect, that Cash ate some of the heartworm medicine ivermectin.
Soon Cash began staggering and lapsed into a coma. After visiting a veterinary emergency room in Bozeman, he was flown by chartered plane to WSU's Veterinary Teaching Hospital.
Cash was hospitalized for 26 days, eight of which he was comatose and needed a ventilator to breathe. Nursed back to health, he walked out of the hospital two days before Thanksgiving.
About two years ago, Mealey was approached by Mars Veterinary, a division of the Mars company best known for making candy bars. It's now the only company licensed to administer the genetic test in the United States.
Mealey said she reached out to several companies more than a decade ago, but none was interested in her patented invention.
"Nobody thought there was a market for a veterinary pharmacogenic test," she said. "After all that work we did here, the companies saw that there's demand for this and wanted to buy the license."
The mutation makes dogs sensitive to a range of drugs, including loperamide, a diarrhea medicine known by the brand name Imodium. Dosing guidelines can be found on the lab's website.
Local journalism is essential.
Give directly to The Spokesman-Review's Northwest Passages community forums series -- which helps to offset the costs of several reporter and editor positions at the newspaper -- by using the easy options below. Gifts processed in this system are not tax deductible, but are predominately used to help meet the local financial requirements needed to receive national matching-grant funds.
Subscribe to the Coronavirus newsletter
Get the day's latest Coronavirus news delivered to your inbox by subscribing to our newsletter.
---