Sports > Outdoors
Outdoor writing: Goat Crossing
Sun., Dec. 25, 2016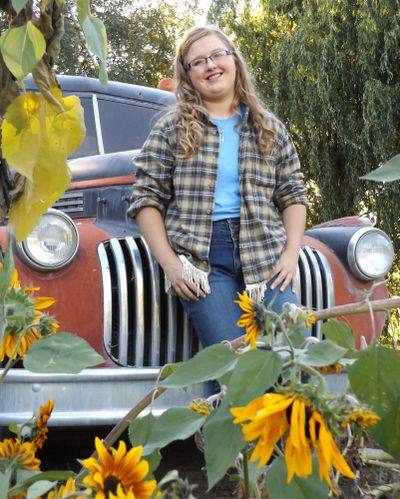 My family owned boar Nubian pack goats in my pre-teen years. Summers were spent with goats loaded, leading them up mountain trails, listening to their orange packs full of food and bedding rattle as they jumped from log to log, over small rocks, and past the occasional surviving rouge leaf.
They were good boys, and they were kind enough to follow and not stray from Mom who carried banana chips to state them.
The two biggest, roughly 200 pounds, were Norbert and Nigel. They were our first wethers and the leaders of the pack. No one dared get ahead of them except the wielder of the banana chips, and even then they were slightly peeved by that.
Following them would be Clint and Randy, the youngest and smallest, and then Ned and Nat. Dad would follow at the back, shepherding my little sister and I past the interests nature held. Up the mountain we would go, our little troop. The line didn't stop until Mom said so, and it was quickly conveyed by the rest of the pack as they created a pile of sleeping goats.
These goats were good as goats go; they listened (not so much) and they remained in a general area (if there was food), and occasionally let my sister and I rest our legs as we rode them. However, their good tempers didn't allow water crossings.
A typical creek crossing consisted of Dad carrying us to the other side. Here, we would watch in awe as the string of goats followed them one by one, stretching for the elusive banana chips in Mom's pockets. Mom had them right where she needed. Ned stared at the water, up at Mom, and back at the water. He was calculating the cost of those banana chips and decided that it was worth it, his neck unable to stretch any farther.
With a majestic leap, he jumped into the water. Three more jumps and he was on the other side of the bank, panting and regarding my sister and I with disgust as we didn't get wet.
By now, the other goats were panicking. Ned was separated and getting all of the banana chips, and they couldn't let that happen. One by one, the entire pack of goats jumped into the water and sprung across, receiving banana chips as a reward. Looking over the creek, we saw that Dad and Norbert were still there.
The goat didn't want the banana chips. It wasn't worth it. Dad was yanking him towards the water and he was frozen, staring at it. It was decided the pack string would leave Norbert and he'd race to catch up, thus crossing the creek.
Leading the goats on, we passed over the hill, one by one. The screams of a panicked goat echoed as Norbert lost sight of the rest of us. Mom stopped us just out of sight and peered over the top of the hill. The screaming was still happening – along with splashing and cursing.
We watched in disciplined silence as Dad struggled to lead a leaping, angry goat across the creek. Its pack was beginning to fall off; both were soaked. Norbert was still convinced he was going to die as he struggled to remain on the far edge.
We didn't know who was leading whom at this point. Norbert deemed Dad to be a superior stepping stone, gave a great leap upon him, and forced them both under the water. There was great wrestling, splashing, struggling, bleating, gurgling, sloshing and more cursing as Norbert realized his mistake.
Norbert still screaming, and Dad still cursing, the goat barreled up the hill. We could hear the sloshing of water in Dad's boots as he followed.
It took a half hour to undo the harness and put it back on, but the pack that was hanging off Norbert was miraculously not soaked by the adventure. Then we cheerfully continued on our way. Three days later, Norbert had to face that creek again, but he didn't dare wait for Dad to catch up. Instead, he charged to the other side and stood staring at Dad with utter innocence.
Local journalism is essential.
Give directly to The Spokesman-Review's Northwest Passages community forums series -- which helps to offset the costs of several reporter and editor positions at the newspaper -- by using the easy options below. Gifts processed in this system are not tax deductible, but are predominately used to help meet the local financial requirements needed to receive national matching-grant funds.
Subscribe to the sports newsletter
Get the day's top sports headlines and breaking news delivered to your inbox by subscribing here.
---