A&E > Entertainment
Prohibition Gastropub serves up elevated pub fare
Thu., Feb. 25, 2016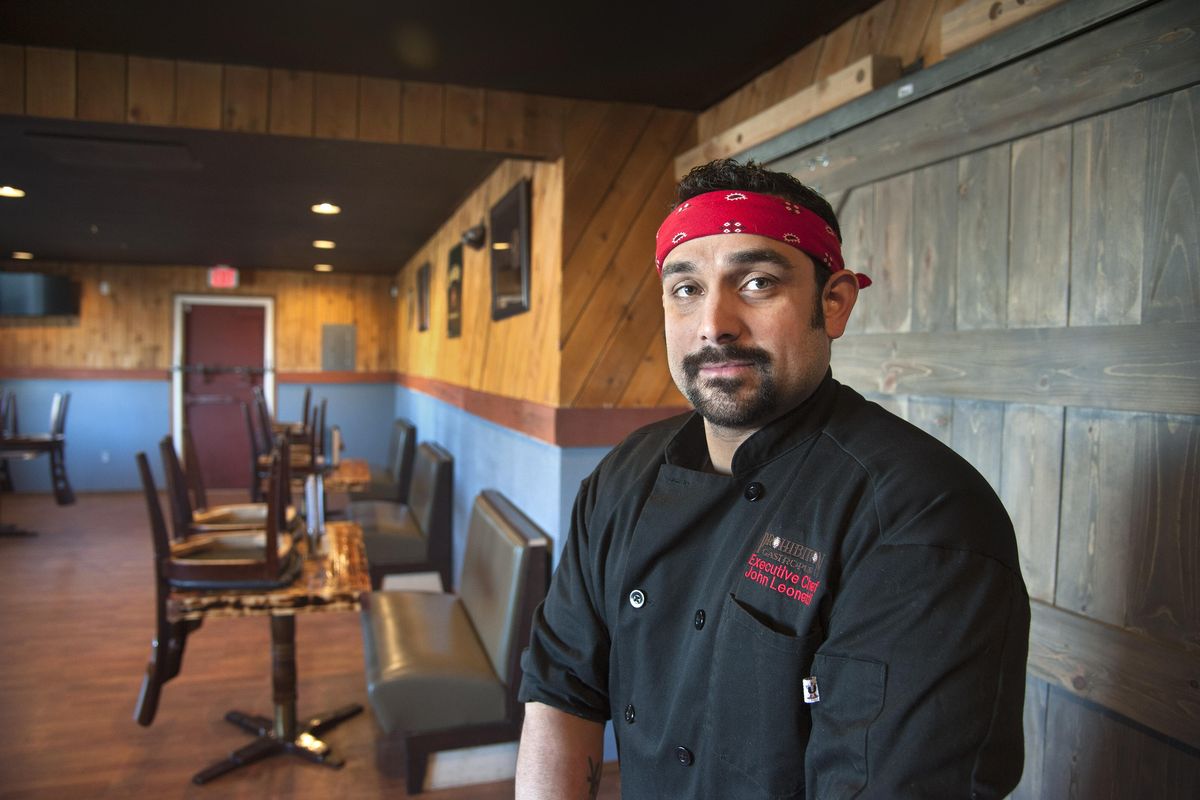 John Leonetti is the owner of the Prohibition Gastropub at 1914 N. Monroe St. (Dan Pelle / The Spokesman-Review)
John David Leonetti will readily let you in on the secret ingredient in his big, juicy burgers.
He uses the grounds from freshly brewed coffee to impart flavor and help keep the beef moist no matter how you order it, even well done.
"I wanted to keep everything simple but tasteful," said the classically trained chef, owner and manager at Prohibition Gastropub.
The new restaurant and lounge occupies a rather nondescript L-shaped building on North Monroe Street just north of Indiana Avenue. Inside, the menu is anything but boring.
Along with coffee-infused burger patties, look for Leonetti's signature candy-coated bacon. It's almost inescapable. Leonetti adds the specialty to most of his dishes – on his jalapeño poppers and in the Speakeasy Club sandwich plus a couple of the burgers and atop the strawberry spinach and wedge salads.
"It's got a nice crunch," he said. Even though it's coated in sugar,"it's still savory."
Prohibition Gastropub specializes in elevated pub fare. There's a bison burger with whiskey barbecue sauce. That sandwich, the Whiskey Runner, costs $12.50 and comes with cheddar and jalapeños on a brioche bun. The fries are handcut. Get them as a side for $4.
The Al Capone burger ($11.50) features a fried egg and cheddar. The Bootlegger ($10.50) includes blue cheese. Both also offer that candy-coated bacon and are served on brioche buns.
While most of the menu items fall into the upscale pub grub category, look also for Italian and French influences in Leonetti's cooking. There's a blue cheese lasagna ($10.50) with a creamy garlic sauce and pistachio chicken ($12) with potatoes, asparagus and cranberry sauce.
Friday night chef's dinners also allow Leonetti to get back to his roots. He trained at Le Cordon Bleu in Portland, graduating in 2003. Those changing specials have included entrees such as a deconstructed fish taco with avocado, cod and housemade coleslaw, or flank steak with roasted eggplant and tomatoes, potatoes and a red wine shallot reduction.
Entrees range from $9 to $12.50. Desserts – there are two – are $5 (whiskey-chocolate mousse) or $6 (cheesecake from Spokane Cheesecakes).
"I'm trying not to price anybody out. I want everybody to come in and have a fantastic meal," John Leonetti said.
He owns the restaurant with his wife, Jill. She's related to the wine-making Figgins family, which owns Leonetti Cellar in Walla Walla. He took her last name when they married in 2014.
Jill Leonetti, 35, is originally from Spokane. Her grandfather used to own the Blue Lantern Tavern, and she thought about naming this place for that one.
She met her husband, 32, a self-described "Army brat" in Seattle, where they both were working. Before opening the restaurant, they formed J and J Catering, a project that's on hold while they get Prohibition Gastropub off the ground.
For John Leonetti, "It's been a lifelong dream. It's finally coming true."
The couple spent two weeks renovating the restaurant before opening it at the end of October. They repainted, installed a new copper countertop at the bar and added big-screen TVs. John Leonetti built new dining tables and installed a sliding barn door between the main lounge area and dining room, which together have the capacity for 86 people.
The couple had been actively looking for a location for their restaurant since early 2015. "Downtown was cost-prohibitive for us," Jill Leonetti said, noting they liked the amount of traffic on Monroe Street, which offers "incredible visibility."
They also wanted to buy the building for their establishment. This one most recently housed the short-lived Webster's Ranch House Saloon. Previously, it was home to Working Class Heroes Bar and Grill.
The Leonettis liked the idea of bringing a full-service, family-friendly restaurant to the blue-collar neighborhood. Children and teens are allowed on premise until 9 p.m., when the late-night happy hour and menu starts. Regular happy hour runs from 4 to 7 p.m. most days and all day Sunday.
The bent at the bar leans toward whiskey, bourbon and scotch. Flights are available. Most cocktails cost between $6 and $8. Thursdays, the bar has been hosting Scotch and Cigar nights. Wednesdays, wine is on special for $3.50 to $9 per glass. There are also eight rotating taps for draft beer.
The staff includes sous chef T.J. Hansen, who also trained at Le Cordon Bleu, as well as another cook and barback and a couple of bartenders. A couple of employees come from Artisans and Skils'kin, two local nonprofits that serve adults with disabilities and physical challenges.
The Leonettis still have more improvements they'd like to make to the building and grounds, such as adding patio seating and raised beds for a chef's garden when the weather's better.
Someday, they'd like to open other locations.
Meantime, "Everything's on the line. It's a little stressful," said John Leonetti, noting one of his restaurant mantras is: "We have to make it consistent or we're nonexistent."
His wife didn't quit her day job. Jill Leonetti is a manager with Spokane Transit. But she helps at the pub several nights per week as well as most weekends, waiting tables.
She came up with the name for the place. It wasn't her husband's first choice. While she's enamored of the 1920s and Spokane's speakeasy era, he said, "I wanted to call it The Whiskey Barrel."
Local journalism is essential.
Give directly to The Spokesman-Review's Northwest Passages community forums series -- which helps to offset the costs of several reporter and editor positions at the newspaper -- by using the easy options below. Gifts processed in this system are not tax deductible, but are predominately used to help meet the local financial requirements needed to receive national matching-grant funds.
Subscribe to the Spokane7 email newsletter
Get the day's top entertainment headlines delivered to your inbox every morning.
---