Sports
WSU beats No. 25 UCLA; Kent's first win over ranked team as Cougars coach
Sun., Jan. 3, 2016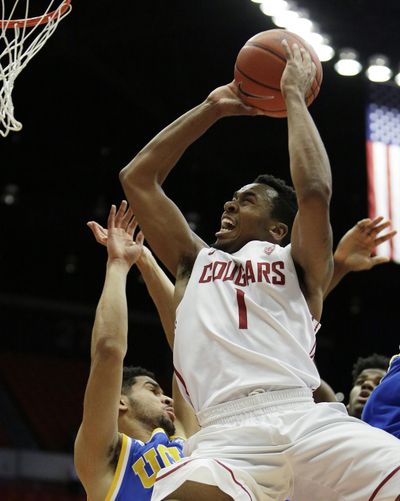 PULLMAN – The standing ovations began before the grand finale at the game's end.
Josh Hawkinson's fourth block got an admittedly small crowd on its feet, and fans stood sporadically to cheer when the Cougars frequently made trips to the free-throw line to ice a game that was practically decided.
But the long, sustained applause was saved for the final moments of Washington State's 85-78 win over No. 25 UCLA, the first win over a ranked team during Ernie Kent's time coaching the Cougars.
The 1,912 fans in attendance had some fun and the Bruins left Pullman with yet another loss, having not beaten the Cougars in Pullman since Feb. 4, 2012.
Ernie Kent makes constant reference to the number of players who are "on their game," when evaluating his team. In Friday's loss to USC, it was easy to discern the players who qualified – it was just Josh Hawkinson and Ike Iroegbu, the only Cougars to score in double digits.
But while Hawkinson was his typically dominant self on Sunday – 20 points, 10 rebounds and a school-record ninth consecutive double-double – the Cougars received important contributions from players throughout the roster.
Iroegbu had seven assists, suitably navigated UCLA's full-court press and made key free throws at the end of the game to keep the Bruins at bay. Charles Callison scored a career-high 12 points and Renard Suggs chipped in 14, also a career-high.
Derrien King, recently healthy, scored all five of his points in a quick first-half spurt to give the Cougars the lead for good.
Junior Longrus, who just a week ago seemed relegated to a senior year spent on the bench watching younger teammates, started the game and played fanatic defense against UCLA's much taller post players, Tony Parker and Thomas Welsh.
"Junior's a really fun player to play with," Hawkinson said. "He's unselfish, he does all the little things right, he's really good defensively. He's athletic so he can guard guards all the way up to the big guys."
Welsh stands 7-feet tall, while Parker is a sturdily built 6-foot-9, 260-pound center. Longrus, meanwhile, stands just 6-foot-7. The Cougars' strategy of denying the post was effective, yielding seven steals, including three by Longrus.
But WSU was also able to protect the rim with six blocked shots, four of them from Hawkinson.
"The reason we went smaller was we wanted to create tempo and pace," Kent said. "We wanted it to be fast. And we wanted Junior to run and run their bigs. I felt like Junior was excellent defensively."
The Cougars neutralized UCLA's size advantage – Parker, the team's third-leading scorer, finished with just seven points on 3-of-7 shooting. By doing so, WSU was able to weather a hot-shooting night from the Bruins' skilled backcourt.
Shooting guard Isaac Hamilton scored a smooth 27 points on 12-of-22 shooting, showing off a variety of floaters and scoop shots. Freshman point guard Aaron Holiday added 15 points for UCLA.
With the win, WSU (9-5, 1-1 Pac-12) avoided starting conference play in an 0-2 hole. In Friday's loss to USC, the Cougars were lethargic, and outclassed by the Trojans' energy and athleticism.
On Sunday, they showed enough fight to indicate they can compete in what is shaping up to heavily contested Pac-12. After just one weekend of play, only California and Washington are 2-0 in conference play.
And it was the Bruins, losers of an exhausting double-overtime game at UW on Friday night, who appeared to be running through tar.
"This is the most discouraged we've been," said UCLA coach Steve Alford. "I just didn't like our effort or our passion at all. If you don't play this game with effort and passion, you're going to get beat, especially in this league. They deserved to win. They outworked us and they played with much more passion."
WSU's win ends a streak of nine consecutive losses against ranked opponents, a run that extends back to another win over the Bruins, then ranked No. 23, on March 6, 2013.
Local journalism is essential.
Give directly to The Spokesman-Review's Northwest Passages community forums series -- which helps to offset the costs of several reporter and editor positions at the newspaper -- by using the easy options below. Gifts processed in this system are not tax deductible, but are predominately used to help meet the local financial requirements needed to receive national matching-grant funds.
Subscribe to the sports newsletter
Get the day's top sports headlines and breaking news delivered to your inbox by subscribing here.
---
Subscribe and log in to the Spokesman-Review to read and comment on this story