News > Pacific NW
Fatal grizzly bear attack likely caused by collision with mountain biker, officials say
Sat., July 2, 2016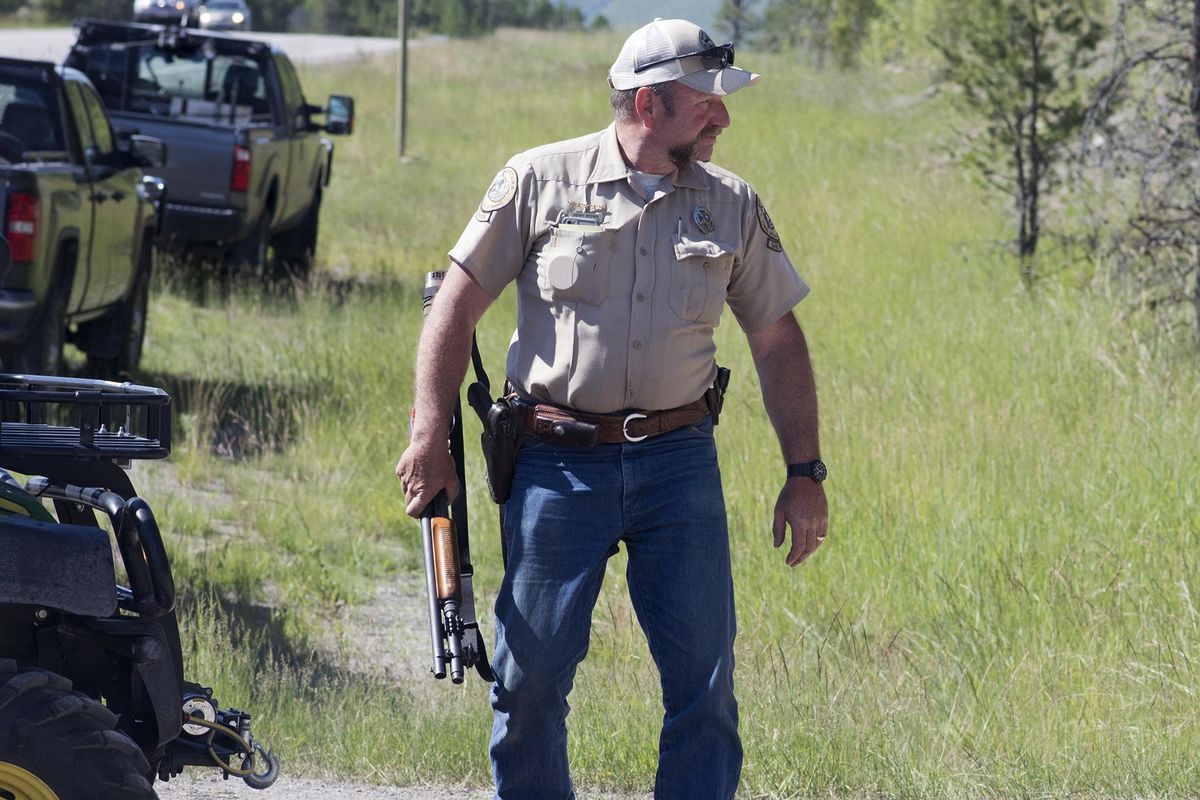 Montana Fish, Wildlife and Parks game warden Perry Brown prepares to hunt for a grizzly bear that killed Forest Service law enforcement officer Brad Treat near West Glacier, Mont., on Wednesday, June 29, 2016. Treat was off duty-riding his bicycle on a popular trail network near the town when the attack occurred. (Chris Peterson/The Daily Inter Lake / Associated Press)
HELENA – Montana wildlife officials say a 38-year-old mountain biker who was killed by a bear riding just outside Glacier National Park likely collided with the bear before he was attacked, and they have called off the search for the bear.
Wildlife response team investigator Brian Sommers said in a statement Saturday that he believes Brad Treat was riding at a high rate of speed along a narrow trail and hit the bear. Visibility was limited and investigators believe the collision was unavoidable.
Treat, who was a law enforcement officer with the U.S. Forest Service, was found dead Wednesday by officers at the scene of the mauling. Treat's riding companion reported the incident and was not attacked.
Montana Fish, Wildlife & Parks spokesman Ron Aasheim said it was a tragic accident. Investigators are still trying to determine if it was a black bear or a grizzly, and whether it might have been a female bear trying to protect her cubs. Investigators have removed cameras that were being used to find the bear, along with traps that were placed in the area.
"This is an area of pretty high density of bears, and the bear didn't return," Aasheim said. "It was just a horrible accident. The bear was in a defensive mode responding."
Authorities are still awaiting DNA tests that will show if the bear was male or female, and whether records show it might have been responsible for previous attacks.
National Forest spokeswoman Janette Turk said the attack occurred in a heavily forested area, and the area has been closed.
An autopsy on Treat could help determine the size, age and sex of the bear, Flathead County Sheriff Chuck Curry said.
Treat became a Forest Service law enforcement officer in 2004. He spent the last 12 years stationed at the remote Hungry Horse District in the Flathead National Forest, where the territory stretches into the untamed Great Bear Wilderness.
Local journalism is essential.
Give directly to The Spokesman-Review's Northwest Passages community forums series -- which helps to offset the costs of several reporter and editor positions at the newspaper -- by using the easy options below. Gifts processed in this system are not tax deductible, but are predominately used to help meet the local financial requirements needed to receive national matching-grant funds.
Subscribe now to get breaking news alerts in your email inbox
Get breaking news delivered to your inbox as it happens.
---