News > Spokane
Renters in the Spokane area face a tight market, higher prices
Tue., July 5, 2016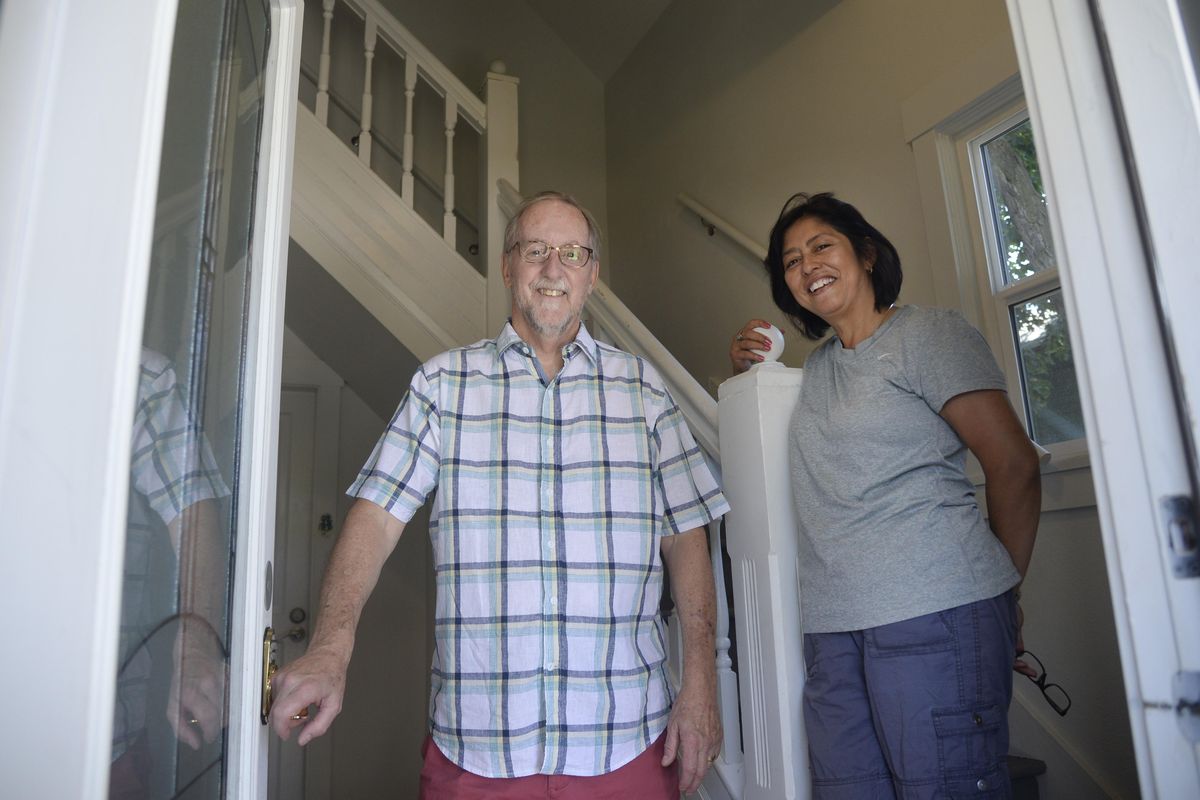 Brian and Sandra Jones stand in the vestibule of an older West Central home that's been divided into a duplex, which they have refurbished and rented out. The couple have invested in a handful of rental properties and have no trouble filling them with tenants because of the tight rental market in the Spokane area. (Jesse Tinsley / The Spokesman-Review)
After a month of searching for a new apartment, Cory Rinderneck was still coming up blank.
Rinderneck, 25, and a friend began searching for a two-bedroom apartment in May after their third roommate moved out.
They were looking for a place less than $800 a month and willing to live in nearly any part of Spokane or Spokane Valley. But they quickly found few apartments were open, and the ones that were rented immediately.
"Two hours after the posting went up we'd be third in line," Rinderneck said.
Spokane's apartment vacancy rate is at a near-historic low of 1.3 percent, according to the Washington Center for Real Estate Research's report released this spring. A 5 percent vacancy rate is typical for a robust, healthy rental market, but Spokane's rate was last above 5 percent in March 2012, past reports show.
That rate is based on a survey of apartments, not other rental properties like houses. But property managers say little to no vacancy has been the norm across rental properties for about a year.
Brian and Sandra Jones began renting houses in West Central almost by accident, after their daughter had trouble finding an affordable place to live. They began buying dilapidated homes in 2014 and fixing them up to flip or rent out.
"I said, I can handle 750 middle school kids by myself. How hard can this be?" said Brian Jones, who's a retired middle school principal.
The couple currently manages two duplexes, both of which they bought in December 2014. Jones said they've been able to fill vacancies "immediately."
Eric Bessett, president and owner of Madison Real Estate, estimated the company's 880 properties had a vacancy rate lower than 2 percent. Most of those properties are single-family rentals.
"We get holding fees and new applications on a lot of them before the old tenants have even moved out," Bessett said.
Landlords say they're receiving dozens of responses within hours of posting ads for available rentals, and many prospective tenants end up disappointed.
"A lot of them are like an hour too late. They'll respond to an ad or respond to a sign and someone has rented the place before they got there," said Maria Trunkenbolz, the president of M-T Management, which manages about 400 rental properties in the Spokane area.
Rinderneck's roommate ended up moving back in with his parents since the pair couldn't find an apartment together.
"There's no other options right now," Rinderneck said.
"I've been doing this for 35 years. I've never seen it like this," Trunkenbolz said.
Tight market has its roots in recession
The roots of Spokane's rental shortage lie in the Great Recession, as well as demographic shifts that have increased the number of people looking for rentals.
When the housing market collapsed in 2007 and 2008, new construction halted and many homes lost as much as one-third of their value.
After the market settled down, many people had lost their homes to foreclosure. Others were wary of becoming homeowners after witnessing the chaos of the recession. Some saw their credit ratings fall and were no longer eligible for mortgages.
"Since then, there's been a preponderance of people that are renting as opposed to purchasing," said Rawley Harrison, the owner of Watson Management.
Slow construction in the years following the recession has meant a shortage of available housing, both for prospective renters and buyers. Some homeowners who couldn't sell their houses in the years following recession became "accidental landlords," Trunkenbolz said. Now that the housing market has picked up, they're starting to sell, making the rental shortage worse.
Younger people are waiting to get married and have children and tend to prefer apartments to owning a home.
"There's a growing understanding among younger workers that they need to be labor mobile, and it's hard to be labor mobile if you're having to constantly buy and sell a house every time you move for a new job," said Grant Forsyth, chief economist for Avista.
Lee Arnold, the founder of Secured Investments, a real estate lending firm, said some people are being forced into renting because there aren't enough houses to buy.
"There's such a shortage of inventory right now that the people who want to buy a house can't find one," he said.
Migration into Spokane is compounding the issue. Economists say Spokane's labor market is picking up, driving more people to move here for jobs in growing sectors like health care. Many of them can't find homes to buy right away or want to get the feel of a neighborhood before committing to a home long-term.
Rents climbing, but not as fast as Seattle's
In spite of the low vacancy, rents in Spokane haven't climbed anywhere near as quickly as in Seattle, where the median price to rent a square foot spiked 24 percent from 2014 to 2015, according to the Seattle Times. Some say that's because wages in Spokane remain relatively low, so landlords aren't able to charge more for units.
"The only reason our rents aren't raising is because our income isn't getting any higher," said Terri Anderson, an organizer with the Tenants Union of Washington State.
Brian Jones recently raised the rent for a three-bedroom unit in one of his West Central homes to pay for repairs and other improvements he'd made. His tenants had been living there for a year and agreed to the raise.
Other landlords are still reluctant to charge more. Aaron Villemure rents a duplex in the Finch Arboretum area and charges $550 for each side of the house. He said that's unlikely to change even if the vacancy rates stay low because he doesn't want to push out good tenants.
"I can't justify really in my mind raising it more than it is," he said. "If you find a good tenant, you want to keep them for as long as they want to stay."
But rents are going up, especially in more popular neighborhoods. Zillow's data shows Manito and Cliff-Cannon have had the largest increases in median rent for single-family homes over the last year at 12.4 percent and 7.8 percent, respectively. Meanwhile, rents on single-family homes have climbed just 2.2 percent in Hillyard and 0.6 percent in Lincoln Heights, while falling 4.3 percent in the Latah Valley.
Zillow does not have neighborhood-level data on apartments in Spokane, but many brokers and managers say rents are rising across the board. Harrison said apartment rents have been rising about 2-3 percent per year for the past few years, but may climb as much as 5 percent this year. He agrees popular neighborhoods like the lower South Hill are seeing faster increases, but the upward trend is citywide, he said.
"There's really no segment of the rental marketplace that's not impacted," Harrison said.
Rent increases have low-income housing advocates worried. Because landlords have their pick of tenants, they're more likely to turn away people who have less-than-perfect rental histories or who have low-income housing vouchers.
"People that have very little choices because the vacancy rate's low, they're not finding places," Anderson said. "I don't know what's happening to that population. I think we have a lot of doubling up, a lot of couch-surfing."
Washington also allows landlords to give tenants 20 days notice to vacate without any reason. Some cities, including Seattle, have passed more restrictive laws requiring just cause for these notices; Spokane has not. In a tight rental market, Anderson said that leaves tenants less likely to complain about poor housing conditions or ask for repairs for fear of being asked to move out.
"That's a real concern, particularly with the low vacancy rates. They could actually become homeless and have never missed a day of rent," she said.
Prospective renters have to worry about more than finding a place to rent. Some have also been targeted by scammers.
Arnold said that's common to see in hot rental markets, where people are desperate to find a place to live. He lived in Salt Lake City around the 2002 Olympics and said he remembered a case where a landlord went to jail after advertising a home for rent and accepting $75 application fees from prospective renters with no intention of actually renting the home.
Selah Stapp, 23 has been looking for a one or two-bedroom apartment in the Perry District for a month and a half with no luck. She's now expanded her search, but has found many ads for rentals are misleading.
"We've been interested in like six different places and three of them were scammers," Stapp said. One woman took a $50 fee to run a credit check but took weeks to return the money after she decided to rent the unit to someone else, Stapp said. Two other ads listed properties that Stapp discovered were not owned by the person who placed the ad and were not actually for rent.
"We're striking out left and right. It's horrible," Stapp said.
Apartments that fill quickly are good news for landlords, but it's not all bad news for renters. Vacancy rates are similarly low across the state, the Washington Center for Real Estate Research report says, but Spokane County has the lowest average apartment rent of 19 Washington counties surveyed by the center, at $660.
Single-family home rentals remain more affordable in Spokane County than in much of the state. In May 2016, the median rent for a single-family home ranged from a low of $876 per month in the 99207 ZIP code, which includes parts of Hillyard and Bemiss, to $1,634 in the 99019 ZIP code, south of the city of Liberty Lake.
Rising rents in Spokane are more likely to be a trend for a few years than a way of life, experts say. Cities like San Francisco and Seattle that have become synonymous with skyrocketing rents are geographically bounded by water and other features that make growth difficult. Spokane, in contrast, has room to develop.
Spokane developer Jim Frank, president of Greenstone Corp., said the market is likely to stabilize over the next few years as developers build more apartment units to meet demand from millennials.
"When a shift like that occurs, it takes a lot of time to fill the demand," he said.
Local journalism is essential.
Give directly to The Spokesman-Review's Northwest Passages community forums series -- which helps to offset the costs of several reporter and editor positions at the newspaper -- by using the easy options below. Gifts processed in this system are not tax deductible, but are predominately used to help meet the local financial requirements needed to receive national matching-grant funds.
Subscribe now to get breaking news alerts in your email inbox
Get breaking news delivered to your inbox as it happens.
---