News > Spokane
Spokane mayor picks Laura McAloon as city attorney, while council members mull making job an elected position
Mon., July 18, 2016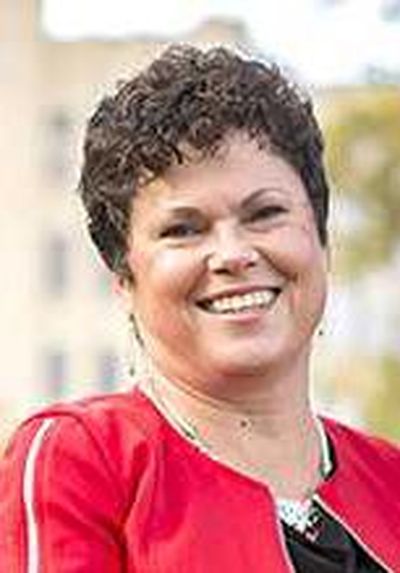 Spokane Mayor David Condon has appointed a new city attorney to replace Nancy Isserlis, who resigned from the post last month amid continuing fallout from the ouster of former police Chief Frank Straub.
Laura McAloon, an attorney with the Spokane firm Workland & Witherspooon, is expected to begin representing the city Aug. 31 following confirmation by the City Council, Condon said at a news conference Monday afternoon.
"My practice has always been about working with local governments," McAloon said. "I've had the benefit over the last 16 years of working with a number of cities."
Condon praised McAloon's expertise in public finance and municipal law. With a law degree from Gonzaga University, she has worked in private practice for 16 years. For the last 13 years, she was also the Pullman city attorney and special counsel to the Spokane Transit Authority. She has represented numerous public entities in Eastern Washington and North Idaho.
Last month, McAloon successfully defended the city against a first-of-its-kind lawsuit claiming the City Council didn't have the authority to craft a tax exemption for seniors and veterans. Lawyers for the county and state have appealed that decision.
Meanwhile, some members of the City Council question how much authority the mayor should have over the City Attorney's Office, and they're studying the possibility of making it an elected position – like Seattle did in 1883.
"There's a perception sometimes that even though the attorney serves the whole city, he or she is really only serving the mayor, because he's the one who could fire them," Councilman Breean Beggs said. "Whether true or not, there's a perception out there."
Condon said at the news conference he doesn't support making the city attorney an elected position.
Condon's offer letter to McAloon says she will serve "at the pleasure of the current, sitting mayor" and "the term of your employment will be subject to my evaluation of your performance."
City spokeswoman Marlene Feist said Condon's successor would have the power to replace an appointed city attorney.
McAloon has served on a citizens' committee charged with investigating potential mismanagement within Condon's administration in the lead-up to Straub's firing. Condon appointed McAloon to that committee, while other members were appointed by the City Council.
In that role, in February, McAloon drew a complaint from Council President Ben Stuckart. According to him, McAloon asked the committee's other members if the investigation should move forward because it likely would uncover actions by city officials that would lead to lawsuits.
McAloon said the disagreement was never a serious issue, and Stuckart did not want to discuss it Monday afternoon.
"Laura is a great lawyer and very gifted," he said.
McAloon said she's closing her private practice to serve full-time as the city attorney. Her salary will be $156,704.
Local journalism is essential.
Give directly to The Spokesman-Review's Northwest Passages community forums series -- which helps to offset the costs of several reporter and editor positions at the newspaper -- by using the easy options below. Gifts processed in this system are not tax deductible, but are predominately used to help meet the local financial requirements needed to receive national matching-grant funds.
Subscribe now to get breaking news alerts in your email inbox
Get breaking news delivered to your inbox as it happens.
---