Sports > Outdoors
Cuba tours hike, bike and kayak to actively connect with culture
Sat., July 30, 2016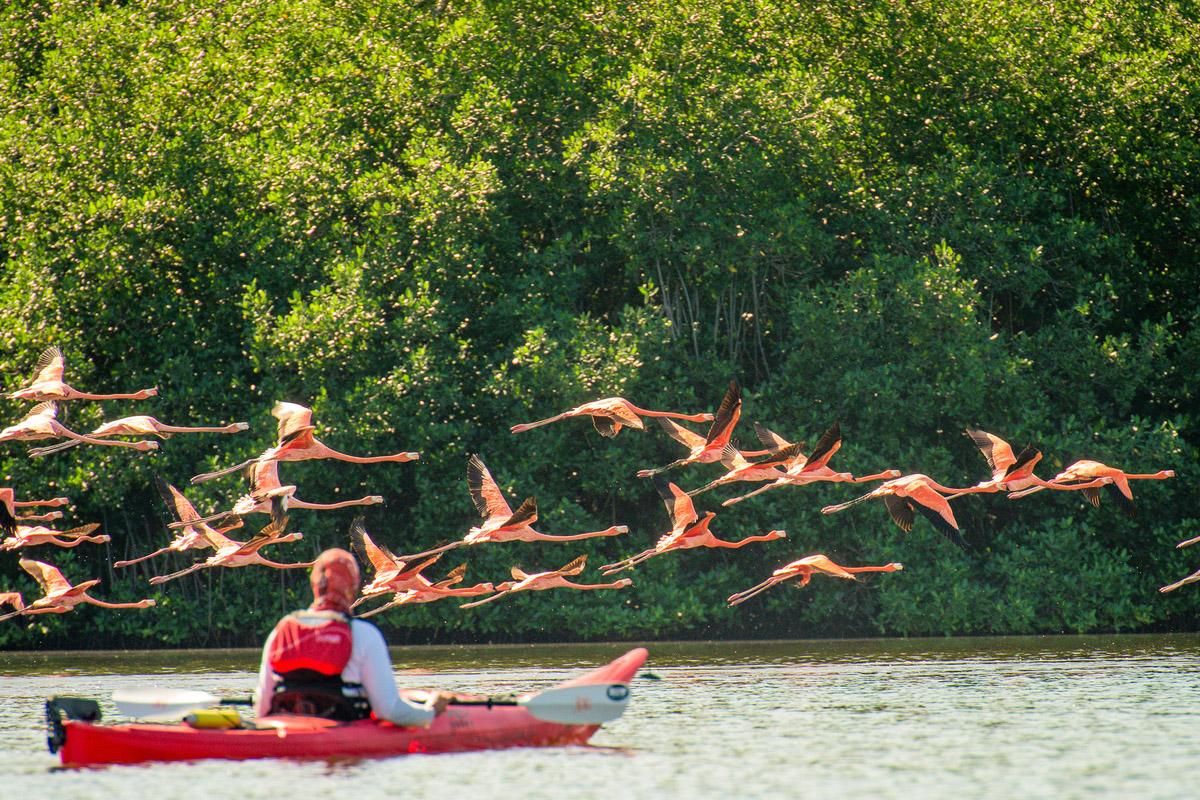 Kayakers paddle in a bay frequented by flamingos during a ROW Adventures active tour of Cuba. (CHAD CASE)
ROW Adventures, based in Coeur d'Alene, has led active adventure travel trips from the Spokane River to the Galapagos Islands and Africa for 37 years. But owner Peter Grubb said he's amazed with the company's newest frontier.
"Cuba offers a cultural experience that blends well with an active vacation," Grubb said.
Four years ago, his company started exploring the potential for walking trips through the island nation's national parks and sea kayaking trips on its Caribbean coasts.
"The Cuban people really want us there, and that's a good start to any trip."
When President Barack Obama opened the doors to facilitate Cuban tourism in 2015, ROW and many other travel companies already had sized up the possibilities and were ready to go.
"We started filling trips immediately," Grubb said, referring to a clear demand for seeing a place just 90 miles off the Florida coast yet generally off limits to Americans for decades. ROW launched its first walking and paddling trips in November. This year the company will add bicycling.
"If you spend much time on the web checking out Cuba tours, you'll find most of them to be similar. That's because the tourism industry in Cuba is controlled by seven government-owned tourist companies that have their routine places to go.
"We go to different places and we're the only kayaking program for the American traveler."
The paddling trips head into scenic marine areas and a lagoon that holds a permanent resident flock of pink flamingos.
"We paddle in a national park and popular bonefishing flats where the water is three feet deep and crystal clear. We snorkel in some of the best and healthiest coral reefs in the Caribbean due to the lack of development.
"What distinguishes this kayaking trip from others we offer is all the Cuban culture we explore on the way."
Trippers can expect to kayak two to four hours a day on five days during an eight-day trip, plus one full day of paddling. Instead of camping, they take advantage of lodging, including local residents' homes.
"When we're not paddling, we're immersing in culture and people-to-people contact," said Grubb, who described Cubans as friendly and gregarious.
"The music for sure is a highlight. It seems like there's music everywhere all the time in Cuba."
ROW sold out its first 18 scheduled trips. The company is expanding to more than 100 departures this season. The 25 kayak trips include a tour that explores the lesser-traveled east side of the island.
"We've never jumped into anything this fast," said Grubb, who started the company rafting wild rivers in Idaho, Montana and Oregon.
"But there's demand and every day it gets easier. Cheaper direct flights from the U.S. to Havana were approved for United and Southwest airlines just a few weeks ago."
Cuba attracted about 150,000 tourists in the past year while Mexico lured 20 million.
"All the trade journals are predicting an explosion of interest in Cuba," he said.
"Things can't happen too fast. Cuba lacks infrastructure and accommodations. There are transportation challenges.
"Things tend to get done in Cuba based on relationships. There's a lot of waiting. Virtually nothing is done digitally. A few Wi-Fi zones are just being created. You deal with a person when you go to a bank or make a reservation. Our tours smooth all of that out."
While Cuba is roughly the size of Pennsylvania, it's the largest island in the Caribbean.
"There's a lot of topography and difference in the regions and I don't see them being ruined quickly by tourism," Grubb said.
Cuba is a step back in time, with a colonial atmosphere and a high percentage of 1950s-era American automobiles.
"But not too many cars," he said. "Even Havana doesn't have traffic jams, yet."
Local journalism is essential.
Give directly to The Spokesman-Review's Northwest Passages community forums series -- which helps to offset the costs of several reporter and editor positions at the newspaper -- by using the easy options below. Gifts processed in this system are not tax deductible, but are predominately used to help meet the local financial requirements needed to receive national matching-grant funds.
Subscribe to the sports newsletter
Get the day's top sports headlines and breaking news delivered to your inbox by subscribing here.
---